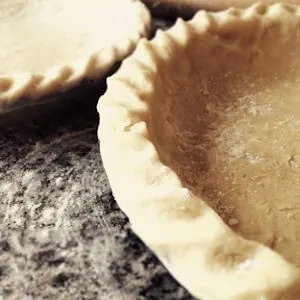 Have you ever wondered how to make pie crust in a blender? It is not as difficult as it may seem, even though making pie crust is already a pretty scary concept for some people. But today I am going to remove all your fear and teach you how to make pie crust in a Vitamix blender.
This recipe is no fuss and no hassle, and it is extremely easy for anyone regardless of their cooking skills. If you like apple pie, blueberry pie, or even lemon meringue pie, you must learn how to make it for yourself at home. And the first step is making a delicious pie crust.
If you are making pie for your family, for your friends, or even just for yourself, try to shake off any expectations and just cook peacefully. If you can master making pie crust in your Vitamix blender, you can definitely start making pies for every special occasion.
Read More: Best Vitamix Blender: Ultimate Guide
Making Pie Crust in Your Vitamix Blender
Before you can cook your pie crust or fill your crust with ingredients, you must mix everything in your Vitamix blender to get the proper dough. If you follow these instructions perfectly, you will master the art of making pies sooner than you could have ever believed.
Just remember to be confident, to take it slow, and to have fun while baking. If you are not having fun, what is the point of making pies! This is a fun recipe that you can do alone, with your family, or with your kids.
Ingredients
1 ¼ Cup Flour
¼ teaspoon Salt
½ Teaspoon Sugar
5 Tablespoons Cold Butter
3 Tablespoons Cold Water
1 Tablespoon Vinegar
Instructions
The first step is to add your flour, sugar, salt, and butter into your Vitamix blender. Place the lid on the container and then pulse between 10 and 12 times until the mixture looks like coarse crumbs.
Second, add the water and the vinegar and then close the lid. Pulse 8 or 10 more times until the dough appears to be formed. Be sure not to over blend, as this could make your dough more like a smoothie.
Remove the dough from the blender and pat it into a smooth circular shape. Wrap the circle in plastic wrap and let it be refrigerated for about 2 hours before you completely roll it out into dough.
Read More: Making Dough in a Vitamix Blender – 2 Delicious Recipes
Pro Tips on Making Pie Crust in Vitamix Blenders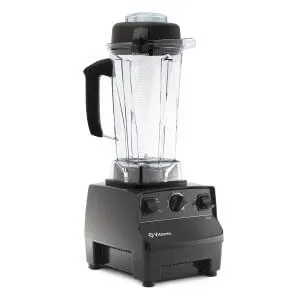 Always generously flour your work surface before putting the dough onto it. This will give you a nice setting to work in. It is also worth flowering your rolling pin before you start.
To keep a nice circular shape for your dough, be sure you roll it in alternating directions. You want to roll away from you, to the left, back towards you, and to the right. Plus, you can roll diagonally in all different directions. Then, start over and do it all again until you have found your desired circle size.
Be sure to keep your rolled dough very thin, only about 1/4 inch. This will make for premium dough, and it will be easier for you to manage.
Be sure to put your pie pan gently onto your final rolled out dough so that you know it's going to be big enough. You want your dough to be roughly 1 inch larger in diameter than your pan. You should see a slight overhang of dough when you place your pan on top of it.
Once you have your dough all rolled out, be sure you use your flowered rolling pin to roll your dough onto it. Then, you can gently pick the dough up and place it so that the edge is all the way onto one side of the pan. After, roll it gently so that it lays over the entire pan.
You want to pick up each edge extremely carefully and ensure the crust is sitting at the bottom, snugly inside all the corners of the pan before you lay it down in its final position.
Lastly, tuck and trim the edges to make them pretty. You can do this by crimping them with your fingers or by pressing a fork all the way around the edges. With this last step completed, you will be ready to fill and bake your pie.
Bonus Quiche Dough Recipe
Now that you know how to make pie dough, why not a quick quiche dough recipe? Quiche is extremely delicious, very easy to make, and you can easily craft the dough inside your Vitamix blender. This recipe will take no longer than 10 minutes, and this will be another great dish added to your Vitamix recipe book!
Ingredients
¼ Cup Butter
1/3 Cup Cottage Cheese
1 Large Egg
1 ½ Cup Flour
1 Teaspoon Baking Powder
1 Teaspoon Cream Tartar
1 Pinch Salt
Instructions
Put your butter, cottage cheese, and large egg into your Vitamix blender and blend on speed variable 1. You then want to slowly increase the speed until you hit variable 10. Once you are on the highest speed, blend these three ingredients for about 15 seconds.
Next, you will add the flour, cream tartar, salt, and baking powder into a bowl.
Put half the flour mixture into your Vitamix blender and blend on speed variable 5. You want to pause about six times to scrape the container, incorporating all the new ingredients. Make sure that you stop and scrape the sides of the container before adding the rest of the flour mixture inside the container.
With all the ingredients in the blender, repeat the same process of blending on pulse about six times, continuously using the tamper to press the ingredients deeper into the blades.
Finally, remove the dough, wrap it tightly in saran wrap, and refrigerate for roughly one hour.