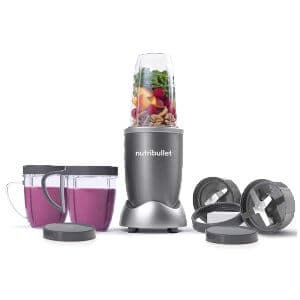 Powerful 600W Motor
Convenient & Portable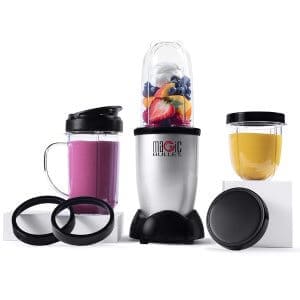 Cheap Price
#1 Selling Blender
---
No one owns the personal blender market more than the NutriBullet line of products. As such, today's comparison takes into consideration two basic models from the NutriBullet line; the Magic Bullet vs NutriBullet 600W, aka the Original NutriBullet.
These blenders are entry-level models in terms of performance as they don't have the most powerful motors. There is just enough power for some quick blending jobs and these small blenders may struggle somewhat with tougher jobs or harder ingredients.
While their features may be limited considerably to basic functions, both blenders enjoy wide repute given their compact sizes and the ability to get small jobs done as fast as possible.
So which personal blender would serve you better? Find out by reading this head-to-head comparison between Magic Bullet vs NutriBullet.
Magic Bullet Vs NutriBullet: Comparison
Magic Bullet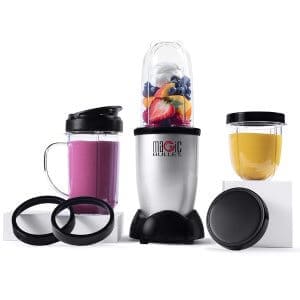 PROS
Ideal for individual recipes
Compact size
Very affordable
CONS
Somewhat loud for its small size
Struggles with tougher ingredients
---
Magic Bullet Review
Magic Bullet is a small but effective blender that you can use to whip up some quick recipes without investing in a pricier product.
Power and Performance
Magic Bullet comes with a 250-watt motor which is just enough to make you the perfect smoothie, preferably with softer ingredients. It is a lightweight unit that is easy to carry and store.
The most basic bundle offers 11 pieces including the power base, a cross blade, three cups, two comfort lips rings and resealable lids each, and one to-go lid.
The assortment of accessories makes it possible to use the blender for more than just blending. And then you can also store your blends easily for later use or take them along when you need to.
Read More: Nutribullet Vs Magic Bullet Vs Ninja
Operation and Cleanup
Along with being one of the simplest models available, the Magic Bullet also remains one of the easiest to operate. Designed pretty much like a coffee grinder, you put your ingredients into the container, screw in the blade assembly, invert, and connect it to the base.
From there you push down the container slightly to lock in place and run the unit.
Cleanup is a cinch with the Magic Bullet as its parts are dishwasher safe except for the blade and base. Use soap and water to clean the blade and wipe the base with a damp cloth. Since there are no buttons on the unit, it is easy to clean as well.
---
NutriBullet 600W Review
The NutriBullet 600W is also a great personal blender for making small-scale smoothies and shakes. It comes with different container options to make and hold more than one blend at a time. You can get it in different packages where the number of lids, containers, and promotional material will vary.
Motor Power
The NutriBullet is powered by a 600-watt motor, powerful enough to do your most basic blending tasks. This is a considerable step up from the Magic Bullet with its 250 watts of power.
There are two different blades with this model to use for soft and hard food preparation. The unit operates with pulse control and not a standard power button.
The two blades give you different cutting styles, lending some versatility to the personal blender but you need to change the blades to benefit from this feature.
Operation and Cleanup
The NutriBullet operates along the same lines as the Magic Bullet by inversion.
In the absence of any speed controls, different functions like blending, chopping, and grinding will be controlled by the duration you let the motor run and of course, which blade you use.
To clean up your unit after use, simply dismantle the parts and rinse with soap and water. While the containers are dishwasher safe, the blades should be cleaned by hand only.
---
Magic Bullet vs NutriBullet: Main Differences
Bullet blenders, such as the two under review today, can make life in the kitchen much easier. Whether you're after smoothies or shakes, sauces or purees, or even baby food, the bullet blender can do it all for you.
Even though today's blenders both come from the same company, they do have some noticeable differences.
Style and Size
Both bullet blenders boast a thin, slim style that makes it easy to carry when needed. However, the standout feature of the Magic Bullet is that it only sells one style and size.
This means that there remains no worry to buy updated versions of the Magic Bullet and all its accessories will still be compatible with a newer bullet should you need to replace your old machine with a new one.
The one-style feature comes as an 11-piece set that can be upgraded to a 13 piece or even a 17-piece set if you feel you need more accessories with it. Or, you could just purchase the accessories separately without buying a new bullet blender.
On the other hand, the NutriBullet 600W is sold as a 12-piece set with multiple cups and accessories. Unlike the Magic Bullet, this is not a one-style blender as it also boasts an upgrade in the form of the NutriBullet Pro 900, amping up the power from the Original's 600 to 900 watts.
Accessories remain interchangeable between the 600 and its upgraded version but not necessarily across other NutriBullet models.
Read More: Which single-serve blender is the best for making smoothies?
Power Profile
The other significant difference between the two models is the power output. The Magic Bullet works with 250 watts of power which makes it a fairly weak contender in the bullet blender market.
The NutriBullet works with 600 watts of power which is a significant improvement on the 200 figure but still pales in comparison to many other personal blenders in the market. That said, it will give you good smoothies and shakes but will have limited performance when dealing with tougher ingredients.
Magic Bullet vs NutriBullet: Final Thoughts
Both contenders for the Magic Bullet vs NutriBullet showdown are fairly elementary models with no bells and whistles attached as with other more advanced blenders.
However, the NutriBullet 600 comes out the clear winner as it remains one of the most popular portable blenders on the market for making quick and easy blending recipes. It mainly gets this edge over the Magic Bullet because of its higher power profile making it better adept at handling more versatile blending functions.
The Magic Bullet has its own fan following of users who want a reliable personal blender to yield them their favorite smoothie every day without fail.