Powerful 900W Motor
Convenient & Portable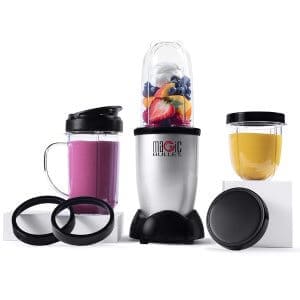 Cheap Price
#1 Selling Blender
---
Bullet blenders are efficient, space-saving appliances that can quickly whip you up a smoothie or shake and let you travel with it in a to-go cup. When you take established brands like Magic Bullet vs Ninja, you know that you will get a blender that will do something just a tad bit more than simply blend a nutritious drink.
Although compact units, don't let the small size and capacity of these bullet blenders fool you. In fact, what these machines lose in size and small footprint, they make up for in speed, time-efficiency, and a fair degree of versatility.
From the most basic of models such as the Magic Bullet to their more advanced versions such as the Ninja BL456, bullet blenders have evolved significantly over time. While staying true to the single-serve philosophy of bullet blenders, newer models also showcase different types of blending containers, improved blade design, and automated settings and programs.
Magic Bullet Vs Ninja: Comparison
Magic Bullet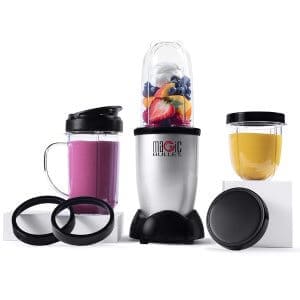 PROS
Suitable for individual recipes
Compact size
Affordable unit
CONS
Weak motor
Struggles with tougher ingredients
---
Magic Bullet Review
The preferred bullet blender for many, the Magic Bullet is a compact blender that you can rely on for a quick smoothie without having to invest in something costly.
What It Does
Being one of the most basic blender models, the Magic Bullet operates through a 250-watt motor that will yield you a decent smoothie that is ready to take along when you need it.
Its simple-to-use design is free of any bells and whistles keeping things to the minimal. There are no buttons or knobs to deal with but just the blender jar and the base unit.
Simply place your ingredients into the jar, screw blade assembly in place, and put on the base to turn the unit on.
Once done, you can drink from the same cup or carry it with you if needed.
Read More: Nutribullet Vs Magic Bullet Vs Ninja comparison
What It Includes
For a basic bullet blender, the Magic Bullet comes with quite a few parts. With the standard 11-piece purchase you get one cross blade, 2 drinking cups and a party mug, 2 shaker/steamer tops, 2 resealable lids, and one flip-top to-go lid, one recipe book, and the base unit.
The standard package will let you blend, chop, puree, grind, and shave ice. But if you're looking for something more, then a 15 or 17-piece set will throw in an additional flat blade to work with dry ingredients as well.
---
Ninja BL456 Review
Another blender that is suitable for small kitchens, studio apartments, dorm rooms, or even traveling is the Ninja BL456.
Powerful Performance
The Ninja BL456 is a powerful blender with its 900-watt motor that faces no problem breaking down the toughest of ingredients. The impressive motor power puts this compact blender on par with many larger blenders.
The motor is equipped with a safety system that shuts the machine off in case of overloading to prevent motor damage.
Its Pro Extractor blades are useful for shredding, grinding, blending, and chopping tasks. The 4-pronged blade has two blades facing upward and two downward that work their way through tough ingredients with ease.
Operation and Storage
The Ninja BL456 has a compact design that lets users set it up and store just about anywhere in the kitchen.
Set up is simple by adding ingredients into the cup of your choice, putting on the blade cap and locking it in place. To run the unit, push down on the cup to pulse. Keep pushing for the duration of the blend and when it's time to stop, simply stop applying pressure.
While simple to operate, constantly having to hold down the blending cup can tire out your hand. Here, an On/Off feature would have been nice.
The cup sizes with this unit make it easy to take your drink on-the-go.
---
Magic Bullet vs Ninja: Main Differences
The Magic Bullet is an elementary model while the Ninja BL645 boasts more bells and whistles. The two have some very obvious differences in what they offer with the Ninja boasting higher specs and more advanced features. But the Magic Bullet comes in handy as a personal blender that is more affordable.
Motor Power
The biggest difference between today's two blenders is the motor power. The Magic Bullet works with a mere 250 watts of power making it best suited for blending soft ingredient drinks. If you put anything too harsh in the blender, it will likely struggle through the task.
The Ninja, on the other hand, is designed to deal with tougher ingredients with its much stronger 900-watt motor putting it in league with larger and more professional blenders.
Accessories
The Ninja brings with it one regular 24 oz and one small 18-oz Nutri Ninja cup with sip and seal lid. On the downside, none of the cups have a handle for easier holding.
The Magic Bullet, despite being the more basic model has a larger variety of accessories with 3 drinking cups, one of which is a party mug. The accompanying resealable lids, lip rings, and the flip-top lid are interchangeable on all the cups which adds a nice convenience factor.
The Magic Bullet occupies next to no space on your countertop while the Ninja BL456, also small but taller, is able to fit easily under kitchen cabinets.
Magic Bullet vs Ninja: Final Thoughts
For a busy kitchen, the Ninja BL456 is the clear winner. While it may be the more expensive of the two blenders, but the power and flexibility it delivers are sufficient to justify its cost.
It makes for a decent heavy-duty machine that won't wear out too easily and will pulverize anything. The power is the obvious selling point with this model along with its compact size. In this regard, the Magic Bullet's 250-watt motor doesn't wield enough power to keep up with its more powerful competitor.
That said, the Magic Bullet remains an excellent choice for anyone who wants an inexpensive machine that saves on space as well. It remains one of the best options for individual-sized servings and for kitchens with basic blending requirements.