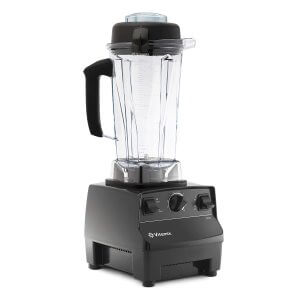 Most Popular Model
Simple Operation
Powerful 2.4HP Motor
Large Capacity
---
Vitamix is one of the best and most popular blender manufacturers in the world. They have provided us with some fantastic blenders such as Vitamix 7500 and Vitamix 5200. Its close competitor is Blendtec, but since Hamilton Beach and Jamba Juice joined forces, they have also been providing us with exceptional blenders.
The very first product they released was Jamba 2.4 hp blender with 64 0z jar, and it is what I will compare with the Vitamix 5200. Both mixers have received so much love across the world.
Both mixers are designed to last for many years, and they are quite powerful. They deliver as expected, and most people claim that they are easy to use. However, they still have their differences, which I will be addressing later on the article. Before we get to that:
Jamba Blender Vs Vitamix 5200: Comparison
Vitamix 5200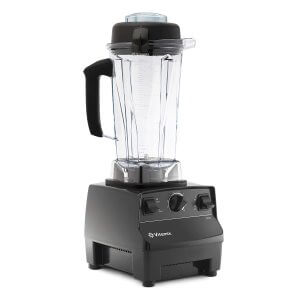 PROS
Easy to use controls
A versatile blender
A 2.4 hp peak motor
CONS
Loud
Its cookbook doesn't have soup recipes
---
Jamba Blender Review: Overview
Since 2015, Hamilton Beach and Jamba Juice have been providing us with classy blenders, and this Jamba blender was their first. They ensured that their first nearly perfect. It has given other high-end blenders competition, and its features will provide you with a clear picture of why.
Jamba Blender: Features
More powerful than most blenders in the market with a 2.4 hp motor
Four preset programs for smoothies, whole juice, ice crushing, and soup
Illuminated settings that you can use even in the dark
Durable plastic body
Weighs 10.7 pounds
Comes with a tamper for preparing spreads and frozen desserts
Large enough container, 64 oz but can still fit comfortably in most cabinets
A cookbook with 150 recipes
Jamba Blender: Settings and Programs
The blender comes with ten variable speeds that help you make some fantastic smoothies and juice, plus there is a Pulse function. There also four pre-programmed settings for smoothies, ice crushing, soup, and whole juice. The Pulse function works so perfectly with the speeds.
The blender is quite versatile, and you can use for functions such as frozen desserts, smoothies, juices, milling, grinding, chopping, pureeing, and soup/hot ingredients. The only complaints are it is quite loud, and some find it quite expensive.
---
Vitamix 5200 Review: Overview
Vitamix is quite a famous manufacturer of blenders, and the Vitamix 5200 is one of their best-selling mixers, so you can expect great things from it. It is quite powerful with the power to crush almost everything you throw into it. A lot of people praise how easy it is to use, and they are impressed with its durability.
Performance
Vitamix 5200 is quite a versatile blender that you can use to perform most of your kitchen duties. A lot of people are happy with the quality of its smoothies and juice. You can also use it to make purees, grind coffee beans, mill flour, cut veggies for salads, and crush the ice with ease, among other functions.
Read More: Vitamix 300 Vs 5200 comparison
Features
The primary reason why most people love Vitamix 5200 because of the features it comes with, and I am convinced that such features can impress practically anyone. Some of these features include:
High-performance motor
Stainless steel blades
Blade friction heating
Precise cutting design
Cookbook with lots of fantastic recipes
User manual
Seven years warranty
64 oz container
Self-cleaning feature
Even though it has its flaws like it is quite loud and expensive, it is a blender that is nearly perfect. Its features and functionality justify the high price, according to most people.
---
Jamba Blender Vs Vitamix 5200: Main Differences
Looking at the two blenders, you can easily confuse them since they are almost the same size with hardened stainless steel blades. They are both finished with a BPA-free plastic plus their control panel is kind of similar. However, they have several major differences, which sets them apart.
Price
Both blenders are quite pricy, but the Vitamix 5200 is a little bit costlier compared to the Jamba blender. The quality of both mixers is quite convincing, and each price is justified given the features they come with, plus their extended warranties. The difference in their price is almost 70 dollars.
Warranty
Both Vitamix 5200 and Jamba Blender come with long enough warranties to assure you of the quality of their blenders. The Vitamix 5200 blender comes with a seven years warranty while the Jamba blender comes with eight years warranty.
Such warranties, clearly show that both companies are confident with their products as the warranty covers all parts of the labor, performance, and two-way shipping in case you are not impressed with the blender.
Power
Both blenders are quite powerful enough to perform all your kitchen duties. The Vitamix 5200 blender comes with a 2.0 peak horsepower while the Jamba blender comes with a 2.4 peak horsepower.
It means that the Jamba blender is more powerful, and it is capable of making smoothies of higher quality and crush ice more precisely. However, Vitamix 5200 is also powerful enough to perform all kitchen duties with ease.
Read More: Vitamix S55 Vs 750
Jamba Blender Vs. Vitamix: Final Thoughts
Overall, the winner of this debate comes down to your usage and preferences. Both blenders have received so much love online with the Jamba blender having an average rating of 4.5 stars out five and the Vitamix 5200 having an average rating of 4.7.
They are both powerful enough to perform all your kitchen duties with ease, plus they are both easy to use and clean. However, if I have to go with one, I will choose the Jamba blender. The blender performs exceptionally just like Vitamix 5200 if not better, plus it costs lesser.
It may not be as popular as Vitamix 5200, but I can assure you that it will impress you. It is more powerful than Vitamix, comes with a more extended warranty of eight years, and it also costs lesser by almost 70 dollars. However, if you want to go for Vitamix because of its brand name, you won't be disappointed.  Both blenders are available on Amazon and other online stores.