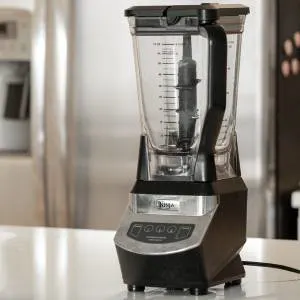 There is no need to buy BBQ sauce from any store when you can do it yourself at home with the assistance of a blender. But, how to make BBQ sauce in a blender?
All you have to do is put all of the ingredients in your blender. Then, if needed, add some optional ingredients and alter the seasonings.
This article will explain more about the BBQ sauce recipe and how to make it with the blender. Let's read on to discover!
Read More: Best Blender for Making Hot Sauce – 3 Powerful Models
Why Should You Use A Blender To Make BBQ Sauce?
A blender is a powerful tool that every cook and chef needs. You will find this tool super useful to make BBQ sauce because of these reasons:
Time-saving
Blenders may save you a lot of time. Simply combine all ingredients in the jug, top it with a lid, and press the "Start" button.
The blender can even prepare most smoothies in less than five minutes. If you want to make some sauce, you will wait for less.
Easy cleaning
This tool is simple and quick to clean up. All you need to do now is wash the jug once you've finished blending your sauce.
Some models require users to wash the jug by hand. However, the washing time must be no more than five minutes.
Read More: Can Ninja Blenders Go in the Dishwasher? Find Out Now
Versatile
Sauces aren't the only thing a blender can accomplish. This tiny kitchen device can also make dips, soups, salsa, and many more. It's pretty flexible and takes up very little room in your home.
What Do You Need To Make BBQ Sauce In A Blender?
The sauce is an important tick for every BBQ party checklist. It comes in a wide variety of flavors, but these are the essential elements for a classic BBQ sauce:
Tomato puree or ketchup

: Either can work in a BBQ sauce, but the ketchup gives it a more traditional sauce viscosity.

Vinegar

: It would be best to get the apple cider or white distilled.

Sugar

: You can use brown sugar, granulated sugar, honey, or molasses. All can sweeten your BBQ sauce.

Onion

: Either powder or chopped onions can work.

Lemon juice

: Use lemon juice as a finish to brighten the sauce up.
You can change the flavor of your BBQ in many ways to suit your preferences. Here are some examples of variations:
Sweet

: If you like your sauce sweet, add some sweeteners, such as sugar or honey.

Spicy

: There are two ways to make your sauce spicier: add roasted pepper while caramelizing the onions or put cayenne pepper in your remaining ingredients.

Smoky

: Make your BBQ sauce smoky by putting a little liquid smoke while cooking.

Tangy

: A few drops of lemon juice or vinegar can make your sauce tangier.
How To Make BBQ Sauce In A Blender?
A blender can save you time and labor. The process of making BBQ sauce is, therefore, straightforward. Let's follow these steps:
Start by stir-frying the onions under low heat for about 20 minutes, or until nicely caramelized.

Cook for another one to two minutes after adding the garlic. Stir once in a while.

Then, add the rest of the ingredients and simmer for about ten minutes, stirring to mix everything.

Put everything in the blender until the mixture becomes smooth.

Finish with a butter whisk and enjoy.
Tips For Making BBQ Sauce In A Blender
The blender is good at making sauce. Some extra tips below will help bring the better of your tool and sauce:
You can prepare the sauce three days beforehand. The longer you let it sit, the more flavors will bloom.

To reheat, pour the required amount into a mini saucepan and heat under low heat.

If you want to store the leftover sauce, remember to cover and put it in the fridge. It can last for ten days.

You may certainly replace the garlic and onions with powder or granules.

If you prefer tomato puree to ketchup, you'll need to thicken it up with some tomato paste.

If you over-blend the sauce, it will lose its color.

This BBQ sauce recipe is the best when going with pork, chicken, and beef.
Read More: Is Ketchup A Smoothie Since Tomatoes Are Fruit? 5 Differences
How To Choose The Blender For Making BBQ Sauce?
Are you looking for the finest sauce blender? Consider the following aspects that go into making a decent sauce blender.
Speed control
The most significant feature of a sauce blender must be adjustable speed control. This feature allows you to regulate the texture of the finished product carefully.
Some like their sauces to be chunkier, while others prefer the pureed ones. Even if you need both, the speed control of a blender can bring you the best outcome.
Pulsing
In terms of speed, any blender will pulse if you turn it on and off rapidly enough. However, this method is inconvenient and certainly not the best option for the mechanism.
If you truly want to conduct some light cutting on particular foods, having a blender with a specialized pulse mode is ideal.
For the most sensitive components that you could mistakenly liquefy rather than chop, the blender offers another level of control to the adjustable speed settings.
Heat resistance
Heat resistance is important, especially when you make the sauce.
You don't want any potentially toxic substances to sneak into your blended sauces. If the blender jar is not robust, such a thing might easily happen.
Furthermore, you don't really want the blender to go off the tracks! Pressure might build up within the blender if it can't withstand heat.
Frequently Asked Questions
Here are some frequently asked questions about making BBQ sauce in a blender. Check them carefully since they may be your concerns too.
1. Can I put hot sauce in the blender?
When you puree hot sauces in your blender, they can swell and burst, causing overpressure that may blow the top off.
After stir-frying the sauce, you need to wait until it cools down, then put it in the blender.
2. Is it cheaper to make homemade BBQ sauce than to buy it?
The DIY BBQ is surely cheaper than the store-bought versions. You can also adjust the flavor depending on your preference.
3. Can I use the food processor instead to make BBQ sauce?
Yes, you can. However, you need to do extra steps, which makes your cooking process more complicated. Using the blender is the simplest method so far to make the sauce.
The Bottom Line
We have shared with you some tips about making BBQ sauce in a blender. This tool saves your time and effort a lot.
You just need to put your favorite ingredients in the jar and let the blender do its task. The result would be smooth, evenly blended, and attractive for sure.
Hopefully, you will find this article helpful. If you need any further information, please feel free to ask. Thank you for following this post!
Read More: Best Ninja Blenders – 3 Top Rated Models