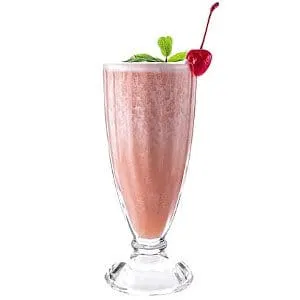 There is nothing more refreshing in the summertime than a cold slushie straight out of the slushie machine. But what if you could have the same texture, the same flavor, and the same refreshing sensation right in your own house?
That's right, you can make slushies at home in your blender. Today we are going to discuss how to make a slushie with a Ninja blender – though keep in mind that you can of course use any kind of blender you want. We will talk about a few simple recipes and some simple methods to make your summer better.
Homemade slushies are just as good as what you get from a machine. This is an excellent way to keep your kids in the yard and moderate how much sugar they actually drink. One of the best things about making your own slushies is that you control the ingredients.
As an adult, you can make your own alcoholic slushies, you can make your own fruit slushies, and you can trick your kids into thinking they're drinking sugary slushies when there is actually no sugar at all!
Read More: 4 simple Ninja blender soup recipes
How to Make a Slushie with a Ninja Blender
The trick to making a perfect slushie in your blender is to have the proper ingredients and to blend it the right way. It's actually really simple. All you will need is some chilled water, a few cups of ice, your fruit flavor, and your special ingredient that is going to make it sugary (or at least taste sugary).
Simply place all your ingredients into a blender, blend for about 2 minutes until the texture is just like what you see coming out of a slushie machine, then it's ready to serve and enjoy. Now let's take a look at some interesting slushie recipes to enjoy this summer.
Read More: Ninja blender won't turn on – 4 simple solutions
Classic Fruit Flavor Slushie Recipe
This recipe is for the classic fruit flavor slushie. The recipe calls for lots of sugar, so be warned! However, it will taste delicious. You get to choose whichever flavor you want by using a pre-packaged flavoring. You can get these at any grocery store, and they come in a wide variety of different flavors.
Ingredients:
2 cups Ice Water
1/3 Ounce Fruit Flavor (Or Single Packet)
2/3 Cup Sugar
4 Cups Ice Cubes
Instructions:
Start by placing all your ingredients into your Ninja blender. Your blender will be about 3/4 full. Secure the lid on the blender and begin blending on high speed.
You will need to blend for about a full minute. After one minute, stop the blender and give the mixture a good stir with a long spoon. If there are still giant chunks of ice, blend for another few seconds.
Once the mixture is the proper consistency of shredded ice, serve immediately and enjoy your summer treat.
Read More: Ninja blender juice recipes
---
Kool-Aid Slushie Recipe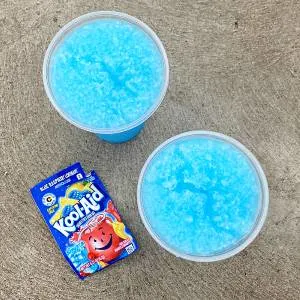 The Kool-Aid slushie recipe is very similar to the last recipe. The only difference is we are going to be using a Kool-Aid mix. These slushies are awesome for families and for kids, and they have an extremely bright and sugary flavor.
This Kool-Aid slushie is the best way to enjoy a hot summer day. All you need is ice and Kool-Aid flavoring to make it happen. You can make all kinds of different flavors by using the Kool-Aid packets. Just be warned that these are jammed full of sugar!
Ingredients:
2 Cups Cold Water
1 Kool-Aid Packet
½ Cup Sugar
4 Cups Ice Cubes
Instructions:
Blend all the ingredients inside your powerful Ninja blender on a high setting.
Continue blending on high until all your ice has been turned into slush.
Serve and enjoy. This recipe is enough for four servings in standard drinking glasses.
Read More: 6 delicious Ninja blender smoothie recipes
---
Cola Slushie Recipe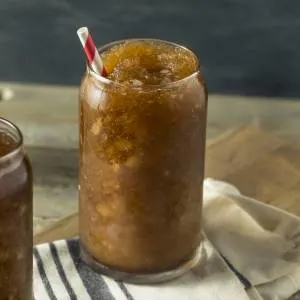 A cold can of cola is definitely one way to beat the heat on a summer day. But if you want to get experimental with it, why not try a cola slushie? This recipe is super simple, it requires just a few ingredients, and you can make it in about 3 minutes.
Try the cola slushie for a sweet taste of nostalgia. This is one of the most popular slushies that comes out of a machine in your local gas station, but you can make it even tastier by using your Ninja blender at home!
Do keep in mind that this recipe calls for a little bit of preparation. You're going to need a few cans of cola and an empty ice cube tray. The first step is to freeze all of your cola in your ice cube tray the day before you want to make the slushies.
Alternatively, you can freeze your cola cubes four or five hours prior. If you are thinking about having a chilled afternoon with some cola slushies, try freezing the night before or first thing in the morning. You will also need some normal ice cubes to create the best flavor.
Read More: How To Use A Ninja Blender: Ultimate Assembly & Tips Guide
Ingredients:
Instructions:
The first step is to freeze your cola cubes. Fill an entire ice cube tray with one can of cola and allow it to freeze for a minimum of four hours. You want the cubes to be completely frozen before you start making the slushies.
Keep the rest of your cola chilled in the refrigerator while the cubes are freezing.
Now take your cola cubes and dump them into your blender.
Pour the chilled cola from your fridge over the cubes and blend the mixture for about 20 seconds.
Now add the last 8 normal ice cubes and repeat the blending process. This time you will need to blend for between 30 and 60 seconds. Stop and check that all the ice has been thoroughly blended. If there are any large chunks, blend for another few seconds.
When the slushies are the right consistency, pour into glasses, and enjoy with a spoon and straw!
---
How to Make a Slushie with a Ninja Blender – Final Thoughts
A slushie is the ultimate way to cool down on a hot day, but sometimes you just don't want to leave the house to get one. With these tips, you can enjoy a delicious and cool smoothie from the comfort of your own home.
Read More: How to make crushed ice