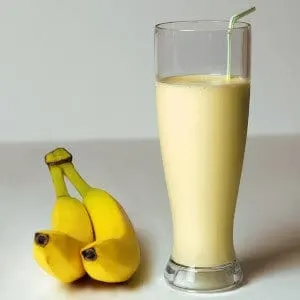 It is hard to think of something tastier than a cold banana smoothie. You can make a banana smoothie with literally anything, from chocolate to strawberries, and it will always be delicious. You can have a banana smoothie as a healthy breakfast, as an afternoon snack, or as a healthy treat after your workout.
When trying to answer the question, how many calories does a banana smoothie have? we need to look at exactly what ingredients you are using. It all comes down to your own preferences and what you use to build your smoothie.
For example, you can make your banana smoothie with yogurt, milk, almond milk, dairy milk, ordinary water, and an infinite number of other ingredients. If you want the least amount of calories in your banana smoothie, you will need to choose low-fat products to limit how much saturated fat and calories go into your beverage.
How Many Calories Does a Banana Smoothie Have?
I can't tell you exactly how many calories are in your banana smoothie, but I can give you a pretty solid idea of what to expect. For example, if you use 4 ounces of low-fat yogurt, a single cup of skim milk, and 1 full banana, your smoothie will have about 259 calories.
If you exchange the skim milk for almond milk, you will reduce your calorie intake by 23. However, if you use whole milk, the calories inside your smoothie will increase by an incredible 66. A single cup of strawberries can add up to 53 calories, while one tablespoon of unsweetened cocoa powder will add 11 calories. 2 tablespoons of peanut butter will add an outstanding 188 calories to your banana smoothie, and the list goes on and on.
Even healthy additions can add a lot of calories. For example, if you want to add some nutritious flaxseed, you can expect an additional 37 calories per each tablespoon. If you want to add spinach, you will get 7 calories with each cup of spinach. Everything has calories in it! If you are a person who likes sweetness and wants to add a tablespoon of honey to your banana smoothie, expect a boost of 64 calories.
As you can tell, how many calories are in your banana smoothie really depend on you. It is unavoidable to make a smoothie without extra ingredients, otherwise, you would just be drinking banana mixed with water. Everything has calories, and everything will add nutritional value to your smoothie along with calories.
The best thing you can do is understand how many calories each ingredient adds to your smoothie and regulate based on that. You can choose kinds of milk with fewer calories, fruits with fewer calories, etc.
Read More: Can You Juice A Banana: The Definitive Answer
The Best Banana Smoothie Recipe
Now that you know what to expect in terms of calories, it is time to like a look at the best banana smoothie recipe. This recipe is one of the lowest in calories that you can make, it tastes absolutely delicious, it only uses five ingredients, and it has a lot of healthy protein.
If you want a creamy banana smoothie, this is the one to try. It is packed with protein, potassium, and fiber. In fact, this is one of the best smoothies you can make for a healthy breakfast in the morning. Skip the toast, skip the butter, and skip the bacon. Try a banana smoothie for breakfast and get to work feeling amazing.
Ingredients:
2 Cups Frozen Banana (Sliced)
½ Cup Nonfat Greek Yogurt
½ Tablespoon Ground Flax Seeds
1 Cup Unsweetened Almond Milk
1 Teaspoon Vanilla Extract
Instructions:
To make this smoothie, simply place all your ingredients inside your powerful, high-speed blender and blend on high until the entire mixture is smooth and creamy. Feel free to add more almond milk if you want the smoothie thicker.
This recipe will yield two servings to enjoy immediately.
Read More: How To Make A Smoothie Thicker: 7 Simple Ideas
Nutrition Per Serving:
Calories: 200
Sugar: 21
Sodium: 143
Fat: 3
Carbs: 34
Fiber: 4
Protein: 11
Recommended Toppings:
When it comes to a delicious banana smoothie, the sky is the limit. You can add all kinds of unique toppings to your smoothie for an added boost of flavor. Seeds and granola made for an extra crunch, while slices of fresh fruit are great for presentation and texture. You can try literally anything, but here are some recommended toppings for this particular banana smoothie.
Peanut Butter
Granola
Blueberries
Banana Slices
Hemp Seeds
The Benefits of a Banana Smoothie
If you are still unsure about trying a great banana smoothie, you should know these are extremely healthy. Even with 200 calories, you get lots of nutrition in every banana smoothie. Plus, you can try them with all kinds of different fruits and vegetables. Depending on you, your banana smoothie can be seriously healthy.
For example, you can use banana even in a green smoothie recipe with avocado, spinach, and cauliflower. There is nothing in the world of smoothies that bananas can't enhance. And rather than using ice in your smoothie, simply use frozen banana slices as a base. This keeps your smoothie cool and removes the need for extra water.
And if you didn't already know, bananas come jammed full of potassium, vitamin C, and magnesium. Those are seriously important nutrients for every human being. Banana smoothies can be eaten immediately, or you can store it in the refrigerator for up to two days. This could make a satisfying drink to keep coming back to throughout the day!
The truth is there are lots of benefits to drinking a banana smoothie. It's healthy, it's tasty, and you can replace your breakfast. It is also less time-consuming in the early morning to make a banana smoothie rather than cook yourself breakfast.
And if you ever run out of bananas, you can easily substitute banana for avocado. It may taste a little different, but avocado has the same thickening effect as a banana!
Read More: Great alternatives to avocado