Can you grind coffee beans in a Magic Bullet blender? You'll be pleased to know that you can. All you need is a flat blade attachment, some fresh coffee beans, and a bit of patience.
If you love a freshly brewed cup of Joe in the morning but don't have a coffee grinder, I can help. There is a simple 5 step process to make sure that you can grind coffee beans in a magic bullet blender and use the best ingredients to get the perfect result.
This article will guide you through all of the steps to grinding coffee beans in this powerful and versatile appliance so that you can enjoy fresh and flavorful cups at home or take them on the go.
Read More: Magic Bullet Review – The Personal NutriBullet
What is the Magic Bullet Blender?
The Magic Bullet is a blender that has been designed to perform multiple functions, including chopping, grinding, mixing, and blending. This appliance can be used to create sauces, soups, pancake batter, smoothies, and even baby food.
The reason why the Magic Bullet is so popular is that it is so inexpensive. It is also versatile and it has a unique design that allows you to perform multiple functions with ease, and one of these functions is grinding coffee beans.
How to Grind Coffee Beans in a Magic Bullet
Here is a step-by-step guide on how to grind coffee beans in a magic bullet blender. The most important thing to remember is to use a flat blade when grinding. If you don't have a flat blade, you can purchase one on Amazon.
Fill the Magic Bullet Cup with Fresh Coffee Beans
When grinding coffee, you can use either fresh coffee beans or pre-ground. If you want your ground to be as fine as possible, then it is best that you start with whole beans and do the grinding yourself. It will give your Magic Bullet more power than if using already ground coffee beans.
To begin this step, fill up the cup of the Magic Bullet halfway with freshly roasted coffee beans. I recommend going for a medium–course grind so that there aren't any large chunks getting stuck in between blades when grinding them into powder form later on during step two. You'll never get that powdery feeling if the beans are too coarse.
Use a Flat Blade for Grinding
Next, place the flat blade on top of your Magic Bullet and make sure it is tightly secured in place for safety reasons.
Do not try to use any other blade for grinding as this will only produce inferior results and waste the beans. Only a flat blade will provide the best results when it comes to how fine your ground coffee beans turn out in the end, so don't take any risks.
Avoid overfilling your Magic Bullet cup with ground coffee beans to prevent spillage from occurring during the grinding process, which could result in an unwanted mess for those who are looking forward to making their favorite morning beverage!
Secure Your Magic Bullet and Pulse the Beans
After you have completed steps one and two, secure your device by closing down on all sides of the cup with firm pressure being applied from each side. Once this is done, press down on the cup to activate the blending for 5 seconds, and then let go.
Continue with these short bursts of blending, known as pulsing, until the coffee beans are ground to your desired level of fineness. After every few pulses, remove the cup from the base and give it a good shake. This will allow the fine particles to rise to the top, leaving the coarse particles at the bottom ready for more blending.
By periodically pulsing and shaking, you will ensure that your Magic Bullet blender grinds your coffee beans as evenly as possible.
Remove Container and Pour Ground Coffee Beans into Filter Basket
Once you are satisfied with the consistency of the coffee, remove the cup from the blender base by lifting it straight upwards.
Once you have completed this step, pour the contents into a filter basket or other container. If you are using the coffee immediately then you can add it to your espresso machine for making a shot of coffee, otherwise, store the grounds in an airtight container.
Finish Making Your Coffee
After you have completed all these steps, enjoy your fresh cup of delicious morning coffee!
Read More: Best Blender for Bulletproof Coffee – 3 Top Models
The Benefits of Grinding your own Coffee Beans
No matter how coarse or finely ground your grounds will be after performing these steps properly, there's no denying that freshness will be preserved in both cases due to shorter exposure times compared to buying pre-ground varieties at local shops – something that I guarantee you'll notice right away if you're a big coffee drinker.
The benefits of grinding your own beans will add up in the long run, especially if you're a heavy coffee drinker. In addition to preserving freshness for longer periods of time than most pre-ground varieties available at local stores or supermarkets, this method also allows you to experiment with different types of ground coffee and find your perfect grind.
Read More: Can A NutriBullet Grind Coffee? Ultimate 6 Step Guide
Should I use the Magic Bullet to Grind Coffee Beans?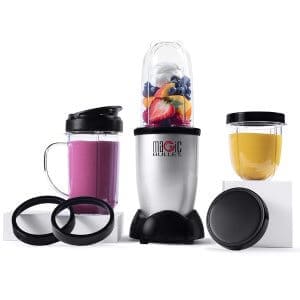 Now don't get me wrong, the Magic Bullet will do a good job of grinding coffee beans if that is your only option. However, if you have an electric coffee grinder, then I would recommend you use that instead.
The following reasons are why an electric coffee grinder will always be a better choice than the Magic Bullet for grinding coffee beans.
An electric coffee grinder will produce a finer grind, resulting in slower extraction and more flavor per brew.
Electric coffee grinders are specifically engineered for this purpose, while the Magic Bullet is designed to blend other types of foods.
An electric coffee grinder can adjust its settings depending on how finely or coarsely it should be grinding the beans. While these aren't too significant, they do make for an all-around better experience than the Magic Bullet's single setting.
One downside of using an electric coffee grinder is that it produces heat during use, so it may need to be cooled before reusing. The lid of the appliance needs to be taken off after every few minutes due to this process occurring shortly after brewing kicks into gear.
An electric coffee grinder may require a bit more maintenance than the Magic Bullet, but it is certainly worth your time. It can also be used for other purposes, such as grinding spices or herbs.
Read More: Can I Grind Coffee in My Vitamix? The Ultimate Answer
Can You Grind Coffee Beans in a Magic Bullet – Final Thoughts
In conclusion, there is no need to spend more money on pre-ground coffee varieties at local shops when it comes time to make your daily brews or travel mugs of iced coffee. All you need to have access to fresh grounds is through the use of an affordable yet powerful appliance such as the Magic Bullet blender.
The Magic Bullet is a powerful and versatile kitchen appliance that can be used as an electric coffee grinder. You might not think of this blender as a great tool for grinding, but it does work if you follow these 5 easy steps.
If you're looking for something quick, practical, and affordable to use at home or take on the go, this article should help get you started.