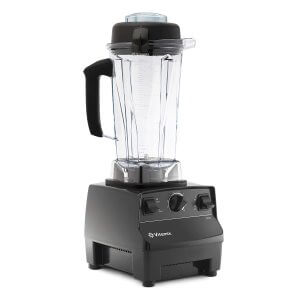 Most Popular Model
Simple Operation
Durable Design
Cheap Price
---
There are many kitchen blender manufacturers on the market these days, so it is reasonable that sometimes the customers are unsure which one to buy.
Today I will strive to make that dilemma a little bit easier since I will point out the differences in Dynablend VS Vitamix products comparison.
The Dynablend Tribest DB 950 and the Vitamix 5200 are both very effective and convenient kitchen blenders for non – professional use and will do most blending jobs you set them to do.
The truth is that every customer has the taste of its own, preferences vary but after reading this review you will have a clearer image of specifications for these two blenders.
They are both very versatile and allow the production of many different dishes, juices, and smoothies, so without further delay, let's see what makes them great for customers.
Dynablend Vs Vitamix: Comparison
Dynablend Tribest
PROS
Offers a variety of blending speed options
Has 3 preset functions for easier processing
Has a strong stainless steel construction
CONS
The motor power makes it incapable of blending tougher ingredients
Offers no specific pre-installed blending programs for different food categories
---
Dynablend Tribest DB 950 Review
When it comes to compact kitchen blenders for household use, the Dynablend Tribest series offers many useful blending features to make your home blending nearly professional.
Features and Functions
Having in mind that this blender fits in the category of the most affordable ones on the market, its blending features are quite remarkable.
It is equipped with a 1.1 peak horsepower motor which is strong enough to rotate the blades at considerable speed and offers just enough blending power for household use.
The blender has no actual preset programs for blending but has 3 pre-installed options that are standard for most blenders on the market.
All functions are timed and offer pulse, blend, and combo blend options.
Besides those functions, the Tribest is equipped with 6 – speed settings you can choose starting from the minimum speed, up to the high – speed option.
Build Quality and Durability
When it comes to question the durability and build quality of this blender, you will be surprised how quality made it is.
For a very affordable price, you get the premium stainless steel construction.
The blade assembly is also made of stainless steel so the whole construction of the blender is very durable and capable of withstanding the usage on a regular basis for years.
If that is not enough to convince you, the blender comes with a full 10 -year warranty.
---
Vitamix 5200 Review
Although this model is an older Vitamix blender from the classic series, its functions and power are what make it desirable even to this day.
Functional Convenience of the 5200
This widely-used Vitamix 5200 blender has stayed in use in many objects and homes up to this day for a reason.
It can process practically anything you put in the container and even though it lacks some premium Vitamix features installed on newer models, it is one of the company's best-sold models.
Being powered by a great 2.0 HP motor, this blending machine has its way of processing extremely tough ingredients.
You will never have a problem making nut butter and similar products while using it.
The manual control panel offers several convenient options, starting from the variable speed choice switch.
By using this switch, you will be able to select 10 different blending speed options.
There is also an additional high – speed switch for easier processing of extremely tough ingredients.
Read More: Vitamix Pro 300 Vs 5200, which is better?
Durability of the 5200
This model is one of the most reliable Vitamix blenders of its category.
It has much to offer in durability since it is equipped with the safety program for motor cooling.
This option helps prevent the motor from overheating and it also has a thermal protection safety measure installed.
The blender is made of quality materials, the blade assembly is made of stainless steel and the user manual which comes with the 5200 will teach you how to change speeds to maintain the great condition of the motor.
---
Dynablend Vs Vitamix: Main Differences
Besides the differences in size since the 5200 is a larger blender than the Tribest, there are several more significant differences between these models.
Functional Differences
The thing is, the Vitamix 5200 has a significantly more powerful motor than the Dynablend Tribest model.
It also offers 5 more blending speed options making it much more convenient for use when blending different kinds of ingredients daily.
The pulse option is not included on the 5200 as on the Dynablend model but the Vitamix 5200 has its way of performing pulsing tasks as well.
The blades are extremely sharp on both blenders but the Vitamix 5200 offers slightly larger blades which results in overall better blending performance.
Read More: Vitamix S30 Vs S55
Other relevant differences
Based on the package you choose when buying the 5200, the largest container offers more space for ingredients than the 60-ounce container of the Tribest.
The Tribest model features more metal components than the Vitamix 5200 since Vitamix is a larger model and has several plastic parts.
Either way, the couplings connecting the motor and blade assembly are metal so you will not lose on durability by choosing the 5200.
The Dynablend Tribest is a little easier to store since the size of the base is smaller than the Vitamix 5200.
Dynablend Vs Vitamix: Final Thoughts
The main thing that differentiates these two blender manufacturers is the price of the product itself.
While Vitamix has a long tradition and reputation it is no wonder that their products cost more than Dynablend models.
However, as the Vitamix 5200 is such a reliable and high-quality blender, the price will certainly pay off in the future since you will never have to change it many years to come.
The Dynablend Tribest DB 950 is also a very reliable model, capable of conducting most of the blending functions a regular household could need.
This comparison makes a tough competition and overall, the Vitamix 5200 is a slightly better product in terms of functionality and blending power.
Even so, it is hard to say that it is a much better model than the Dynablend Tribest so every customer should decide which product to buy by personal preference.
Related Articles: