Pulse Technology
Electric Touchpad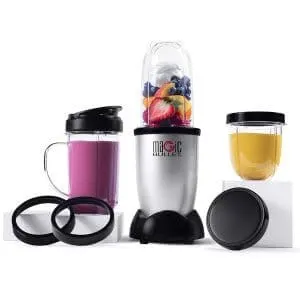 Cheap Price
#1 Selling Blender
---
These are two uniquely different machines, each with their own special features and abilities. And while the Cuisinart CPB 300 is the more expensive unit, the Magic Bullet still has a lot to offer in the world of blending.
Both blenders come with a lot of accessories, including convenient to-go cups and lids. Each blender is slim and compact, allowing for easy storage and cleaning. And, each blender is a personalized unit that makes single-serving shakes and smoothies in seconds.
Keep in mind that while both blenders are fairly old models, being first released in the early 2010s, they have not lost any of their value. If you are one of those people who needs shakes and smoothies in a hurry, these awesome machines will help with your busy day.
To decide which of these units best fits you, and if budget is the better choice, I am going to dig deep into these great blenders and see what really sets them apart. Let's take a quick look at some of the pros and cons of each.
Cuisinart CPB 300 Vs Magic Bullet: Comparison
Cuisinart CPB 300
PROS
Slim and Sleek, Fits Anywhere
Electronic Touch Pad + LED Indicator Lights
Variable Pulse Control
CONS
Originally 10+ Years Old
More Expensive Than the Magic Bullet
---
Cuisinart CPB300 Blender Review
Cuisinart is notorious for making the best kitchen appliances. And while the Cuisinart CPB300 Blender is not a super expensive premium model, it is a high-quality machine that makes excellent shakes, delicious smoothies, and can even blend salsas and sauces to perfection.
Slim & Sleek
One of the coolest things about this blender is its size and shape. It almost looks like a rocket. Because the CPB300 is so portable, you can store it easily in any space, tuck it out of the way on your kitchen counter, or even take it with you to your hotel room when on vacation and annoy your neighbors.
Pulse Technology
For such an old unit, the Cuisinart CPB300 still has a lot of relevant features. In fact, it has some of the strongest pulse technology I've ever seen in a personal, single-serving blender. It has dual pulse controls, allowing you to get the best texture in low mode or high mode.
The pulse feature is intensified by the steel blades, which are ultra-sharp for maximum blending power. Fueled by the 350-Watt motor, you can blend solid ice and frozen fruits into a chilly liquid paste in seconds. No more waiting and no more clogged blades.
---
Magic Bullet Blender Review
What can I say about the Magic Bullet Blender? This is the unit that made blending so popular just a few years ago. It has never lost its relevance. In fact, the Magic Bullet is just as great a blender now as it was when it first came out. Easy to use, it blends everything, and it is great for people always in a rush.
Hurry, Drink Your Smoothie!
The Magic Bullet, made by NutriBullet, comes with a plethora of convenient to-go cups with flip-top lids, allowing you to blend your smoothie, swivel on the lid, and head out the door while your drink is still cold and refreshing.
Another great thing about the Magic Bullet is that if you work in an office, you can easily make a 30-second smoothie at work and then hurry back to your desk. The Magic Bullet is as small and light as a large cup of coffee. It is super portable!
Read More: What is the best bullet blender?
Proven Magic
With its long-running track record of quality and convenience, you can rest assured knowing your Magic Bullet is going to work whenever you need it. Thousands of satisfied customers all over the globe do not lie. The Magic Bullet is a reliable and effective machine for blending shakes, smoothies, and all kinds of other foods.
---
Cuisinart CPB300 vs Magic Bullet: Main Product Differences
While these two products are strikingly similar, they are also strikingly different. Both are portable blenders, both are lightweight and slim, and both come included with special BPA-free to-go cups. The big difference here is quality.
The Extras
The Cuisinart CPB300 has super sharp steel blades, standby mode, auto stop features, an electronic touchpad, and indicator lights. The Magic Bullet has none of these extras. The Magic Bullet is, at its core, a simplified blender that does one thing.
And while the Magic Bullet comes as a 13-piece blender set with very tough plastic cups, it still cannot compete with Cuisinart's high-quality to-go cups. The CPB300 also has a larger main blending jar that you can use for multiple servings. The Magic Bullet does not come included with a main blending jar.
Read More: Blendtec Vs NutriBullet Rx comparison
Price vs Quality
There is something to be said about quality. The Magic Bullet is a mass-consumed product and therefore lacks certain design aspects in favor of being affordable for everyone. Because the Cuisinart costs a little bit more, it comes with better components, better blades, and a stronger motor. The Magic Bullet boasts 250 Watts while the Cuisinart offers 350 Watts.
If I were to bet which machine would break first, I would sadly say the Magic Bullet. This is not due to a design fault. It simply has to do with using more affordable materials in a more affordable unit. The Magic Bullet is, by all means, an amazing machine. It just lacks premium quality.
Cuisinart CPB300 vs Magic Bullet: Final Thoughts
This is honestly a tough call for me to make. Sure, the Magic Bullet is a fraction of the price of the Cuisinart CPB300 blender. However, the Magic Bullet is almost just as good. It is easy to load, easy to blend, and easy to live healthy using its blending power.
But the Magic Bullet comes up short in the features and accessories department. It is a handy unit for those who just need to blend a bit of fruit in the morning and be on their way.
However, as someone who enjoys high-quality machinery that goes above and beyond, I have to recommend the Cuisinart CPB300 as the better machine.
As a portable blender, the CPB300 does it all. Mincing herbs, blending fruits and veggies, making whipped cream, and even mixing salsas – you can do anything with this blender. Plus, it comes with some of the best travel cups out there, which makes it an all-inclusive unit.
Related Articles: