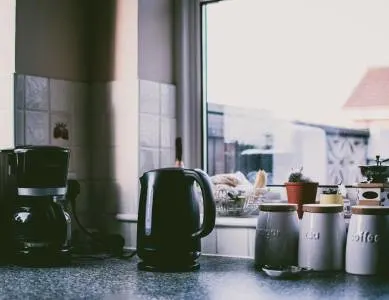 Coffee holds a special place in almost everyone's life. You would often hear from coffee lovers that it is not just a drink but a whole mood. And this says a lot about how seriously people take their favorite hot drink.
Coffee is not only famous because of its richness in taste but also because it has multiple health benefits, and people can't seem to function properly without having their dose of caffeine each day.
Keeping in line with that, here are some of the coffee bar ideas for a kitchen counter to please the coffee addict inside you.
So, scroll down further & see how you can create the coffee station of your dreams.
Read More: Best Blender for Bulletproof Coffee: 3 Top Models
Clear Out The Mess
The first step you should be taking is clearing off the mess on your kitchen countertop.
Machines that are of no use to you anymore remove them. If there is anything that has been sitting idle on the countertop for too long, get rid of it too.
You can not make barista-style coffee at home unless you let go of the unnecessary items.
Dedicate A Theme To Your Coffee Space
The first and foremost thing you should be doing is to decide on a theme for your small countertop coffee bar.
You may wonder why it is even necessary to decide a theme in the first place? Well, there definitely is an answer to your question.
Having your coffee bar themed distinguishes it from the rest of the kitchen area. This lets you have an arranged and clear space within the kitchen premises. Moreover, deciding a theme for the coffee area represents how you want the things you love to look like.
Personalize The Coffee Bar
Now that you're done with deciding a theme for the coffee station in your kitchen, it's time to personalize it.
We, humans, tend to be attracted toward things that are personalized the way we want them to be. So shape the coffee bar according to your taste and make it a pleasing sight for sore eyes.
You can add a wall hanging that has something relatable on it, favorite flowers beside the coffee maker, a photo frame of your loved ones, and a chalkboard to the aesthetics of coffee bar ideas for the kitchen counter.
Display Your Collection Of Mugs
Coffee mugs quoted with inspirational sayings motivate you on a matchless level while you're having a morning dose of caffeine. This is why every coffee lover dreams about the best coffee mugs to have.
Similarly, displaying those mugs in the coffee bar also pleases your aesthetic sense and simplifies coffee-making for you.
For this, in case you're running out of space, you can mount floating shelves or use a bunch of hooks on the wall to hang the mugs.
Moreover, you can also DIY a wooden cupboard and fix it on the wall to display the mugs.
Go Creative With The Coffee Area
This idea is for those who don't like to keep the coffee bar minimalist.
Let the creativity inside you come out and do its wonders on your coffee station.
You can paste a wallpaper that matches the decided theme and your creative mind. Moreover, place a stand beside the countertop to put the kitchen towels on it. This will save the hustle if you accidentally spill the coffee and you're already running late for work.
Read More: Can You Grind Coffee Beans in a Ninja Blender?
Put Things Separately
Having a huge range of coffee beans along with the flavors is cool until things start to get messy for you.
Just like you're mindful of what kitchen knives you need, here is one of the coffee bar ideas for the kitchen counter to save your coffee station from getting messy.
It is always better to get yourself one or two trays to separate small things.
You can also use air-tight jars for the coffee beans and label them for more clarity. Moreover, get yourself a stand that neatly holds coffee essentials.
Match It To Shake It
Just painting the coffee bar furniture according to the decided theme might not be enough to make it look aesthetically appealing.
You can up the game of your cute coffee bar by matching the utensils used for coffee making. These utensils may include jars, spoons, mugs, or baskets for the tea bags.
Use Fairy Lights
There's never a limit when it comes to decorating your surroundings.
Similarly, if you want to add more to the outlook of the coffee bar, use fairy lights.
Since the winter is already here, everything around you should look and feel cozy, right?
Using any kind of mini lights that gives a warm glow at night would suffice your craving for coziness.
Read More: Can A NutriBullet Grind Coffee? Ultimate 6 Step Guide
Light Up Scented Candles
There's no doubt that the aroma of coffee is enough in itself when it comes to pleasing our smelling senses.
But placing a scented candle within the coffee space won't do any harm either. Instead, it will enhance your coffee bar ideas for the kitchen counter.
P.S. if you don't seem to like the idea of having scented candles in the coffee station, you can use the mini candle lights to spruce up your personalized coffee area.
Make It Kid-Friendly
This tip is for those who have kids growing up in their homes.
We all know how you have to be on alert all the time if you have got toddlers running and playing around the house.
This is why it is advised to make arrangements and decorations that are safe for kids.
Or, if you've got a door to the kitchen, you can relax and not fret over what those little troublemakers would do next.
The Bottom Line
Nothing beats the leisure of having an arranged and personalized coffee bar that too in your home.
There's no denying the fact that you can always upgrade or redesign the things around you.
But for now, I hope that the coffee bar ideas for the kitchen counter given above would turn out to be useful for your every need.
If you've got anything to add or suggest, feel free to drop them below because I'd love to hear from you!
Read More: Can I Grind Coffee in My Vitamix? The Ultimate Answer