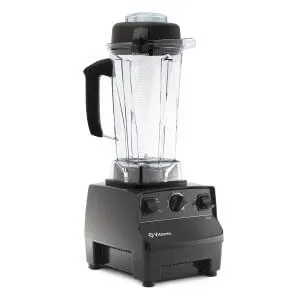 Most Popular Model
Simple Operation
---
A kitchen without a blender is not complete, especially this time when most of us are at home. However, with numerous brands in the market, getting the right one for you might be quite challenging. Cleanblend and Vitamix are some of the best-selling brands in the market right now.
Today, I will compare two of their blenders that have received lots of love from their users, the Vitamix 5200 and Cleanblend Commercial Blender. Both blenders will serve you gracefully in the kitchen, but the right one for you boils down to your tastes and preferences.
Most people have claimed that these two blenders are almost identical performance-wise, which leaves many wondering why they should go for the more expensive Vitamix 5200. This article will take a closer look and discuss these two blenders in detail. Without further ado, let's get into it.
Cleanblend Vs Vitamix: Comparison
Cleanblend Commercial
PROS
Versatile
Well-built
Powerful
CONS
Doesn't include a cookbook
Some complaints of a design flaw
---
Cleanblend Commercial Blender: Overview
The Cleanblend Commercial blender is a solid mixer that you can use in your kitchen or for commercial purposes. It makes some quality beverages, and you can use it for pureeing and grinding. Its top performance has been compared to top blenders, and it is often compared to Vitamix 5200.
Performance
The performance of the Cleanblend Commercial blender is impressive, and its users have great things to say about it. From my research, the blender is nearly perfect when it comes to making smoothies.
It is also quite impressive with ice crushing, pureeing, and grinding. The blender is also very good at making hot soup, and you can also use it for chopping and kneading the butter.
Speed Settings and Programs
The mixer comes with ten variable speeds as well as a pulse lever. However, its lowest speed is not low enough as it is equivalent to 10, 000 RPMs compared to the lowest of Vitamix, which is 500 RPMs. It has a self-cleaning setting, which makes it even easier to clean.
It is a machine that will most probably make you happy, especially considering that it's quite affordable.
---
Vitamix 5200 Blender: Overview
The Vitamix 5200 is quite a popular blender, and it is for a good reason. It is a powerful blender, and most users have praised its performance.
Performance
Performance-wise, the Vitamix 5200 is one of the best blenders out there. I looked at tons of reviews, and most people are quite impressed with the quality of smoothies and juice this blender makes. It is also quite good at making purees, grinding coffee beans, crushing ice, milling flour, and making frozen desserts.
Power and Ease of Use
The Vitamix 5200 blender is capable of crushing whatever you throw in its way. It is quite easy to use, but it has a small difference with other blenders produced by Vitamix. This one does not have a Pulse function. However, it comes with a perfect replacement, which makes your work even more straightforward.
The blender is also quite easy to clean, plus it comes with a self-cleaning feature, making your work even more straightforward. It also comes with a cookbook with some amazing Vitamix recipes.
Vitamix customer support is also commendable in case you run into any problem with your blender. It is also quite durable with a long warranty. The only problems are the blender comes with fixed blades, and it is quite noisy.
---
Vitamix Vs Cleanblend: Main Differences
When looking at these two mixers, someone can easily confuse them. They are of the same size, 64 oz, and both of them have stainless steel blades. They are made of BPA-free plastic, plus they are quite large to fit in most cabinets.
They are both not dishwasher safe but still so easy to clean. Also, the control panel is almost the same. However, the blenders still have their differences, and that's what sets them apart. These differences include:
Warranty
Both blenders come with long enough warranties. Cleanblend comes with a warranty of five years and offers an extension of up to ten years, but for an additional cost.
Vitamix, on the other hand, it comes with a seven years warranty with an extension of up to ten years, but at an additional cost as well. Their customer support is also impressive. The warranty covers all parts of the performance, labor, and two-way shipping in case you have a problem with the product.
Price
There is a huge difference between the prices of these two blenders. Cleanblend costs almost half the price of Vitamix 5200. The quality of the product is also quite convincing, given that they give you a warranty for five years.
Vitamix, on the other hand, it is quite pricy but worth it. Vitamix is a well-established brand that has provided us with some fantastic blenders. It comes with seven years of warranty, which shows that they are quite confident with their product.
Cleanblend Vs Vitamix: Final Thoughts
Overall, the winner of Vitamix vs. Cleanblend debate boils down to personal preferences and usage. Both blenders are quite impressive, with Vitamix receiving a 4.7 rating on Amazon and Cleanblend getting a rating of 4.4.
They are of the same size and can perform a different set of kitchen duties with ease. However, if I had to choose one, I would go for the Vitamix 5200. The blender is quite easy to use, powerful, and long-lasting with a warranty of seven years. Even though it is quite expensive, such a warranty makes the price not seem hefty.
Also, Vitamix is a well-known brand that has been in the market for almost a century providing us with high-quality products. It is recognized as one of the best blender manufacturers, so with their blender, you can feel safer and proud. It is like owning an iPhone.