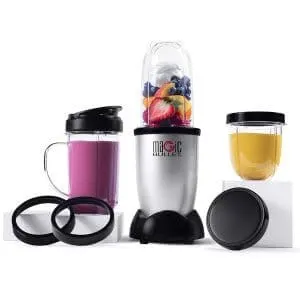 Cheap Price
#1 Selling Blender
Powerful 600W Motor
Convenient & Portable
---
For a brand as well established as NutriBullet, there is no dearth of models to choose from and their upgrades keep coming. But of course, with upgrades come a higher asking price. Today, I will be looking at the cheapest NutriBullet that will deliver the goods despite its modest price tag.
But first, the reason why NutriBullet has managed to stay not only relevant but also prominent in the blender market is because of their trademark upside-down bullet blender configuration. In fact, for many people, the bullet blender has become the breakfast weapon of choice. It's a much smaller alternative to bulky countertop blenders and one that lets you carry your smoothie with you as you go about your day.
With the NutriBullet brand, you get some of the most compact blenders perfectly tailored for single-serve smoothies and easier storage. The models chosen for today's review looks at three hugely popular, entry-level blenders that all come with their own individual perks. Read on for my verdict on the cheapest NutriBullet.
Cheapest Nutribullet Of 2021
---
Magic Bullet: Best Overall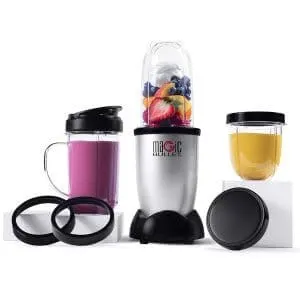 The Magic Bullet is far from the most powerful blender out there, but for the price, it's worth the purchase.
The Original Smoothie Blender
Before you read ahead, just keep in mind that the Magic Bullet is the original prototype and all other bullet blenders follow suit. This makes the Bullet an absolute entry-level model, but the manufacturers got something right for it still enjoys the same level of popularity as it did when it was first launched.
Powered by a 250-watt motor, the Magic Bullet is quite adept at handling common smoothie ingredients like bananas, strawberries, and yogurt. But if you're keen on using ice and frozen ingredients in your smoothie, then you'd be better off looking at an upgrade.
Minuscule Footprint
Despite its simplicity, Magic Bullet remains popular as it presents one of, if not the smallest footprints in bullet blenders. It takes almost no space on the countertop and is easy to use with its push-to-blend mechanism. Using the blender demands little to no work and you get quick results by pushing the cup down on the base.
You get three cups and two blades with your purchase which is nice if you want to make more than a single serving. Cleanup is also fairly simple by rinsing the cups with soapy water. Or, you could also place them on the top rack of the dishwasher.
All in all, a useful option for tiny spaces and individual servings where you need a reliable machine to give you a good, simple blend every time.
---
NutriBullet 600W: Budget Pick
Also known as the Original, the NutriBullet 600W is all about delivering chunk-free drinks at an exceptional price.
Great for Daily Smoothies
The NutriBullet 600W is a great pick for people who want their daily dose of a healthy smoothie. It features a 600-watt motor and extractor blade that blends ingredients in seconds to create instant and delicious smoothies.
Being the simple package it is, the most basic NutriBullet 600W package features a 24-oz cup, sized ideally for single servings. The cup is dishwasher-safe and made with BPA plastic. You also get a lip ring for drinking on-the-go and a regular lid to preserve flavor and freshness.
But that's not all, you can also choose a different 600W package if you feel the need to have more accessories included with your purchase. Bigger packages will also include two blade types for added blending versatility.
Budget-Friendly Convenience
People just starting out with blending will love the NutriBullet 600W for its great value. This blending system is basic enough to do simple blending jobs without overwhelming the user and stays true to the easy operability NutriBullet is known for.
This machine is known best for making smoothies and shakes with soft ingredients. However, it would be wise to steer clear of tougher ingredients such as frozen fruit and ice since the 600W motor will likely struggle in this area.
Overall, the combined ease-of-use and very reasonable price point have kept the NutriBullet 600W in the running without any problem.
---
NutriBullet Pro 900W
For a little more oomph, some extra power, and a larger volume of smoothies, take a look at the NutriBullet Pro 900W.
A Blender with A Huge Fan Following
The NutriBullet Pro 900 is the brand's most popular model and is a fantastic blender for smoothie/protein shake veterans and novices alike.
This one has a lot more horses under the hood than its predecessors and works with a 900-watt motor. The blades on this unit spin at an impressive 25,000 RPM, which is sufficient to pulverize anything you put in the blender, including ice.
This model comes with two colossal cups, flip-top lids and various lip rings to give you a fair bit of blending variety.
Ups the Versatility Factor
Not only is the Pro 900 a step up in terms of power and capacity, but it also takes the performance versatility up a notch. For instance, this model claims to create less aeration during blending and delivers a purer consistency. It also shows improved potential to break through tough seeds, skin, and frozen ingredients.
So, if frozen drinks are your forte, and you want something to handle the workload without getting a bulky unit, then the Pro 900 will be the right choice. Also, if you consider this model as an upgrade to the 600W, then you can use the accessories including the cups and blades across the different models.
---
Cheapest NutriBullet: A Complete Buying Guide
You may be ready to jump on the NutriBullet wagon, but with so many models available it can become hard to pick the right one. Different models come with an assortment of different blending cups, lids, and other accessory packs. But all will deliver in their given capacity. So, to fine-tune your search for the cheapest NutriBullet, here's what you should look for:
Compact Size
All NutriBullet models are known for their extremely compact profiles. Even though the power performance increases with subsequent models, manufacturers have managed to keep the sizes small. When you look at something as basic as the Magic Bullet and then at the Pro 900, you'll see the upgrades but both models remain easy to store and easy to travel with.
The smaller NutriBullet models remain user favorites for personal blending needs but for larger volumes and capacities the brand has now launched bigger models that work as full-sized countertop blenders.
Versatility
Despite the smaller sizes, NutriBullet blenders allow a fair bit of versatility through their one-speed systems. They allow you to perform different blending tasks by varying the duration of your blends. You can even pulse your ingredients by holding and releasing the blending cup repeatedly.
As you go up the price ladder, you will start to encounter larger and more advanced models that delve into new technology, come with smart features, and are capable of working with both hot and cold ingredients.
Related Articles:
Operation and Power
It really doesn't get any easier than using a NutriBullet blender. All systems use the same blend and push mechanism by inverting the blending cup onto the base and pushing down to start the machine.
The power does vary between the different models with greater powered-models not having to work as hard as their lower-powered counterparts. This naturally gives them the advantage of a longer lifespan. So, if you plan on using your NutriBullet more frequently, it may be worth investing in one with a higher wattage.
Read More: Best single serve blenders for smoothies
Containers and Lids
NutriBullet blenders are generous when it comes to including multiple containers and lids with the machine. Most models will give you two containers to start with while some others will have more. But the good thing is that the 600W and Pro 900 discussed today come with containers and lids that are interchangeable across the two type of blenders.
So, if you start with the most basic model and upgrade to a newer one, you can still use your accessories with your new blender. Do keep in mind that as you move towards newer and bigger models, the accessories may not be interchangeable any longer. You can refer to the company website to see which models are able to share accessories and others that don't.
Read More: Nutribullet Reviews – Which Model Is The Best?
Cheapest NutriBullet: Final Thoughts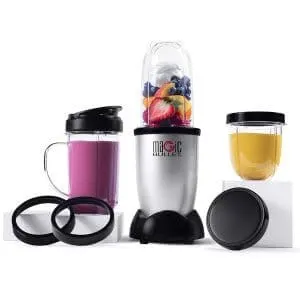 The Magic Bullet remains a super affordable, user-friendly unit that is hard to beat. It's a great choice for space and budget-conscious fitness gurus and its compact design and easy operation make it the best overall blender among the cheapest NutriBullet models.
If you want the convenience of a basic personal blender but don't want to spend too much, then the NutriBullet 600W may just be the ticket. It remains the true-and-tried Original NutriBullet that users love to this day, both for its price and performance.
For a larger size and more consistent blending, the Pro 900 becomes an obvious choice. This blender stands out for its sturdy quality, ease of use, and the ability to handle tougher ingredients.
Related Articles: