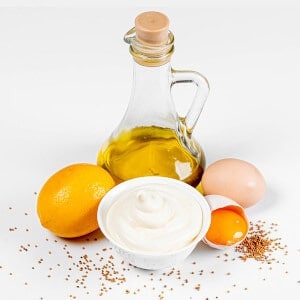 Everybody loves a good mayonnaise. But what nobody loves is the amount of garbage jammed into your typical jar of mayonnaise that you find in the store. You know those little packets of mayonnaise you get at your local fast food joint, well, that is not quality mayonnaise.
If you want mayonnaise that tastes better than the fast-food packets, that is healthier than anything you buy in the store, and that you can make in your own home, then you must follow the cashew mayonnaise Vitamix recipe.
If you already own a Vitamix blender, you know how powerful these machines are. They can easily make mayonnaise, ketchup, tomato juice, vegetable soup, and so many other great dishes. And one of my favorite things to make with a Vitamix blender is a creamy and rich cashew mayonnaise.
This mayonnaise is healthy, it's low in fat, it is easy to make, and it is positively delicious. Not only do you deserve a better mayonnaise, but so does your club sandwich. And don't worry, if you don't have a Vitamix blender, an ordinary blender will still work for this recipe.
Read More: Best selling Vitamix models
Why Make Cashew Mayonnaise?
It may seem a little odd to be making mayonnaise out of cashews. But this is actually a very solid choice of nut for making your mayonnaise. You see, cashews are neutral in flavor and they have a fantastic texture after they have been soaked and blended.
Cashews will make your mayonnaise thick, rich, and extraordinarily creamy. All you need to do is soak the cashews, get them in a blender with the proper spices, and blend until everything is smooth. Cashews make your mayonnaise healthy, they are natural and good for you, and they work well with any type of sandwich.
If you are a vegan or you enjoy vegan recipes, cashews are an absolute must. These nuts are affordable, you can buy them in bulk, and if you don't use them all in your recipe, they are tasty to eat as a snack. Plus, cashews come with lots of health benefits.
Related Articles:
The Health Benefits of Cashews
Let's break down exactly how good cashews are for your body. They promote excellent heart health, they can prevent blood disease, they help to protect your eyes, they are good for your skin, and they even aid with weight loss. Plus, cashews are an excellent source of dietary fiber. And as if all these reasons were not good enough, cashews can give you healthy and shiny hair. Of course, for shiny hair you need cashew oil applied directly to your scalp.
Simple Cashew Mayonnaise Recipe
This recipe is an ideal alternative to regular mayonnaise. It only requires a handful of ingredients other than cashews, you can make it from start to finish in under an hour, and it gives you enough mayonnaise to last for weeks (unless you eat it all right away!).
If you want a larger batch of mayonnaise, simply double or triple the ingredients. I should also mention that if you have a nut allergy, you can replace the cashews with extra firm silken tofu. This is a great nut replacement.
Ingredients:
1 Cup Cashews
1 Tablespoon Lemon Juice
1 Tablespoon Apple Cider Vinegar
1 Teaspoon Yellow Mustard
1 Teaspoon Garlic Powder
½ Teaspoon Onion Powder
¼ Teaspoon Salt
½ Cup Water
Instructions:
The first thing you need to do is soak the cashews. This is very similar to how you make homemade almond milk. And while many people say soaking is optional, I say otherwise. By soaking your cashews in hot water for a full 30 minutes, it is going to make your mayonnaise far creamier.
After the cashews have been soaked for 30 minutes in hot water, add the cashews and the rest of the ingredients into your powerful blender and then process on high speed until the mixture is smooth and creamy.
The next step is to taste test the mayonnaise to see how it is. If you need more tanginess, add a bit more apple cider vinegar. If it needs to be a bit saltier, add a little bit more salt. And if you want the mixture to be less thick, simply add a little bit more water.
After you have made your final adjustments, pour the remaining mayonnaise into a jar, and store it in the refrigerator until it is ready to use.
Kept in the refrigerator, this batch of mayonnaise should last for several days and up to one week. For this reason, it is not recommended to make a huge batch of cashew mayonnaise unless you have something to use it with quickly. This mayonnaise works great on sandwiches, vegan hot dogs, and anything else you would use normal mayonnaise with.
Read More: How to make cashew milk in a Vitamix
Cashew Mayonnaise Vitamix Recipe: Notes
When you make this recipe, I highly recommend using the best blender possible. This means using a Vitamix blender. Many people who have tried the recipe claim that if you have a powerful Vitamix blender, you can completely forgo soaking the cashews for 30 minutes. I still believe soaking the cashews makes a better mayonnaise, but if you have a strong Vitamix blender you can probably get by without 30 minutes of soaking.
In terms of nutrition, this batch of mayonnaise has about 51 calories per serving. Each serving offers about 0.6 grams of sugar and only 1.3 milligrams of sodium. There are also only 3.9 grams of fat in this recipe, with a bonus of 1.7 grams of protein.
When compared to the mayonnaise you get on a fast-food cheeseburger, in a factory-made jar in the grocery store, or at your local barbeque, this recipe is simply not comparable. It's far healthier for you, it tastes way better, and you don't have loads of salt or fat. If you want to eat like a champion, soaking your food in mayonnaise, this is the healthy way to do it.