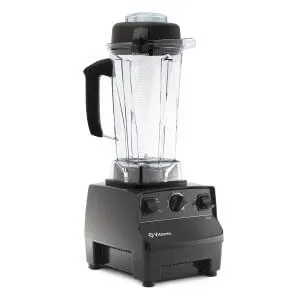 Most Popular Model
Simple Operation
Powerful 1800W Motor
Advanced Technology
---
Vitamix and Blendtec are two giants of the blending industry that specialize in elite blenders. With both brands manufacturing machines capable of handling any ingredient and working well in all settings, it is no wonder that many users search for a Blendtec vs Vitamix showdown.
While there are many models offered by both companies, today's review will shortlist two immensely popular models; the Blendtec 725 and the Vitamix 5200, both from each brand's Designer series. Both blenders are considered consumer-friendly models and a good representation of what the brands have to offer.
For instance, in terms of performance, both are exceptionally powerful blenders with the ability to easily crush ice, grind seeds, puree fruit, and make green smoothies. Both blender brands also offer machines that are built to last and have the best warranties to back their claims.
So, where does each model stand? Here's a quick breakdown:
Blendtec Vs Vitamix: Comparison
Blendtec 725
PROS
WildSide+Jar
Low-profile blender
Hands-free operation
CONS
Loud performance
Not suitable for smaller batches
---
Blendtec 725 Review
The Blendtec 725 is a true contender to the Vitamix brand bringing it some stiff competition.
Smart Technology
The 725 is an epitome of technology in the brand's Designer series. It combines power and smart features to reduce meal prep time with its 1800-watt, 3.8 HP motor and six pre-programmed settings.
The motor has enough raw power to blend any ingredient to a smooth consistency. So much so, that the heat generated via the rotating blades transfers to the ingredients allowing the Blendtec 725 to prepare hot soup when pre-programmed to that setting.
The blender has an illuminated touch panel that shows the remaining blending time. With the 10-speed capacitive touch slider, this is a useful feature to have.
The heavy base on this unit provides additional stability to the blender when working through tougher blends like ice or frozen fruits.
Wildside+ Jar
The WildSide + Jar is a feature exclusive to Blendtec. Featuring five instead of the typical four sides, the blending jar is made from durable plastic with a generous capacity of 90 oz.
The pitcher is ergonomically designed for easy gripping and handling while the lid is easy to remove.
Though heavier than other models, the 725 is shorter in height at 15 inches, making it easy to fit under kitchen cabinets.
Vitamix 5200 Review
The 5200 is Vitamix's original variable speed model. Despite lacking the brand's smart technology features, such as in its Ascent Series, it still offers the power and performance the brand is known for.
Motor Power and Construction
The highlight of the 5200 is an immensely powerful motor working with 1500 watts at 2.0HP with 37,000 RPMs. Back this up with 4-pronged, hardened, stainless-steel blades and an impact-resistant, polycarbonate container and you've got a stellar performer.
The motor power gets put to good use with the blender's 10 variable speeds letting you adjust the speed easily for different textures and consistencies. You can also make soup with this blender using its highest setting.
Parts and Performance
When compared to the 725's container, the Vitamix container has a higher-profile sitting at 20 inches. It also has a smaller capacity than the 725 at 64 oz.
But this actually helps to prepare both smaller and larger batches of food whereas the 725's 90-oz container is only good for larger batches. The ability to prepare different-sized batches lends greater versatility to this blender and its 4-pronged blades pulverize anything that comes their way.
Also, depending on which Vitamix 5200 package you get, you can also get a 32 oz dry grain container to make this already versatile blender even more so.
Blendtec vs Vitamix: Main Differences
Control Panel
Both Vitamix and Blendtec are easy to use but their controls make the difference. While Vitamix offers manual control over the blending tasks with its variable speed dial, Blendtec opts for buttons or sliders to cycle through their multiple speeds as needed.
Blendtec is known for its smart technology which allows users to push a button and walk away. While this can be a handy feature for people multitasking in the kitchen, others may prefer more control over their blending, which is where the Vitamix scores points.
Whereas the 725 gives you cool sophistication at your fingertips with its digital interface, the 5200 takes a more traditional approach with its dials and knobs.
Tamper
For such a small component of the blender, and one not often considered necessary, the tamper has created a lot of debate when comparing Blendtec vs Vitamix. You could love it or hate it based on when and how you use it.
If you use it rarely, say for extra thick mixtures only, you may feel that's it one additional piece to clean which can be bothersome. But if you're someone who's a stickler for frozen desserts or ultra-thick milkshakes, you'll surely appreciate the inclusion of a tamper with your purchase.
Every Vitamix blender comes with a tamper to help with blending solid and whole foods without stopping the blender.
Blendtec contends with the issues of thick mixtures by recommending users to add additional liquid to facilitate blending.
Blendtec vs Vitamix: Final Thoughts
There is little doubt that both Blendtec and Vitamix make the gold standard for blenders. Blendtec models are brainy with their pre-programmed settings and cater to the pros with their hefty performance. Vitamix, on the other hand, keeps things somewhat humbler, but they do offer better affordability, ease-of-use, and still deliver years of solid performance.
That said, the Vitamix 5200, despite being technology-deprived and less power-driven, comes out the winner. This Vitamix blender remains a perennial favorite because it excels at what it does. Its tamper comes in particularly handy enabling the blender to processes thick mixtures in almost half the time as the Blendtec model. And then there is the modest price tag for this category of blenders which continues to hold its appeal for a lot of people.
On the other hand, the Blendtec 725 remains a worthy opponent as purchasing a Blendtec machine will give you durability, power, design, and control. It's easy to use and clean and offers options for all skill levels and needs.