Powerful 1675W Motor
Touchscreen System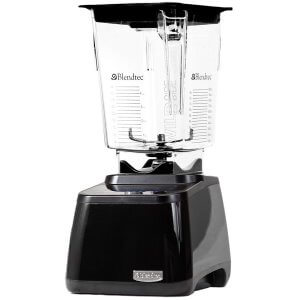 Simple Operation
Large Capacity
---
People are always asking me which one is better, the Blendtec 625 vs 675. The truth is not so simple as picking one or the other. Each of these blenders has something special they bring to the table.
These blenders have variable cycles for maximum control over the speed of your blend. They come with touch interfaces to make blending more fun. The machines even emit reduced noise. Plus, they have some of the most powerful motors in the business, outputting up to 3.8 horsepower. For a blender, that is incredibly impressive.
And while both the Blendtec 625 and the Blendtec 675 blenders are from the same Designer Series, one is obviously a few years newer. But as a newer model, does the grossly enlarged price match up to the new features? What I mean is that for a few extra hundreds, do the new features justify such a jump in price? That's what I'm here to figure out for you. Let's start with the pros and cons of each.
Blendtec 625 Vs 675: Comparison
Blendtec 625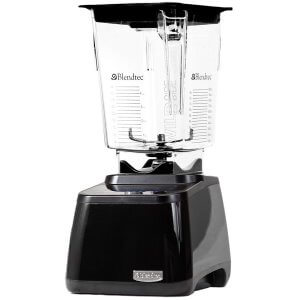 PROS
Warming + Self-Cleaning
90-Ounce Jar for Wet or Dry
Super Thick Blades for Blending
CONS
Doesn't Come with Accessories
Almost 10 Years Old
---
Blendtec 625 Designer Series Blender Review
This is one of the great original blenders from Blendtec. The Blendtec 625 Designer Series Blender comes with a full package worth of features. You get 8 variable speeds for blending, a bright LED display, a handy touchscreen interface, minimal noise, thick steel blades, and more.
Blend Your Heart Out
With the 625 Designer Series Blender, you get a 90-ounce picture that can blend enough for up to six people. This is a great blender for making healthy smoothies to feed the family, or to make an entire batch of yummy margaritas for a party night. The size and power of the machine ensure that you can blend anything you want to satisfy as many people as possible.
The blender also works as a food processor. You can use its giant jar for dry grains, grinding, and even warming soup. The friction caused by the speed of the blades is so intense that you can literally heat food inside the blender.
Accessories
While the main unit does not come with any accessories, you can order additional packages with special to-go cups that fit directly onto the blender's housing unit, or a bundle that includes a miniature jar for blending smaller portions. The blender also comes either in red or black.
---
Blendtec 675 Designer Series Blender Review
Surprisingly enough, even though the Blendtec 675 Designer Series Blender came out two years after the 625, it does not have that much more to offer. It has a different color scheme, a slightly better shape, and not much more.
A Classy Blender
This blender feels like it has class. I mean, what kind of blender comes in either champagne, charcoal, or dark roast? This expensive machine was designed and built for modern kitchens with other modern appliances. The blender itself is slim and stylish with a very minimalistic appearance and a smooth touchscreen panel with a digital readout. This may be the classiest blender ever.
High-Tech Features
The 675 undeniably has some advanced features. For example, the 675 has a special touch slider that allows you to better control what's going on with your blender. And you can do it by easily sliding your finger across the touchscreen interface.
Another bonus is the five preprogrammed cycles and the 10-second cycle, which adds a quick ten seconds to your blending time. This allows you to kick it up a notch, quickly adding a brisk few seconds of blend time with an easy touch of the finger.
---
Blendtec 625 vs 675: Main Product Differences
These two blenders are super similar. Obviously, the 675 Designer Series Blender is an upgraded version of the Blendtec 625. And while the 675 does have some unique improvements, is it really worth the extra hundreds of dollars just for a few extra Watts of power, a more useful touchscreen system, more preset programs, and a sturdier unit?
Well, that depends on the kind of person you are.
Advanced Features
There are not a whole lot of advanced features in the newer 675 model. Each machine has touchscreen slide controls for manipulation over the speed of your blend. Each blender has reduced noise. Each one has eight variable blending cycles.
The singular addition with the 675 is the 10-second cycle. With one push of a button, you can add a quick 10 seconds to your blend, kind of like the continue button on the microwave. While this is definitely a handy feature, I'm not sure it's worth hundreds of dollars extra.
Read More: Blendtec 750 review
Size & Color
Because these units are so strikingly similar, it may come down to personal preference. With the Blendtec 625, it is roughly 1 pound lighter than the 675. Negligible and unimportant, I know, but I had to state it anyway.
When it comes to colors and accessories, the 625 is available in red or black and is available as a bundle with a handy miniature to-go jar or a smaller sized blending pitcher. Each bundle gives a little extra incentive to buy. The 675 does not come as a bundle, but it does come in three designer colors: Champagne, Dark Roast, and Charcoal.
Read More: Blendtec Vs NutriBullet Rx, which is better?
Blendtec 625 vs 675: Final Thoughts
Personally, I like the classy Blendtec 675 Designer Series Blender. It doesn't have that many extra features compared to the Blendtec 625, but it does have all of the same features and a little bit more. And while it does cost a significant amount of money, it will last you longer and it is the better unit.
The whole deal is that if you are already spending a fortune on a blender, a few extra bucks isn't going to hurt anyone. You may as well buy the upgraded unit with the stronger motor and the better touchscreen interface. Plus, the 675 looks and feels more modern than the 625.
However, the 625 is a solid blending unit. It comes available with extra accessories at an additional cost. The 675 does not have any additional accessories, which is a little annoying if you spend a bundle on a blender and they don't even have the common courtesy to give you a nice cup to go with it.
Related Articles: