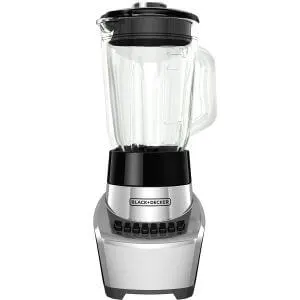 The Black and Decker Fusion Blade 12 Speed Blender is a fantastic piece of equipment. This baby has a strong glass jar, 12 different speed settings, a pulse feature, and stainless-steel blades that work to rapidly crush ice and blend all your favorite ingredients to make delicious smoothies and shakes.
If you are in the market for a classic blender with a glass jar, this is one of the best. It's super affordable, it's built by Black and Decker, so you know it's good, and it has lots of power to get through the hardest ingredient. Whether you are blending frozen veggies or leafy greens, this blender's blades can mix it perfectly.
Not only that, but this blender also looks amazing. It has that classic, almost nostalgic look to it that people absolutely love. This blender will look great on your countertop next to your other appliances. The large 48-oz jar even comes with measurement markings so that you can easily prepare all your recipes.
---
Black and Decker Fusion Blade 12 Speed Blender Review: Overview
For a fairly simplistic blender, we have a lot to go over today in this review. The Black and Decker Fusion Blade 12 Speed Blender is powerful, it comes with extremely thick blades, the glass jar is almost unbreakable, and it allows you to blend everything from hot soup to frozen smoothies.
For a classic look in your kitchen, the Black and Decker blender is the way to go. Simple, somewhat elegant, and incredibly easy for anyone to use. You don't need any blending experience to master this machine. You can even purchase it in a variety of great colors!
---
The Original Blender
This is a great original blender. No fancy bells or whistles, no complicated cleaning mechanisms, and no digital displays. You get 12 speed settings, a standard 48-oz glass jar, a sealable lid, and a powerful motor. What else do you need in a blender?
All the features work, the motor outputs 550 watts, and the entire machine only weighs about 7 pounds. You can mix, blend, liquefy, and even chop using the blender and its different speeds. For anyone who doesn't want a 30-pound blender on their counter with 16 buttons and 200 different speed settings, I can't recommend this unit enough.
Read More: Oster Vs Black and Decker blender
Plus, you don't have to pay much for it. For under $100, you can easily get your hands on this Black and Decker Fusion Blade blender. And that's not even the best news. You can also purchase similar blenders from Black and Decker for even cheaper. If you don't mind sacrificing two speeds, you can get a very similar blender to this one for less than $35!
What I'm trying to say is that when you use Black and Decker, you have options. They have the best classic blenders in a wide variety of colors, speeds, and styles.
---
Durable & Stable
The durability of this Black and Decker blender is not up for question. It has an extremely stable base, with a motor that is extremely unlikely to ever overheat no matter how horribly you abuse the machine. You can blend hard ingredients, dry grains, chunks of ice, frozen vegetables, and you will never need to worry about breaking the blades or destabilizing the machine.
Related Articles:
The blades are extremely durable, built from stainless steel, and designed to create the ultimate vortex for blending. Even if you don't want to use this machine for food processing or any other complicated tasks, it is a superior smoothie maker. The blades swirl all your ingredients, chop all your small chunks, and deliver you a consistently mixed beverage with every blend.
The efficiency of your blend is increased even more thanks to the smart design of the glass jar. It's shaped in such a way to promote the perfect blend no matter what your ingredients are. And you never need to stress about the glass cracking or breaking, as it's built extremely thick with the intention of remaining strong even when you are blending hot soups.
---
Easy Cleaning
The most annoying part of using any blender is the cleaning. But don't worry for a second. This blender is completely safe for putting inside your dishwasher. All the removable components can easily be stacked inside your dishwasher for quick cleaning. This is great for people who don't have a lot of time to bother with washing all their appliances by hand.
And let's talk about the lid for a moment. The lid fits firmly on the jar to prevent spills. It also gives you an easy pour when transferring liquid into glasses. However, the lid also has a special 1-oz lid insert that allows you to drizzle oil and other types of liquid while in the process of blending.
The lid insert is designed for adding small ingredients into your mixture consistently and precisely, which is critical for making certain smoothies. In fact, Black and Decker designed this whole blender to make your life easier and your smoothies better.
---
Black and Decker Fusion Blade 12 Speed Blender Review: Final Thoughts
You have a lot of options when it comes to purchasing a blender. However, if you are interested in a blender with a glass jar, the Black and Decker Fusion Blade 12 Speed Blender should be on the top of your list. It is perfect for blending sauces, smoothies, milkshakes, and even basic recipes like tomato soup and apple sauce.
The blender offers 12 different speeds so that you always get the perfect texture with your blend. It also has a pulse feature, which helps to take the strain off your motor and your blades, thereby prolonging the life of the machine. It is extremely efficient for blending, and the glass jar has very thick walls so that you can blend hot soup without worrying about the jar cracking.
Basically, this is a great kitchen companion. It's not expensive, it's very simple to use with all the buttons labeled clearly, and it just works. It has all the features you need without being technologically exhausting.