Best Overall
Integrated Vacuum Feature
Smart Controls
Best Price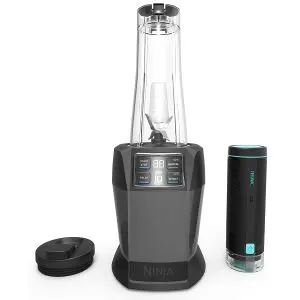 Cheap Price
Simple Operation
---
Vacuum blending is a game-changer when it comes to performing blending tasks. The best vacuum blenders are designed to remove air from the container before blending to prevent ingredient oxidation and retain maximum nutrition.
This process eliminates one of the biggest issues when blending. This also means that you won't get discolored smoothies with an altered taste the next day. You can save your smoothies for later use and still get the same taste as a freshly prepared one.
Visually, vacuum blenders don't look much different from regular blenders. The main difference is a vacuum attachment that is either placed on top of the blender to suction out the air or comes as a built-in component.
To help you with your selection, I have rounded up three of the best models available in this category. These recommendations come with various price points with some being ideal smoothie makers and others capable of doing much more.
Top Rated Vacuum Blenders Of 2021
---
Pado Ozen 500 Vacuum Blender: Best Overall
Hailing from Korea, the Pado Ozen 500 is a smart vacuum blender that comes with an innovative seal technology to minimize oxidation. Compared to other blenders, the Pado Ozen 500 presents a compact size making it ideal for smaller kitchens and tighter cooking spaces.
Unique Blade System
The Pado Ozen 500 features 6 blades with a unique hexa design to completely pulverize ingredients. The blades are designed so as to blend ingredients but without reducing their nutrient content.
This is something that makes the Pado Ozen ideal for juicing tasks. With this blender, you can look forward to getting nutrient-filled juices and smoothies that come full of vibrant colors and rich flavors.
Ease of use
The Pado Ozen 500 falls in the all-in-one category of vacuum blenders. This means the blender has the vacuum pump built in the assembly making it a convenient machine.
Like other all-in-one solutions, this model also has a smart one-touch setting which, when pressed, extracts the air from the container before blending.
The blending process, devoid of oxygen, produces some impressive results with juice coming out more vibrant. This is not only because of oxygen removal but also because of the richer antioxidant content in the juice.
There will also be a noticeable foam reduction as compared to juices prepared in non-vacuum blenders. And finally, the powerful grinding action of the hexa blades pulverizes all parts of the fruits and vegetables completely preserving the foods' natural nutrient content.
---
Ninja BL580 Blender with FreshVac: Budget Pick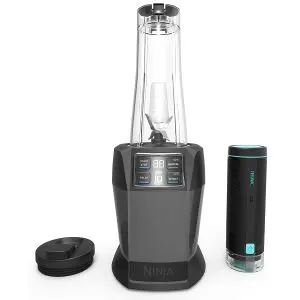 The Ninja BL580 vacuum blender comes with a powerful 1400-watt motor and an easy-to-use touchscreen display. The 1400 watts of power are plenty to whip you a smooth vacuum-sealed smoothie, even with the toughest of ingredients like leafy greens and ice cubes.
FreshVac Technology
The outstanding feature of this Ninja blender is the FreshVac technology it uses. This model uses a separate vacuum pump, unlike the built-in varieties, which is a battery-powered, hand-held version.
The pump is easy to use as you simply place in atop the 72-oz container for larger batches or the 20-oz smoothie cup for a single serving. When in place, one push of a button is all it takes to suction out the air and then the blending begins.
Given the smart features on this machine, it is a great buy in its price range.
Auto IQ Feature
Another outstanding feature on this model is the Auto IQ feature. The one-touch Auto IQ program comes with seven pre-programmed settings where one push of a button puts the blender through a series of automatic blending cycles.
The blender blends, stops, and pulses automatically, taking the guesswork out of your blending chores. The result is creating smooth, flawless blends every time.
Adding to the genius of the machine, it can also automatically recognize the container size that goes on its base. The accompanying touchscreen can then show you each vessel's unique menu of pre-programmed settings.
---
Kuvings SV500S Vacuum Blender
Pairing vacuum blending with a powerful 3.5 HP motor that spins at 32,000RPMs, the Kuvings SV500S is a revolutionary machine. This model features a vacuum pump built into the unit's base assembly that does the job of maintaining nutrient integrity and freshness.
Auto-Blend Technology
The Kuvings SV500S comes with an Auto Blend technology that automatically adjusts the blender's settings based on what you plan to blend. The Auto-Blend technology identifies blender content quantity and modifies the blade speed to blend any mixture of ingredients. Once the desired blending consistency is achieved, the motor will stop.
Users also have the choice to opt for vacuum only, vacuum and blend, and blend-only settings. The Pulse setting and variable speed controls let users operate the blender manually.
There is also a 3-d moving system that features six heat-treated blades that rotate in three different dimensions allowing the ingredients to fall to the bottom. This mechanism results in creating a superior blend than many other similar blenders.
Quiet Performance
The SV500S ranks as one of the quietest performers among the best vacuum blenders. This is impressive given its high-power output and high speed.
Since powerful blenders tend to be noisy machines, this Kuvings model comes with a noise reduction cover. The cover makes the noise a lot more discreet for a quieter performance.
That said, the blender does retail for a high price tag which one can't really complain about considering its superior performance and excellent vacuuming function.
---
Best Vacuum Blender: A Complete Buying Guide
The look and feel of my kitchen have evolved monumentally over the last decade. The technology has amped up the kitchen game so well that I don't know what I would do without them. The recent addition to my appliance collection is a Vacuum Blender.
A vacuum blender is not an appliance medley that I have put together by error; it is the hottest and the proudest addition to my kitchen appliances.
Vacuum blenders are creating quite a buzz in the world of health aficionados, and for good reason too. These innovative machines help prepare healthy smoothies and juices by reducing the impact of oxidation.
That is quite a feat in itself as it's hard to find a way to stop exposure to oxygen once the ingredients are placed in the bender. But vacuum blenders conveniently suction out the air before the blending process starts.
The Best Vacuum Blenders You Can Buy
What Is Vacuum Blending?
Vacuum blending is almost identical to traditional blending. A manual or electric vacuum pump accessory is used to pump out the oxygen from the blending jar before the process begins. The vacuum pump sucks out excess air, which prevents oxidization. This creates a better smoothie and helps to preserve nutrients.
Earlier, when I made smoothies or juices, the color of the ingredients changed as soon as I blended them in the blender, but in a vacuum blender, the color stays put and looks appealing. It is due to the oxygen being expelled out of the jar before the actual blending started.
The vacuum blender prevents oxidation, thus preserves the vitamins, natural enzymes, and antioxidants that we lose in a traditional blender. I saw the difference in smoothies that have bananas and apple, which tend to oxidize faster than other fruits.
The best vacuum blenders are quieter and quicker than traditional blenders. They are compact and have high wattage and horsepower.
I did thorough research and found out that claims do match up to the results I saw after the first few usages. Read on to get a clear outlook of Vacuum Blenders in the market.
Two Designs to Choose From
Vacuum blenders are of two types. There are blenders that have a pump built into the blender assembly and then there are models that come with a separate pump attachment.
The best vacuum blenders have a built-in pump, and these are considered more convenient as it is one part you have to deal with. Those with a separate pump have an additional blender part to use and store. Also, the setup for the separate pump versions needs an extra step. First, you set up the blender and then put the pump in place to start the extraction process.
However, the results delivered by the two varieties are the same and you end up with smoothies that retain all their nutrient power while also cutting down on oxidation.
How to Choose a Vacuum Blender?
Vacuum blenders are all the rage right now; there are so many options to choose from. Whether you are a health freak or not, vacuum blenders should find space in your kitchen. They are so much better and healthier.
Even though they keep your vitamins and other nutrients packed in your blend, they don't cost a bomb on your salary slip. Instead, they are quite affordable and come in a huge price range to choose from.
Buying a new appliance can be time-consuming due to the factors needed to be considered while making a purchase and also when you have so many options to choose from. Here, I have listed some very important factors that should be considered while choosing a perfect blender for yourself.
First Things First, Finance
Settle on a budget that your pocket permits. However, many companies offer EMI options, but you should have a fair idea of how many bucks you can shell out on the blender. A cheap product may seem lucrative but can cause hassle in the long run. Go for a blend of quality and features and then decide a budget for the purchase.
Research
Read about vacuum blenders and the wide range available in the market or online. Thorough research will help you to understand what is needed and saves the hassle of returns/exchanges.
Go for a Brand of Repute
Cheap and infamous brands tend to degrade product quality. A reputed brand will ensure all the safety measures are met, and product quality is high. Since you are choosing a vacuum blender whose motive is to keep the nutrients packed up during the blending process, I suggest seeing this as an investment in your health and choose wisely.
Check the Ratings/Reviews
Every brand has its fair share of hits and misses. I advise you to check the ratings and the reviews of the product before making a purchase. The best vacuum blenders will have a lot of ratings and good reviews, checking this will save you from any regrets whatsoever.
Keep in Mind the Wattage and Electricity Consumption
If you like your smoothies to have nuts and crushed ice, a motor with a higher watt-power will suit your liking. So choose a motor of decent watt-power, but should not make a hole in your pocket with a huge electricity bill.
Check the Functions of the Product
An easy to understand and use functions is the ideal product. Too many functions can create a fuss.
Check the Attachments
Double-check the attachments and their capacity to have a better understanding of the product. If your need is for three jars, then look for the blender that comes with three jars. Also, consider their capacities. If you are a family of two, your requirement will differ from that of a family of six. Choose wisely.
Consider the Size and Design of the Appliance
The blender should be as compact as possible. It shouldn't take up a lot of storage space. Also, it should match the aesthetics of your kitchen and match your vibe.
Check the Warranty Period
Few brands give out extended warranty periods on the motor of the blender. Consider it as it will cover your product against damages/malfunctions.
Check the Durability and Material of the Jars
Some manufacturers use low-grade materials to manufacture the attachments. You should go for a sturdy and food-grade material that isn't hazardous for health. The risk-free materials make the journey worthwhile and let you enjoy every sip of your favorite smoothie without worries.
Related Articles:
Advantages of Having a Quality Vacuum Blender
As much as I remember from my high school science, oxygen is essential for living beings to thrive, but oxygen has a dissentious side as well. The oxygen that stimulates many metabolic reactions in the body can also scuzz up the food in my kitchen. The felon here is oxygen that tends to oxidize the vital nutrients and minerals, thus degrading the flavor of my favorite smoothie.
The oxidation of ingredients takes away all the nutrients and benefits from your preparation and leaves you with tasteless smoothie/juice full of froth. The traditional blenders also do not give you a rich blend of ingredients as a Vacuum Blender.
Vacuum Blenders came as a blessing in disguise, the main advantages of having a quality vacuum blender are:
Smoothie is Richer in Flavor and Color
The smoothie is blended in a vacuum environment, which keeps the color and the flavor intact. In a simpler tone, I can say that my veggies and fruits had less oxygen in the jar, so they did not get oxidized as they normally would.
Nutrient-Rich
As far as I know, nutrients like vitamins are prone to oxidation and get oxidized pretty fast. The vacuum blender first sucks up the majority of oxygen from the jar and then starts the blending process. That is why vitamin A, C, and Es are not lost in blending.
Visually, the first thing you notice after using the best vacuum blender is the color vibrancy in drinks as compared to the aerated results from other blenders. Then you will also notice a difference in taste.
Drinks blended in a regular blender start to split, separate and discolor as soon as they are prepared since the mixture is already in contact with oxygen during the lending process. However, with vacuum-sealed drinks, this can only happen when the drink gets exposed to the air.
Many vacuum blenders come with additional vacuum storage containers that will help you keep your food fresh for up to a week in the fridge and with little nutrient depletion.
No More Frothy Mixture
I am a smoothie lover but hated the froth that circled on my smoothie. The airy mixture I got after blending wasn't the best. I had no option but to be satisfied with what I had. Ever since I got my hands on the vacuum blender, I love my glass full of smoothie minus the FROTH!
Separation of Content has Reduced
Have you noticed that when your glass sits for a while, the content tends to separate, leaving the water content on top and the pulp sits down in the glass? I must tell you, that is not a pretty sight. With a vacuum blender, the separation is reduced to a great extent as it emulsifies the ingredients.
The Flavor of the Mixture Stays Fresh Longer
The science here too is the same. Just by eliminating oxygen from the jar, my blend stays fresh for a longer period. The color stays vibrant; my green smoothie looks richer in nutrients and tastes divine.
Ideal for the Health Enthusiast
The best vacuum blender is a time-saving device for people who like to have smoothies daily. With a regular blender that means taking the machine out seven times a week, making a smoothie every day, and then cleaning up afterward.
But with a vacuum blender, the same chore can be reduced to a single session of big blending and store the prepared smoothies in vacuum tumblers in the fridge.
With a vacuum blender, you can prepare all your blended recipes in advance knowing that they will stay fresh, taste great, and continue to nourish you for the rest of the week.
What Features Does a Vacuum Blender Need?
The futuristic technology here came as a boon to the fast-paced life. I had no time to eat my veggies and get the nutrients every single day, but now that I have my vacuum blender, I can easily incorporate nuts to make my smoothie healthier and richer.
A powerful motor is desired that can crush my nuts and ice along with the veggies and fruits.
The durability of the motor is essential.
The blender should be easy to use. Complex functions and buttons create a hassle.
Should have durable, scratch and rust-resistant blades
Jars should be sturdy. They should be able to take the load of blending something as strong as ice cubes.
The jars should be made of food-grade material. BPA-free food-grade plastic is desirable.
It should go easy on electricity usage.
Dishwasher Safe
A vacuum blender should have a low noise
Should be compact but with efficiency intact.
In the vast ocean of blenders, there are so many options that it might get overwhelming, and choosing from some irresistible designs is difficult. Here, I have tried to sort out every little detail for you to make an informed decision.
Whichever vacuum blender you choose, it will give you the nutrient benefit for sure. Enjoy your power-packed smoothie that tastes divine and looks so vibrant!
Best Vacuum Blender: Final Thoughts
Saving leftovers has never been easier than it is now with today's innovative vacuum blenders. With their precise vacuum sealing features, these blenders will let you savor your blends long after they were first prepared.
The Kuvings SV500S is the best vacuum blender that sets itself apart from the competition with its powerful motor, sturdy construction, and Auto-Blend technology. Not only is there plenty of vacuum suction to contend with, but its powerful operation lets it fragmentize the toughest ingredients with extreme ease.
From its powerful operation to its easy-to-use design, the Ninja BL580 with FreshVac technology offers just as much as its pricier competitors. This budget-friendly vacuum blender will vacuum seal your blends with its FreshVac feature and makes for an ideal alternative to more expensive blenders.
And if you're looking for something that excels in the area of juice making, then you can bet your money on the Pado Ozen 500. The blender's unique blade system and precise vacuum seal mechanism will give you the results you are looking for.
Related Articles: