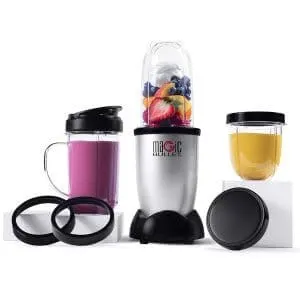 Cheap Price
#1 Selling Blender
Cheap Price
Convenient & Portable
---
When it comes to travel, there is nothing more important than comfort. And what is more comfortable than having the ability to make your favorite blended drinks when on the move? Whether in a hotel, in a rented apartment, or even and a hostel, it is nice to have the ability to make your healthy beverages at any time.
For this, I have put together a list of the three best travel-size smoothie blenders. These blenders fit easily in your luggage, they weigh almost nothing, and they can be set up for blending in just a few seconds. Each blender on the list will make your traveling experience much better than normal.
Additionally, all the blenders on today's list are under $100. That means the blenders are affordable, they are expendable in case they break while traveling, and they still function amazingly. That's the best thing about personal travel blenders – they are always crazy affordable!
Top Rated Travel Size Smoothie Blenders Of 2021
---
Magic Bullet Blender: Best Overall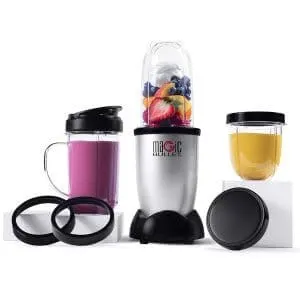 The Magic Bullet Blender is one of the original personal blenders. It is small, lightweight, surprisingly durable, and it gives you tons of different options for blending. When looking for a travel blender, this is definitely one of the most convenient to take with you to new places, especially since it sets up and starts work in seconds.
Majorly Affordable
While price isn't everything, it is definitely something. You can pick up the Magic Bullet Blender for under $50 right now. That is about the price of 5 shakes at your local smoothie shop! If you can take this small unit with you on business for less than $50 and save all that money on eating out, you will be thankful, especially after a few weeks of using it.
Everything Included
The Magic Bullet comes with everything, including multiple blender cups, blades, and even a recipe book. You probably won't need the recipe book while on the road, but at least you have different cups that are all easy to clean and easy to store. You can clean the whole system in about 30 seconds under a tap.
The Magic Bullet also comes included with a 250-watt base that gives you enough torque to rip apart ice and any kind of hard ingredient. This is not just a blender for shakes and smoothies, it can also make delicious iced beverages, which will certainly be a treat when you are out traveling. With this blender, you will be the life of the hotel party!
---
Oster MyBlend Personal Blender: Budget Pick
The Oster MyBlend Personal Blender is a stylish, highly portable blender that can be yours for a very low price. With its powerful motor, convenient drinking cups, and effortless system, this is one of the best cheap blenders to take with you traveling. It can break apart ice, it can mix all your favorite ingredients, and it makes delicious shakes and smoothies.
Blending Power
For such an affordable blender, this unit works surprisingly well. It has a robust 250-watt motor that breaks down ice in seconds. The blades are super strong so that all your toughest ingredients are blended into a perfect mixture. It is even great to use with protein powder and leafy greens, not leaving any chunks behind.
Read More: Best Blender For Protein Shakes – 7 Top Rated Models
The blender is also quick and pretty quiet. You can make your drink in about 30 seconds with minimal noise, making the blender ideal for hotel situations or at the office where people may be bothered by someone running a blender for a long time.
Maximum Convenience
The blender is convenient. Because of its small size, it tucks away nicely in your luggage and can be used in any small hotel room. All you need is a power outlet and some water to rinse your cups. It does not take much to clean, there's no maintenance involved, and you can use it as many times in a day as you want.
The blender also does not come with any buttons or digital settings, making it even more convenient. This is the ideal unit for people who just want to make a blender and walk away with their drink already in their cup.
---
Cuisinart CPB-300 Blender
The Cuisinart CPB-300 Blender is an excellent travel companion. This small, portable blender comes in two different colors, either black & stainless or white, and it has an impressive 350-watt motor, making it the most powerful blender on the list. All the travel cups are shatter-resistant and dishwasher safe, while the blades are extra strong for blending all your toughest food ingredients.
The Best Cups
The travel cups you get with this blender are very high quality. They are designed to be portable, to be comfortable just like any travel mug, and to be spill-proof with their snug-fitting lids. You get one 32oz blending jar, one 8oz chopping cup, and two 16oz travel cups included with the machine!
You also get two different blade assemblies that can be used for a variety of grinding tasks. You can use this blender for grinding coffee beans, for mixing smoothies and shakes, and even for making iced drinks with extra ice. The heavy-duty motor makes sure all your ingredients will be ground to perfection.
Digital Functions
Most personal blenders don't come with a digital readout or blending settings, but the CPB-300 comes with lots of settings. It has a functional touchpad that allows you to switch between hi, low, and pulse settings to get your desired texture every time. Plus, There are blue LED indicating lights to tell you exactly what speed you're using.
---
Best Travel Size Smoothie Blenders: A Complete Buying Guide
There are some prerequisite conditions any kind of travel equipment must adhere to, meaning there are certain rules for your travel blender. You obviously don't want a blender that is too big or too unruly, nothing too complicated to use. You also don't want a machine that is so loud it will wake your neighbors.
Quiet & Portable
Minimal noise is extremely important with a travel blender. If you are staying in a hotel, or in shared accommodation – basically anywhere you might disturb other people, you don't want your blender making a loud racket. As a general rule, the more powerful the motor, the louder the noise.
Because of this, a travel blender is recommended to have a motor that is between 250 and 350 watts. This will give it enough power to chop apart your ingredients, to liquify your ice, and to grind any seeds or nuts without bothering your neighbors.
Additionally, your travel blender needs to be portable. You are probably going to be putting it in your luggage, which means you can't prioritize a blender over clothing or essential supplies. This means your portable blender really does need to be portable, I'm talking small enough to fit in a corner of your suitcase.
Related Articles:
Quality Cups
Quality cups are important for any travel blender. If you are going to a new city with your blender and will be making smoothies in your room, it is important that you can take your cup and go enjoy your travel. For this reason, short and stubby cups are not recommended for travel blenders. You definitely want a cup that is more similar to a travel mug.
By having the proper cup, you can easily fit it in the side pocket of your backpack, you can rinse it in any sink, and you can refill it with other drinks while you are out and about. This is basically impossible to do with those short, stubby cups, as they won't fit into your side pocket. Also, it looks weird to carry around something that looks like a sippy cup for babies.
Convenience
Convenience is huge with a travel blender. If possible, get one that has cord storage so that the machine is easier to transport and easier to put away. You also want as few parts as possible, since you could potentially lose something in your accommodation.
If you have a convenient, portable, functional, and powerful little blender to take with you on your travels, you will always enjoy your favorite drinks no matter where you are, whether locally or abroad.
Best Travel-Size Smoothie Blenders: Final Thoughts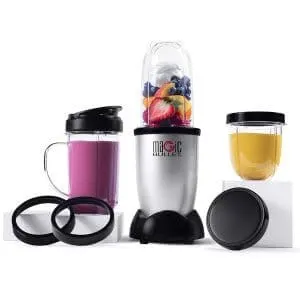 We looked at some seriously great blenders today. For travel, any one of these blenders would be awesome. The MyBlend is a stylish budget blender that gives you lots of options for blending, while the Cuisinart CPB-300 is a fabulous personal blender you can take with you everywhere.
However, when it comes to the best travel blender, I have to pick the Magic Bullet. This model by Nutribullet comes as a full 13-piece set, it is very small and easy to put into your luggage, and it has a strong 250-watt base for making all your favorite drinks.
The high-impact plastic cups are easy to take with you anywhere, the system itself is quick to clean with a simple rinse, and there are tons of great accessories that go along with it, like the flip-top style to-go lids. If you want a blender to take with you while traveling on the road, for business or for leisure, the Magic Bullet is definitely the best.