Everyone is making shakes right now. I'm doing it, my mother's doing it, the guy down the street is doing it – everyone is making shakes. Which is why everyone is looking for the best shake blender.
Why do you need the best shake blender? It seems pretty obvious to me: so that you can make great shakes! I'm talking about protein shakes, milkshakes (chocolate or otherwise), ice cream shakes, and of course, all kinds of smoothies, soups, salsas, and more.
Shakes are different in that they are a little bit more magical than other drinks, and maybe a bit less healthy than their cousin, the smoothie. Shakes need to be made foamy, they need to be blended just right so that they give the same creamy consistency you find in a real restaurant, and they need to hit with maximum flavor.
Any of the blenders I talk about today will work magic on all your shakes.
Top Rated Shake Blenders Of 2020
---
Vitamix 5200 C-Series Professional Blender – Best Overall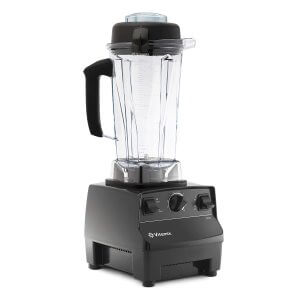 The Vitamix 5200 Professional Grade Blender does so much more than just make shakes. This thing makes everything, and it comes with loads of hardware. This machine has a motor that runs cool, stainless-steel blades that have been hardened until extra strong, and a metal drive system that transfers huge power from the motor to the blades for excellent blending capabilities.
Professional Power
If you want a blender for making shakes, you need a blender with professional power. The Vitamix 5200 offers a huge 64-ounce container with a specialty lid and a smart, ergonomic handle.
The giant motor in the base sends enough power to the blades to help blend the craziest shakes and smoothies you have ever imagined. You got protein powder? The Vitamix 5200 is going to mix that dry, flaky powder into a delicious workout serum in mere seconds.
Another thing you get with such power is effective self-cleaning. Add soap and water and your Vitamix unit will clean itself in under a minute. And it cleans itself well, unlike other units that just splash the water on the sides of the container. The Vitamix gives a deep clean through all of its parts.
A Bit of Everything
You want to make shakes, which is great. But you probably want to make other stuff too along the way. Because the Vitamix 5200 is a professional-grade blender, it literally does everything. It grinds, it blends, it liquefies, it heats soup, it chops up meat, it breaks down ice, coffee beans, and fruit seeds. I wouldn't be surprised if you could make wine in this awesome machine!
---
NutriBullet Rx N17-1001 Blender – Budget Pick
If you want the quickest and easiest way to make shakes in the morning, afternoon, or at midnight, you want the NutriBullet Rx N17-1001 Blender. This is the most compact and easy-to-use shake maker out there. There is no debate about it.
This machine may cost more than some budget glass blenders, but it is certainly cheaper than the other enormous blenders you can find. For someone who only wants to drink shakes (and smoothies), you must try the NutriBullet Rx.
Engineered Healthy
With the NutriBullet Rx, you don't only get smart technology integrated into the machine, but you also get a machine that is dedicated to healthy eating. The NutriBullet has one of the most powerful extractors of nutrients of any blender. What this means is that you get the maximum nutritional value from all the ingredients you blend into your shake.
It can also help to make balanced meals thanks to its heating function. You can easily make a personal shake in the morning, then use the NutriBullet to make a hot and healthy soup for lunch.
No Mess, No Fuss
Say goodbye to giant messes on your counter. With the NutriBullet and its powerful 1700-Watt motor, you can forget about spills and messes. Because the machine comes with serving cups that attach directly to the blending unit, you never have to transfer your shake from a pitcher to a glass. You literally blend your shake inside the cup that you are drinking it from.
The cups even come with specialized drinking lids and ergonomic handles. This entire unit is designed to supply you with a delicious shake that you can drink right away or take out the door with you.
---
Nutri Ninja BL642 Personal Countertop Blender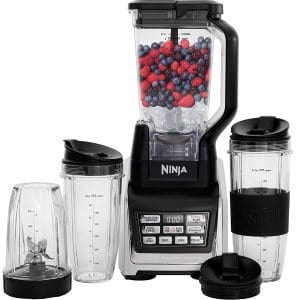 The Nutri Ninja BL642 Personal Countertop Blender is a unit with a lot going on. And by a lot going on, I'm talking about smart technology, intelligent blending, ice-crushing power, specialized extractor blades, multi-purpose serving cups, and a whole lot more.
If you want the ultimate shake maker, you need to get with the Nutri Ninja.
Jumbo Sized
The Nutri Ninja Blender does everything big. The main blending container is big, you get big drinking cups included with the blender, and you get a big motor that works to grind all the ingredients to your shake perfectly.
This blender is awesome for people who live with a lot of shake drinkers. You and your friends, you and your partner, you and your family – if everyone enjoys shakes, the Nutri Ninja can supply massive portions that satisfy everyone.
Because of its powerful motor, everyone can make whatever they want. Frozen berries, massive chunks of ice, kale, and spinach, and even coffee beans – all ground into a perfect paste. There is nothing this huge blender can't handle.
Technologically Savvy
Ninja is infamous for making the most advanced tech in kitchen appliances, and this new blender takes technology to another level. With auto-iQ tech, you can expect timed blending programs and intelligent blending programs that take all the guesswork out of blending your shakes.
The front face of the Ninja is full of buttons, all of them clearly labeled, and all you need to make a shake or a smoothie, a bowl of soup, or even to do a little bit of food processing, is to push one of these buttons. It's almost like being on the Starship Enterprise.
---
Best Shake Blender: A Complete Buying Guide
As you can probably imagine, most blenders offer a lot more than just making shakes. Most blenders are designed to blend anything (but maybe don't try blending batteries), from frothy milkshakes to green spinach smoothies, grinding a whole bag of coffee beans, or reheating yesterday's soup.
When deciding on the best shake blender for you, take a second to think about what else you might be doing. If all you want is to make shakes, you don't need to spend a fortune on a big complicated machine. Here are some tips when shopping for the best shake blender.
How Big Do You Want It?
Maybe a better question to ask would be 'how dedicated are you?' If you are just getting into the shake game, you may find yourself neglecting your giant machine a month down the line. For a newbie, you definitely want to keep it simple, buying something like a Nutri Ninja that doesn't cost too much money and can easily be used as something other than a shake maker.
If you are already in love with making shakes, the size of your blender will depend on how much shake you make. They generally range from around 60 ounces all the way to almost 80 ounces. Then there are personal units that don't take up much room on the counter and are handy for making personal drinks.
It really depends how often you will use your machine, how much space you want it taking up on your counter, and how dedicated you are to living a healthy lifestyle with quality shakes.
Related Articles:
Important Features
There are almost too many possible features to go over at one time. When buying a blender to make shakes, there are tons of things to look out for. We can start with variable speed control.
You want the ability to adjust the speed of the blend to get your desired texture. Maybe it comes as a dial, or maybe a button on the unit itself. However it comes, variable speed control is the most important feature if you want the ability to adjust the overall substance of your shakes.
Then you have self-cleaning. Do you want to waste time cleaning the machine, or do you want the machine to clean itself for you? What about blades? Does your blender come with aircraft-grade steel blades or "hardened" blades? The blender's blades will determine how well it blends, grinds, and chops – and also how easily it clogs. You definitely want super hard blades that are built to last.
Finally, a pulse feature. This feature is key if you want to make something that is chunky. I'm talking about salsa, thick potato soup, or a really thick shake with bits of fruit still in it. Always check that your blender comes with a pulse feature.
Best Shake Blender: Final Thoughts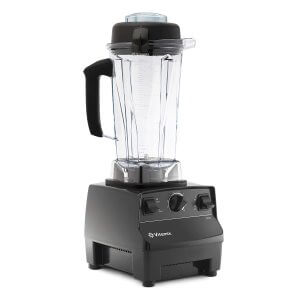 What a bunch of great blenders. From the Nutri Ninja's technology to the power and reliability of the Vitamix 5200, it is really hard to make a choice. But at the end of the day, the blender with the highest quality must be the Vitamix 5200.
If you want a high-powered blender that can make awesome shakes, blend perfect smoothies, and clean itself, the Vitamix 5200 Professional Grade Blender is an excellent choice. The Nutri Ninja is still a great option, and if you cannot afford the price of the Vitamix, I highly suggest the Nutri Ninja BL642.
As for the NutriBullet Rx, it is a great personal model. For someone who only needs to make shakes for themselves, maybe once or twice a day, and doesn't require 64 ounces of a strawberry milkshake or 72 ounces of a protein shake, the NutriBullet is for you.