Today we are looking at the best affordable personal blenders. Not only are these personal blenders affordable, but they are all under $100. These blenders are cheap, they work extremely well, they are designed for making single servings of smoothies and milkshakes, and they come with all the newest features.
If you want a personal blender to assist you in the kitchen on your busy mornings, any one of these options is great. These blenders are designed for speed, convenience, and easy cleaning. They have sufficient power for breaking down tough ingredients, and they also come included with handy accessories for convenient drinking.
Additionally, these blenders are durable and long-lasting. Some come in a variety of colors, and some are especially stylish. For under $100, you really can't go wrong purchasing any of these awesome personal blenders.
Top Rated Personal Blenders Under $100
---
NutriBullet Pro 900 Blender
The NutriBullet Pro 900 Blender is one of my favorite personal blenders. It has an outstanding motor that outputs 900 watts, allowing you to blend faster and more effectively. It comes with bigger portable cups, it has more powerful blades, and it's easy to clean. The NutriBullet Pro does it all!
A Real Blender
This is a real blender. With a massive motor that is nearly 1000 watts, you can blend anything. You can use this blender for tough smoothies full of ice and frozen ingredients, you can use it to grind dry grains and coffee beans, you can use it for light food processing, and you can even turn almonds and cashews into nut butter.
And while the NutriBullet Pro is for sure a real blender, it has the convenience of a portable, personal blender. It's light, portable, and convenient. It doesn't take more than 60 seconds to completely blend any smoothly, and it turns leafy greens and soft food into a consistently delicious paste.
Read More: Full review of the NutriBullet Pro 900
Maximum convenience
it's all about convenience. First, the blender comes in over 10 colors, allowing you full customizability. Secondly, the blender stores out of the way immediately after use. You don't have to clean the actual motor itself, and so you can quickly push it out of the way and make it invisible.
When you want to use the blender, simply fill the handy portable drinking cup with your ingredients and then screw on the blade assembly. It doesn't take any more effort than that. You can even drink your smoothie straight out of the cup!
---
Magic Bullet Blender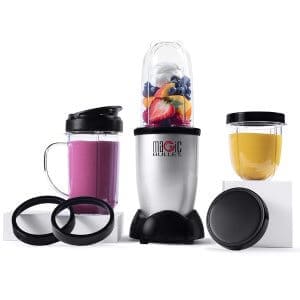 The Magic Bullet Blender is the original portable blending companion. This is the bare minimum when it comes to personal blenders. It doesn't only cost less than $100, it costs less than $40. It comes as an 11-piece set and can be used for a wide variety of applications.
Baby Food & Smoothies
This blender is more like a tool for making small portions of baby food and guacamole. It can definitely make smoothies, but it can't make very complicated recipes. It's better for sauces, dips, and for sure baby food.
The blender comes with accessories that make it easy to store applesauce, a raspberry smoothie, or anything else in the fridge. It also comes included with a recipe book and a powerful 250-watt motor. This blender also requires a fair bit of liquid in order to properly blend all your hard ingredients. This is something to keep in mind.
Read More: Full review of the Magic Bullet
Super Easy
The big bonus with the Magic Bullet is that it's easy to use. It doesn't take a rocket scientist to figure out how to work this tiny blender. Simply fill your ingredients, twist the cup into the motor base, and blend until smooth.
There are no settings, there are no dials, and there are no programs to worry about. This is the best blender for people who have no idea what they're doing but still want to live a healthy lifestyle. And at the end of the day, that's what the blender is all about. Living healthy!
---
Oster MyBlend Personal Blender
The Oster MyBlend Personal Blender is a unique machine designed to give you the best in personal blending. The blender is shaped uniquely, very compact, and easy to store. It comes with a tough motor, strong blades, and a reliable 20-oz personal drinking cup that attaches straight to the blender.
250 Watts
250 watts is not a lot of power, it's true. Many other blenders have 700 watts or more. However, 250 is more than enough to break apart ice and frozen fruit to make yourself a drink. And that is what this blender is all about. It's not designed for crushing rocks into gravel or making hot soup! This is a personal smoothie blender, and it does its job just fine.
In addition to the powerful 250-watt motor, you also get durable blades that can easily slice through spinach, kale, and even lettuce to blend a perfect smoothie with the best texture. All your leafy ingredients will be blended to absolute perfection, saving you precious time in the morning.
Read More: Full review of the Oster MyBlend
Stylish Blending
Everyone wants their kitchen appliances to be stylish. This blender is unique in its design and color scheme. It looks great, and everyone will be happy to have this blender sitting on their counter at home.
Plus, the portable drinking cup is ergonomic and easy to use. Simply twist it onto the motor base to blend your drink, then take it away and enjoy your perfectly blended smoothie on the go, either in your car, on the treadmill, or on your afternoon walk.
---
Best Personal Blenders Under 100: A Complete Buying Guide
There is a lot to think about when purchasing a personal blender. However, since we're talking about blenders under $100, your choices are pretty limited. That said, there are still lots of options ranging everywhere from $20.00 to $100. And each option offers something a little different, and the closer you get to $100 the better the machine is.
Motor Wattage
Motor wattage is a huge concern for personal blenders. Just because the blender is small doesn't mean It should lack power. You still need enough torque spinning the blades to properly blend and crush all your ingredients into a tasty smoothie.
Many personal blenders have a motor that is 250 Watts, such as the Magic Bullet and the Oster Myblend. This is enough to do most jobs. You can easily make applesauce or baby food with 250 Watts, and you can crush softer ingredients like blueberries and strawberries. But when it comes to crushing ice and seeds, it can get a little iffy.
That's why I always recommend people to get a blender that has at least 500 Watts or more if they are going to be doing serious blending. The higher the wattage, the better the blend. If you want to get your leafy greens and ice properly blended together, you need more power.
Related Articles:
Portability
Portability is always going to be important with a personal blender. Maybe you want to bring it to work, maybe you're going to use it at the office, or maybe you want to take it with you when traveling. Of course, you may just want a small personal blender so that you can easily store it at home out of sight.
Some personal blenders come with special cord holders so that the power cord is not flopping around everywhere. This is a feature to look for. You also want to take into consideration heaviness and bulk. If you will be traveling with your personal blender, you don't want a 30-pound appliance in your suitcase!
Drinking Cups
Every personal blender comes with drinking cups, but some drinking cups are better than others. I always suggest that people try to find a blender that offers portable drinking cups that actually look like travel mugs.
This is because nobody wants to drink out of a sippy cup on public transportation. Having a personal blender that allows you to make drinks while on your way out the door is much easier if you don't have to transfer the liquid from the blender cup into your own travel mug. It kind of defeats the purpose.
Best Personal Blenders Under 100: Final Thoughts
All three of these personal blenders are ideal. You can't go wrong choosing any one of them. The Magic Bullet Blender is a great budget option if you don't want to spend too much cash, while the Oster MyBlend Personal Blender is a unique unit that has a lot to offer.
However, the best blender of the three is definitely the NutriBullet Pro 900. This thing has an intense motor, it can blend all the hardest ingredients in mere seconds, it makes perfectly consistent smoothies and shakes, and it comes with all the portable drinking cups you need for convenience.
The NutriBullet Pro uses specialized extractor blades with cyclonic action to break apart ingredients and extract all the precious nutrients inside your foods. You can use this blender not only for making smoothies and shakes, but also for light food processing and making sauces and nut butter.
---