Powerful 900W Motor
Convenient & Portable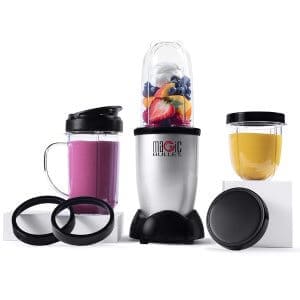 Cheap Price
#1 Selling Blender
---
There is absolutely no reason you can't be healthy while at work. Every office has a coffee machine, right? So, why can't every office have a blender so that you can make healthy shakes throughout the workday?
If your office has a lunchroom, you can definitely pick up the best personal blender for your office. Whether you share that blender or not, is totally up to you. Today we're going to look at the three best blenders to take with you to the office. You can use these blenders to stay healthy all day rather than Forcing yourself to drink garbage from the vending machine.
All three blenders are portable, there are easy to use and easy to set up, and they're all extremely affordable in case your office decides 2 abuse them beyond repair. By bringing one of these great blenders with you to the office, you guarantee a better day of work by drinking smoothies.
Top Rated Personal Blenders For The Office
---
NutriBullet Pro 900 High-Speed Blender: Best Overall
The NutriBullet Pro 900 High-Speed Blender is undoubtedly one of the best personal blenders in the world. This unit comes in over 9 different colors, it cost less than $100, it has thousands of raving reviews, and it is proven to be effective.
If you want a great blender for your office, something lightweight and portable that comes included with special to-go cups and lids, this is the best blender for you.
Portable Power
The NutriBullet Pro is extremely powerful. It offers 900 watts of crushing power to break down ice, seeds, and frozen fruit and veg. The blades are also strong enough to cut apart kale and spinach into drinkable liquid – no more leafy chunks!
Power is not the only thing you get. Yes, the NutriBullet has nutrient extracting blades, but it is also super portable. This is the ideal unit to take work, leave in the office lunchroom, and take home with you at the end of the day. It weighs almost nothing, and it fits easily in your hand.
Nothing to Clean
This is one of the easiest units to clean. Imagine taking a massive blender to work and having to tear apart the kitchen just to clean it. The NutriBullet only requires a small rinse to keep clean. Even if your office does not have a kitchen, you can easily rinse the blade and cup for about 10 seconds in the sink to clean the entire blender. You never need to clean the base!
---
Magic Bullet Blender: Budget Pick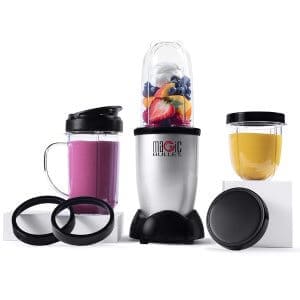 The Magic Bullet Blender is a quirky little machine with an unexpected amount of power. While definitely not strong enough to tackle any serious food processing, the Magic Bullet can still turn everyday fruits and vegetables into a delicious drink, especially if you add enough liquid base.
Full Set
What is really nice about the Magic Bullet is that it comes as a full 13-piece blender set. It includes the blender itself, additional cups in case you want to make a variety of different drinks in different sizes, a recipe book, and much more. If you are thinking about picking up a blender for the office, the Magic Bullet comes with everything.
The Magic Bullet is also very inexpensive. This thing costs less than $50. At such a low price, you really can't go wrong trying the machine. If it doesn't work, just leave it at the office and let other people play with it.
Just for You
The Magic Bullet blender is designed specifically for single servings. This makes it tailored to your exact needs as an office blender. You can even bring your ingredients to work inside the Magic Bullet's high-impact plastic cups, then blend at lunch!
Smoothies are not the only thing you can make either. With 250 watts of power, you can easily create different types of snacks, smoothies, and sauces. The Magic Bullet is strong enough to chop leaves and ice into a frothy spinach shake, or even to make nut butter at home from raw peanuts.
---
Oster MyBlend Personal Blender
The Oster MyBlend Personal Blender is the most stylish of all the personal blenders. It has lots of power for blending, it looks great anywhere, including the office or on your desk, and it comes with all the accessories you need to start living a healthy lifestyle at work.
Stylish Blending
This blender is definitely stylish. It looks slim and sleek wherever you put it. In fact, the MyBlend is designed specifically for travel, to be portable, and to be set up anywhere so that you can blend on the go. If you are thinking about taking the blender from your home to work and back again, this is made just for that purpose.
It even comes with a 20oz personal sports bottle so that you can make a large smoothie or shake and savor it while on the move. You can even make a smoothie at home, drink it on the way to work from the stylish sports bottle, then blend yet another drink when you arrive at work!
Powerful Enough
This blender has the exact same power as the Magic Bullet, using a 250-watt motor to blend all your drinks perfectly. It has just the right amount of juice to effectively blend, chop, and crush all your ingredients into a smooth and silky drink that you can enjoy at home, at the office, or on the go. If you want an affordable blender to keep stored beside the toaster at work, the MyBlend is the way to go.
---
Best Personal Blenders for the Office: A Complete Buying Guide
Every office should have a blender. Or rather, every office should allow their employees to bring a blender to work. This is an excellent way for you to stay healthy while being stuck in your cubicle. It is also a great way to make your own lunch at work if you bring the right ingredients.
You can use a small personal blender to keep at the office, or you can get a portable unit to bring back and forth from home. It is totally up to you. But here are the things you want to keep in mind when purchasing the best blender for the office.
Low Noise
The last thing you want is a noisy blender making all your coworkers angry at you. This is obviously not ideal, and you will probably lose your blender privileges pretty quickly. Because of this, you definitely want to find a small blender that does not make a lot of noise. Most personal-sized blenders are pretty quiet, but some are definitely less noisy than others.
Read More: Making mayonnaise in a Vitamix
Another thing to consider is how quickly your blender can make a smoothie. Even if you are not making a lot of noise, you still don't want to make the noise for a long time. This will definitely bother people. The best solution is to find an extremely powerful little blender that can make your drink quickly.
Included Accessories
Let's talk cups. You obviously want a strong blender that is portable, small, lightweight, and easy to use out the office. However, one of the more important things is getting the appropriate cups. You definitely want to purchase a small blender that comes included with quality to-go cups so that you don't make a mess.
Don't even think about bringing a blender to the office that has a giant container. This is the last thing people want to see in their lunchroom. You must purchase a blender that works using only attachable to-go cups. This makes it easy to fill your cup with ingredients, screw on the blades, blend quickly for about 30 seconds, then take your drink straight back to your desk.
Affordable
If you are bringing your blender back and forth from home, or if you are leaving it in the office where other people might decide to use it, it is extremely important that you don't waste your money. Who knows what could happen between transport, when Greg from accounting gets ahold of it, or whenever you aren't looking.
Definitely don't waste your money on a really expensive blender if you are bringing it to work. Anything under $100 is reasonable and replaceable, and I definitely don't recommend spending any more money than that.
Best Personal Blenders for the Office: Final Thoughts
There are lots of great options out there for good personal blenders for the office. The Magic Bullet is an incredibly affordable blender that is small, powerful, and super portable – and the Oster MyBlend is another great option that makes quick, personalized smoothies. However, the NutriBullet is definitely the best office blender.
The NutriBullet Pro 900 comes with two 32oz cups you can take to work with you, it has a very small footprint and is easy to store out of the way, and it takes almost no effort to clean it. The actual base of the machine never gets dirty. Your coworkers will never complain about your blending.
For something small to take to work with you, there is no better machine than the NutriBullet. Assuming you have a refrigerator where you can store some fruit and veggies, you can spend your days drinking healthy shakes rather than drinking stale coffee from the office coffee pot.