Looking for some new ways to enjoy your favorite fruits and vegetables? Need some ideas on what to put in your Nutribullet? Look no further, this blog post is packed with 5 of the best NutriBullet recipes that are sure to please.
From tasty breakfast smoothies to filling fruit-based desserts, these recipes are guaranteed not only to taste great but will also give you the nutrients you need!
This post will explore the different Nutribullet recipes that are out there. I am a big fan of these devices and have been using them for a while now, and there are many good recipes to use.
The following recipes should be more than enough to get you started, and then you can think about making your own concoctions!
Read More: Nutribullet Reviews: Which Model Is The Best In 2021?
What is Nutribullet?
The Nutribullet is an efficient and easy-to-use device for making tasty smoothies. It's easy to use, gives fast results, and is simple to clean. The strong motor blends ingredients quickly at high speeds for perfectly blended drinks in no time – perfect if you're looking to save some calories or just need something fast on those busy mornings.
It has been proven that eating vegetables and fruit regularly can lower your risk of many diseases, but if you don't have time or the desire then this powerful blender will help take care of things by turning whole veggies into thicker drinks in no time at all!
The Nutribullet is a powerful blender that whirls vegetables and fruits into a delicious recipe. Not only does it make smoothies, but also milling spices or blending soups are easy for this appliance with its 25,000 rpm speed and 600-watt motor!
Best NutriBullet Recipes
Nutribullet recipes are the perfect solution for anyone who wants an easy way to eat more vegetables and fruit with their favorite meals. This selection of Nutri-yummy creations can be customized in so many ways, which means you're guaranteed not only great taste but also all those necessary nutrients!
Green Smoothie
What's better than starting your day with a good old-fashioned green smoothie? The fibrous greens present in these drinks can get rid of any toxins from our body, and cucumbers are especially great for improving digestion. With Vitamin C content that is higher than an orange or cubed fruit; parsley also helps detoxify us – so not only will we feel refreshed but cleaner too!
Ingredients
1 cup spinach
½ cup parsley
Five mint
½ cucumber
½ cup of coconut water
One green apple
One tablespoon coconut milk
A cup of almond water
Directions
This recipe is as easy to follow, simply blend the ingredients together for a tasty drink. It will take no time at all with ease and convenience being two benefits of using a Nutribullet!
---
Cashew Creamer
Creamers can be a delight and add an interesting new dimension to the taste of your coffee. However, they're often loaded with artificial flavors and refined sugar that may not agree well with you health-wise – so try cashew cream instead! With natural sweeteners such as dates and vanilla extract as base ingredients, this vegan recipe will boost every sip without sacrificing anything else about its natural flavor profile.
Ingredients
3 cups of soaked cashew
Four pitted dates
6 cups of water
1/8 tablespoon of sea salt
One tablespoon vanilla extract
Directions
It is as simple as adding the ingredients and blending them with your Nutribullet. When adding the ingredients and blending them with a Nutribullet, you can have an entirely new taste for your coffee. Once blended in this unique way it stores well at room temperature or even refrigerated until next use!
Read More: Simple & delicious NutriBullet detox recipes
---
No-bake Pumpkin Cheesecake
The Nutribullet is the best way to make a cheesecake without an oven! You don't even need baking equipment, just ingredients and time. This vegan pumpkin flavor will remind you of cozy fall days with family for dinner on the Thanksgiving table while enjoying this delicious slice of heaven in under 30 minutes – start fixing yourself one now before they're all gone!
Ingredients
1 cup of unsalted raw walnut
1 cup of unroasted pecans
1 cup of pitted dates
Two tablespoons lemon juice
½ cup of maple syrup
½ cup of canned pumpkin puree
Three tablespoons of coconut oil
One tablespoon vanilla extract
¼ grounded cinnamon
1/8 tablespoon of sea salt
Directions
To make the crust, blend walnuts and pecans until crumbled into small bits. Add dates to the nut crumbles mixture; mix well with your hands or a spatula to combine them as best you can. If this mixture seems too sticky add more nuts, and if it is not sticky enough then add some more dates.
Put the crust mixture into a springform pan. Press down to make sure the mixture is right into the sides of the pan.
For the filling, add all remaining ingredients in order and blend until smooth. Pour into your springform pan to set for at least 4 hours otherwise, this dessert will be too tempting!
Top with some chopped nuts such as pecans or walnuts if desired then whip up some whipped cream for an extra touch of luxury -this pie is ready when you are!
Read More: 6 healthy pumpkin juice recipes
---
Slushy Sherry Cobbler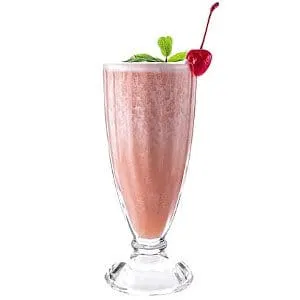 The slushy sherry clobber can be refreshing on any hot afternoon. The perfect combination of sweet and refreshing juice is blissful with the use of a Nutribullet, making it easy to enjoy this delicious treat!
Ingredients
½ cup sherry
One peeled orange
2 cup ice
Three tablespoon lemon juice
Three tablespoons of simple syrup
Directions
So, what are you waiting for? Get your Nutribullet out and make this refreshing drink! It's easy. All you need to do is add all ingredients into the blender until blended evenly. Then garnish with a slice of lemon wheel and mint leaves if desired before drinking up – because after all who isn't refreshed by the taste of citrus?
---
Banana Kale Bonanza
The banana bonanza is a tasty, healthy drink that will give you the energy and metabolism boost your body needs. It has many minerals and vitamins which nourish it in all areas of life – from nutrition to mental clarity! The best part? Drinking this delicious concoction after working out helps with muscle recovery time too so no need for painkillers when training hard at the gym again!
Ingredients
1 Banana
1 Kale
½ cup of frozen mixed berries
2 cups of water
One tablespoon of hemp seed
Direction
To make a delicious and healthy drink, just add the ingredients into your Nutribullet. Blend until you get a smooth consistency then enjoy for increased metabolism or energy!
---
Why use the Nutribullet?
The Nutribullet is the answer to all your protein-packed smoothie needs. With this blender, you can make a healthier and tastier drink than ever before! The two-blade system makes sure that everything gets pulverized without any lumps or stems getting stuck in between which means better blending too – giving foodies more time with their loved ones.
Best NutriBullet Recipes – Final Thoughts
If you're looking for some new and exciting ways to enjoy your favorite fruits and vegetables, we hope this blog post was helpful. We know that sometimes it can be hard coming up with ideas on what to put in a Nutribullet so we wanted to provide you with some of our best recipes!
From delicious breakfast smoothies made from the freshest ingredients imaginable, these recipes are sure to not only satisfy your taste buds but also give you all the nutrients you need. So grab those fresh groceries because there is no better feeling than making something healthy at home just as good or even better than any restaurant could make!
Be sure to explore all of these NutriBullet recipes so you can find what works best for you. And if none of these recipes have sparked your interest, be sure to check back here soon as we will continue adding more delicious recipes in the future!