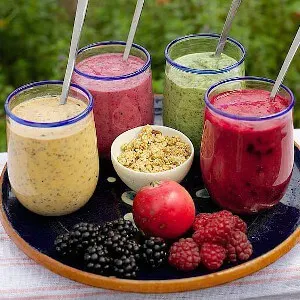 Who doesn't want a delicious smoothie for breakfast every morning? This may seem like a big hassle to people who don't have a lot of experience with smoothies, but it is in fact very simple. In truth, blending yourself a delicious and healthy breakfast using your Vitamix blender is quicker than making bacon and eggs.
Not only is this faster than making bacon and eggs, but it is infinitely healthier. A delicious morning smoothie in your Vitamix can have all sorts of healthy ingredients inside it. It takes less than five minutes to make, and if you have the ingredients stockpiled in your refrigerator it is even easier.
You can introduce your children to healthy living, you can help solidify your own healthy choices, and you can brag to all your friends at work about how good you feel. Today we will talk about all the best morning smoothie recipes that you can use with your Vitamix.
Keep in mind that we use a lot of sweet fruits in these recipes. But you will see why shortly. Peaches, grapes, and pineapple are all healthy fruit and a great way to wake up. I love them, you love them, and we will blend them together in our smoothies today so that you can start waking up right with your Vitamix blender!
Read More: Best Vitamix blender for raw food
Health Benefits to Morning Smoothies
There are a lot of health benefits to drinking a smoothie in the morning. They do say that breakfast is the most important meal of the day, and it is absolutely true. You will get a blast of healthy protein, good fats, and hundreds of micronutrients that we simply don't have time to name when you enjoy these recipes.
And while eating (or drinking) a smoothie in the morning can be extremely healthy for your body, it is also very healthy for your mind. It will make you feel much better than clogging your arteries in the morning with a pan of oiled bacon. Not to mention, you are going to get lots of good probiotics in your smoothies in the morning, which is the best thing you can do for the health of your gut. No more 9-AM diarrhea!
Read More: 14 healthy breakfast smoothie recipes
The Best Morning Smoothie with Vitamix
The first smoothie on the list today is the best. There are lots of small ingredients that make a huge impact on the health of your mind and body. The smoothie wakes you up better than a cup of coffee, it keeps you alert throughout the day, and it leaves you generally feeling good.
We use a mixture of strawberries and banana for flavor, and the rest of the ingredients for health benefits. There are also lots of supplements you can add to this smoothie to further boost your health.
Main Ingredients:
4 Cups Nut Milk
1 Cup Blueberries
1 Cup Strawberries
1 Banana
1 Cup Raw Cashews
4 Pitted Dates
¼ Cup Coconut Oil
3 Cups Ice
Instructions:
Blend all your ingredients except for the ice into your powerful Vitamix blender. You want to start on variable 1 and gradually increase speed until you hit variable 10.
Continue blending until the ingredients are swirling in a cyclone of deliciousness. The smoothie should be thick and creamy before you stop the machine.
Now add the ice and blend again on high for about 10 seconds to get the ideal icy texture.
Serve right away and enjoy.
Related Articles:
Optional Smoothie Supplements
There are a lot of optional supplements you can add to a morning smoothie that will make it healthier. These supplements can be added to the smoothie we just discussed or any other smoothie. These supplements are generally tasteless. You won't even know they are in your drink!
½ Cup Coconut Flakes
½ Cup Chia Seeds
¼ Cup Hemp Protein
2 Scoops Protein Powder
1 Teaspoon Kelp Powder
Handful of Spinach
Gluten-Free Granola
Read More: How to Add Protein to Smoothies: 18 Protein Powder Alternatives
Creamy Smoothie Breakfast
The creamy smoothie breakfast is one of the best ways to start your morning. The smoothie is packed with protein and fiber, with a single serving giving you about 12 grams of protein and 6 grams of fiber.
This smoothie is also filled with oats, fruits, and almond milk to give you the best thickness and the tastiest texture. One of the biggest bummers to any morning smoothie is that you often feel hungry an hour later. But with the creamy smoothie breakfast, you will stay satisfied until lunchtime.
In fact, I can't recommend this smoothie enough. It takes about 5 minutes to make, the combination of banana and peanut butter mixed with strawberries is like heaven in your mouth, and it's a great way to force yourself into a healthy lifestyle by preparing the same breakfast smoothie every morning.
Did I mention this smoothie is good for your health? By using greens, nut butter, seeds, and fruit, you literally get the best of every world. For a little bit of added flair, feel free to sprinkle rolled oats onto the completed smoothie. This will give you a satisfying crunch and another little boost of flavor and nutrients.
Ingredients:
1 Banana (Frozen)
1 Cup Strawberries (Frozen)
2 Tablespoons Rolled Oatmeal
¼ Cup Protein Powder (Vanilla)
1 Tablespoon Peanut Butter
1 Cup Almond Milk
Instructions:
Place everything in your powerful Vitamix blender. Don't forget that you can add any kind of supplement you want for additional health benefits. There are no restrictions when making this smoothie, and the recipe is just a guideline.
Blend on high for about 30 to 60 seconds, or until the mixture is smooth and ready to drink. Now serve immediately and enjoy!
Don't forget to add extra rolled oats over the mixture for a nice garnish. Alternatively, try slices of banana, slices of strawberry, or a sprinkling of your favorite cereal.