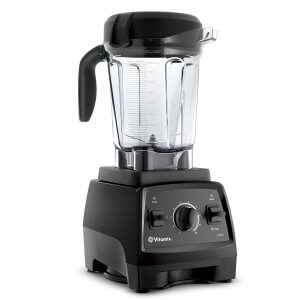 Powerful 2.2HP Motor
Quiet Operation
Large Capacity
Cheap Price
---
People may not really know a blender's true worth unless they have one in their kitchen. But for those who do, the best countertop blenders are handy machines that make life in the kitchen so much easier.
These are powerful, versatile appliances that can perform a multitude of tasks and often work as a permanent fixture in kitchens. Many will offer a plethora of speeds and functions while others remain candidly basic. Certain others will double up as food processors to get the kneading and the grinding done as well. What you choose for your kitchen will depend entirely on what you need.
But with an endless choice of blenders available, how do you shortlist the top picks? Let me help you with that by giving you a roundup of the best three options to consider.
Top Rated Countertop Blenders Of 2021
---
Vitamix 7500 G-Series Classic Blender: Best Overall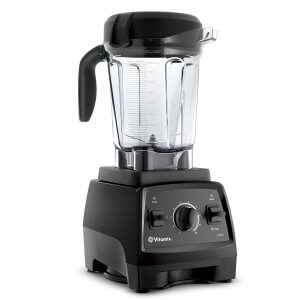 To rate the Vitamix 7500 as the best countertop blender shouldn't come as a surprise as it offers the right power paired with consistent performance and sturdy construction, making it one of the most reliable countertop blenders ever.
Optimal Blending Performance
The Vitamix 7500 has a meticulously designed blending system that yields perfectly blended results every time. Working with a 1500-watt, 2.2 HP motor, this blender has a lot of power to spare. This power gets harnessed by the 10 variable speed settings to blend with extreme precision and get your desired results every time.
There are no presets with this blender, but with what it lacks in pre-programmed options, it makes up for in solid performance and ease of use. With its fuss-free operation, you can make a variety of blends exactly the way you want them. Everything from basic smoothies to hot soup is achievable with the Vitamix 7500 by simply controlling the speed and duration of your blend.
Durable Construction
A blender is only able to perform on so many fronts successfully when it comes with a durable construction and the Vitamix 7500 aces that. With this purchase you get laser-cut stainless-steel blades, an all-metal drive, and a sturdy 64-oz BPA-free plastic blending jar.
The hardened stainless-steel blades master the challenge of crushing all types of exacting ingredients while the sturdy blending jar is made to last a long time. So, if you've gone through your fair share of lower-priced benders and want to get something that will last, it may be time to move up to a Vitamix.
---
Ninja Mega Kitchen System BL770 Blender: Budget Pick
But if you can't spare the cash for the 7500, then the Ninja BL770 is an excellent option that doesn't feel like a budget choice at all. Given that it's an entire kitchen system and not a blender alone, makes it a great value piece for the price.
Powerful Performance
This is another powerful blender that delivers the goods but at a much lower price point. Powered by a 1500-watt motor, the BL770 can handle almost anything that you challenge it to. There are three speeds to choose from paired with a Pulse feature for versatile functions which lets you blend, crush, and knead with the push of a button.
Ninja's Total Crushing technology gives it the power it needs to work through tough ingredients. The Ninja blade system can rage through the toughest and hardest of ingredients for a smooth and consistent blend.
Multipurpose Machine
You get the perks of a countertop plus personal blender with this one. The extra-large 72-oz pitcher is clearly designed to handle big blending jobs while the two 16-oz Nutri Ninja cups are good for preparing customized drinks to take on the go. The 64-oz food processor bowl is adequate for all your chopping, kneading, and mixing needs and can yield ample sized cookie and pizza doughs.
That is an impressive performance for any kitchen system, but when you look at the cost of the BL770, that makes it even more appealing. The entire package comes off as one of the most inclusive kitchen systems available.
---
Blendtec Total Classic Blender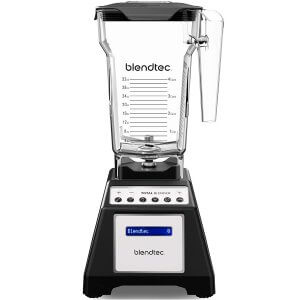 The Blendtec Total Classic is a high-end machine that features hands-free blending paired with immense motor power to give you the best that convenience has to offer.
Unbeatable Durability
Known for its rugged durability, the Blendtec Total Classic lives up to its reputation. Everything from the motor and blades to the jar and lid is built to the highest standards.
Setting things in motion is the trademark Blendtec blade that is thick and dull in construction. This is paired with an all-metal drive to keep things sturdy and reliant as your machine works its way through all sorts of ingredients.
The WildSide + Jar adds to the blender's durability factor being made from impact-resistant, BPA-free copolyester material. It also enhances the blending quality with its square shape and two vertical ridges on the interior walls that force ingredients down for a smoother blend.
Speeds and Functions
With 1560 watts and a 3 HP motor at work, there are 10 manual speeds to choose from. But if you would rather let the Total Classic do all the work, it also features one-touch buttons for various preprogrammed settings that make the blending simple, fast, and easy. The choice of presets takes care of versatile blending tasks from shakes and smoothies to sauces and soups and even ice cream.
Then there is the hot soup setting to take its performance to a whole new level. The ability of the blender to churn both ice cream and hot soup adds a wow factor to the Blendtec Total Classic that very few other models can boast of.
Even though this blender isn't exactly cheap, its cost is justified given its durability, versatility, and performance.
---
Best Countertop Blender: A Complete Buying Guide
When you match your needs with the features of a blender, the choice to pick the right one becomes easier. Ask yourself if you need something to concoct up shakes and smoothies only. Or, do you want something capable of processing food as well? Also, consider if it's something you'll use every day or just occasionally. Once you know where you stand, read on to see what to look for in the best countertop blender.
Power and speed are obvious givens, so let's move on to what else to look for.
Size
Since you're opting for a countertop version, it's fair to assume that your blending jobs will be moderate to large in volume. (Otherwise, you can always go for smaller, personal blenders). But even among countertop blenders, you get a fair range of size and capacity options.
For instance, there are low-profile blenders with shorter and maybe stouter/wider blending jars that are easy to fit underneath standard kitchen cabinets. Or you could go for the standard slim, tall jar blenders with a narrow base that helps keep the ingredients close to the blade. These work well in kitchens with lots of space/height between the cabinets and the countertop.
Other than height considerations, countertop blenders offer anywhere between 32-90 ounces of blending capacity with their various sized jars.
Related Articles:
Functions and Features
True to your blending needs, the functions and features a blender offers will determine what you really need. Some models can be fairly basic while others come with buttons and presets galore. And while it may seem tempting to get a lot of features, you should be realistic about whether or not you'll ever use them. Just remember that the more advanced the model, the higher its price point will be.
So, if your needs are simple and you don't want to splurge on features you'll never use, then go with a basic blender. On the other hand, if you're a blending wizard then nothing short of a professional model may satisfy you.
Noise Level
While blending is never going to be a quiet activity, certain blenders come with special features to dampen the usual racket. Some work with visible additions such as an additional enclosure around the blending unit to muffle out the noise. Other models may work with internal mechanisms such as airflow technology or the use of specific materials to lower the noise factor.
If you'll be using your blender on a frequent basis, looking into its noise dampening features may be a useful thing to do.
---
Best Countertop Blender: Final Thoughts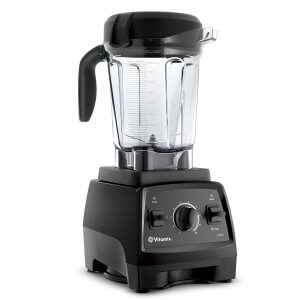 With its generous capacity, impressive power profile, and dependable performance, the Vitamix 7500 is the best overall countertop blender. Built for kitchens that are busy day in and day out, this blender will deliver on all fronts.
The Ninja BL770 is an affordably priced unit that yields enough power to hang out with the big guys. Given that it's a kitchen system and not a blender alone, makes it a popular budget choice that takes the place of multiple kitchen devices.
The Blendtec Total Classic enjoys unanimous praise from users for its efficiency. It is a machine that serves well when you're looking for something that's more than a typical smoothie maker. And even though it can cost you a pretty penny, the Total Classic delivers great value for the money.
Related Articles: