Powerful 900W Motor
Convenient & Portable
Powerful 1000W Motor
Large Capacity
---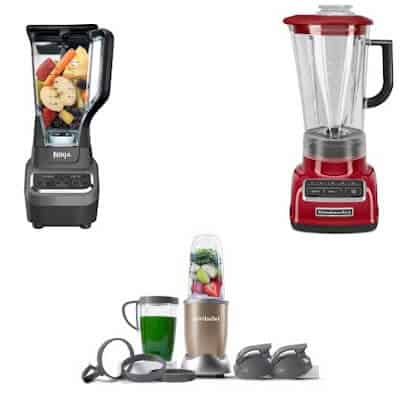 Green smoothies are the best. If you want something extremely healthy that still gives you a great boost of energy, you definitely want a green smoothie. Today we are looking at the best cheap blenders for making green smoothies. With these blenders, you can easily blend kale, cucumber, spinach, and all your other green ingredients into a delicious smoothie.
And you can do it at a low price! These three blenders are all very affordable, and they all work extremely well. If you want to make quick smoothies without any hassle, definitely choose one of these blenders. They are very small, they have strong motors, and they come with extremely durable blades.
Everyone deserves to live healthily, and if you want to live a healthy lifestyle without spending tons of money, you definitely deserve a cheap blender that you can make daily green smoothies with. Now check out these awesome options!
Top Rated Cheap Blenders For Green Smoothies Of 2021
---
NutriBullet Pro 900 Blender: Best Overall
The NutriBullet Pro 900 Blender is one of the best blenders ever made. It comes in a very small package, making it simplistic to use and easy to store. It has a motor that outputs 900 watts, which is lots of power for crushing apart frozen vegetables and ice, and it comes included with all the best accessories.
Affordable & Versatile
What people love so much about the NutriBullet Pro is its phenomenal affordability and versatility. This is not a boring blender that only does one thing. You can use it for making green smoothies, but you can also use it for grinding, chopping, and liquefying just about anything.
Basically, if it fits in the 32oz included cup, it can be blended. And it costs almost no money. It's not free, but it is very affordable. There are not many other blenders available at this price, and certainly, none that offer the same quality.
Part of the Bullet Family
The NutriBullet Pro is an upgraded version of the original NutriBullet and is succeeded by several other models of blender, each with larger cups and stronger motors. When you choose to use this blender, you become part of the NutriBullet family!
This means you always have a reliable product that is easy to clean, supported by an amazing company, and that you can order extra components and replacement parts for easily. If you were to ever lose the cups that come included, you can easily order replacements and have them at your front door in no time at all.
---
Ninja BL610 Professional Blender: Budget Pick
The Ninja BL610 Professional Blender is a fantastic countertop blender. This is a seriously professional unit, and it comes with a massive 72oz container for making big batches of smoothies and other beverages. The blender also comes with total crushing technology that is excellent for smashing apart ice and frozen fruit to make yummy green smoothies.
Pure Performance
The performance you get out of this blender is fantastic. It offers outstanding performance thanks to its 1000-watt motor and 64oz max liquid capacity. The blades are designed especially for crushing and blending, which work together to smash apart ice, frozen fruit, and other ingredients, allowing them to blend nicely into your final drink.
Plus, this is a real blender that you keep on your countertop. It has three different speed settings and a pulse feature, meaning you can use this for more than just green smoothies. You're able to make frozen drinks, margaritas and daiquiris, and even soups, sauces, and purees.
Easy Operation
Everyone likes a machine that is easy to clean and easy to operate. The Ninja Professional Blender cleans itself, it has an extremely convenient main container with a smart pouring feature so that you don't spill or leak while filling your glass, and all the pieces that come included are dishwasher safe.
While there are no variable speed controls, you do get the four different speed settings all plainly labeled on the front of the machine. This makes user operation simple and effective.
---
KitchenAid 5-Speed Diamond Blender
The KitchenAid 5-Speed Diamond Blender is a traditional countertop blender with lots of customizability. If you are a person who fusses over the color of your kitchen appliances, this is definitely the best blender to own. It comes in a startling number of different colors. In fact, you get over 20 different variations to choose from, including aqua sky blue and raspberry ice.
And as for blending, it is something of a powerhouse. The blender comes with a strong metal base, a powerful motor, and a diamond blending system for perfect green smoothies.
More Options
You definitely get more options when using this blender, and I'm not only talking about the colors. This blender comes with five different pre-programmed settings, allowing you to either stir, chop, mix, puree, or liquefy your ingredient. The blender works using a special Intelli-Speed motor control that senses your contents and maintains the best speed for your mixture.
Powerful & Personal
For such a powerful blender, this unit is actually pretty personal. It does not take up a lot of space, it's not that noisy, and it looks pretty good sitting in the corner of your counter. It comes included with a 60oz diamond pitcher with measurements on the outside of the glass for easy measuring.
Also, this is one of the only blenders at this price point that comes included with a 5-year limited warranty. If you don't believe in the quality of this blender, just take a look at the thousands of positive ratings online from satisfied customers.
---
Best Cheap Blenders for Green Smoothies: A Complete Buying Guide
There are a few things to consider before spending your money on a cheap blender for making green smoothies. It is important to know that not all blenders are created equally. Some are better at crushing ice, some are superior when it comes to grinding, and some are better for blending green ingredients to make smooth drinks with no chunks.
And that is what it all comes down to – no chunks. Nobody wants their green smoothie to have little floaties that stick in their teeth or on their tongue. It annoys me, it will definitely annoy you. For this reason, I have made a quick buying guide of what to look for in the best green smoothie blender.
Read More: Best blender for kale smoothies
Blending Prowess
Every quality blender should have serious blending prowess, meaning it should have superior blending power. You always want your blender's main focus to be blending your ingredients, especially when it comes to green smoothies.
And because you will probably be adding almonds, chia seeds, flaxseeds, and other hard ingredients to your green smoothies to boost your health, you will need a blender that has strong blades and a strong motor for chopping apart greens and breaking open seeds.
It's all about extracting nutrients, while at the same time blending all the ingredients into a smooth paste. I recommend using a blender that has at least 900 watts of power. This will be enough to blend ice with frozen veggies and hard nuts. Because you are making green smoothies, chances are you will be freezing spinach and cucumbers in chunks, and so your blender must have power!
Related Articles:
Stylish Blending
Yes, you want your blender to be professional and to have outstanding performance, but you also have to look at it all day sitting on your counter. Maybe not all day, but at least whenever you are in your kitchen. Because of this, you may want to choose your blender based on power, speed, and style.
I would definitely choose a blender that came in my favorite color over a slightly cheaper blender that only came in boring black. While this is not a big thing to consider, it can improve your mood in the kitchen. Everyone likes having decorations that suit them, trinkets that are unique to them, and appliances that make them feel at home.
Simplicity
Finally, as someone who is mainly making green smoothies, you probably won't be venturing into food processing or baking using your blender. That means you would be better off with a simplistic blender that doesn't offer a lot of choices in speed and control.
While many blenders advertise variable speeds, when it comes to making smoothies you really don't need different speeds. So long as the blades spin and blend your ingredients, that is all that matters. So, if you only want to make green smoothies, definitely get the simplest blender possible.
Best Cheap Blenders for Green Smoothies: Final Thoughts
All the blenders we have talked about today are awesome, not only for making green smoothies but for doing everything else too. The Ninja BL610 Professional Blender is a solid budget option with a large container, while the KitchenAid 5-Speed Diamond Blender comes in more colors than you would know what to do with!
But when it comes down to quality and performance, you have to give it up for the NutriBullet Pro 900. This is an absolute powerhouse of a blender. It comes with all the accessories you need, it is great for people who have active lifestyles, and it has a powerful motor that eats through ice like you wouldn't believe.
The blender comes with a recipe book for inspiration, it is one of the easiest units to clean, and it has no buttons or settings. This is a pure blender that can make you the best green smoothies of your life, and it is less than $100.