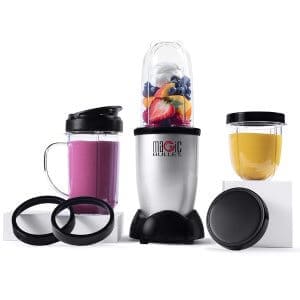 Cheap Price
#1 Selling Blender
Battery Operated
Convenient & Portable
---
There is nothing better than getting something for dirt cheap, whether it's a blender or a new haircut. Today we are looking at three of the hottest blenders under 40 dollars. These blenders are small, highly portable, and offer incredible value at a seriously discounted price.
If you are looking for a quality blender that you can take with you traveling, take with you to work, or just have in the house for making quick shakes, any of these three personal blenders will work awesome. And at the end of the day, you really can't go wrong with spending a mirror $40 on a new blender.
You get a lot of great features with these blenders, although each offers its own unique functions. For example, for under $40 you can find blenders that include the best accessories, that function on battery power, and that are extremely stylish.
Top Rated Blenders Under $40 Of 2020
---
Magic Bullet Blender: Best Overall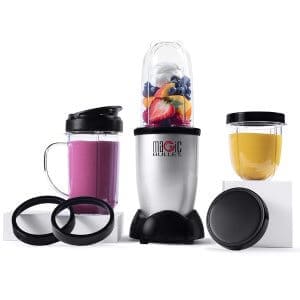 The Magic Bullet Blender is a classic affordable blender. This blending system is just as popular now as the first day it was released, all these years later and you still get excellent value for a very small amount of money. The Magic Bullet blends, chops, and grinds any ingredient you throw at it. It comes with all the best accessories and it is extremely easy to use.
The Classic
The Magic Bullet really is the classic portable and personal blender. This thing does it all. It grinds, it mixes, and it whips. The best part is you don't need to do any work, other than choosing your ingredients and putting them in the cup.
This blender is super easy to master, it doesn't take longer than 2 minutes to clean, and the 250-watt motor gives you lots of strength for breaking apart ice, blending frozen ingredients, and shredding leafy greens.
In a Rush
The Magic Bullet has always been the best blender for people who are in a rush. You can have it stored easily in the cupboard because of its small size, taking it down in the morning to make a smoothie in less than 5 minutes. Simply throw your ingredients into the cup, screw the lid onto the Magic Bullet, and start blending.
With the unique travel cups that come included in the package, it has never been easier to take your blended smoothie with you out the door while you go off to face the day.
---
PopBabies Personal Blender: Budget Pick
The PopBabies Personal Blender is one of the most unique blenders ever developed. This powerful little machine is designed for maximum portability. You charge it quickly, add water and your ingredients, shake and blend! That's all there is to it. The blender is fully portable and great for making small portions of shakes and smoothies.
Safe & Versatile
The blender is 100% safe. The cups are made from a very safe, food-grade material. This makes them great for making baby food, mixing your protein drink, or for making a quick smoothie. All the parts are also safe for the dishwasher, making cleanup even easier.
One of the greatest parts of this tiny blender is its versatility. It can be used anywhere to make anything, and it even comes included with a unique ice tray so you can add tiny pieces of ice into your portable blender. They really have thought about everything during the design process.
Full Travel Blender
This blender is definitely the best one for traveling. It is so small that it fits conveniently in the side pocket of your hiking bag. It looks stylish, it does not take long to charge, and you can even charge it using the USB adapter from your laptop or from a portable charger.
Because you can make all kinds of unique drinks with this blender, all in very small but enjoyable portions, this is the best blender for travel enthusiasts. It is super lightweight, you can take it with you to the gym, have it sitting nicely in a cupholder in your car, or anywhere else.
---
Oster MyBlend Personal Blender
The Oster MyBlend Personal Blender is a lesson in style. For under $40, this is a pretty impressive blender. It has a very strong motor, an attractive base that comes included with an industrial design. The blender features a very useful travel sport bottle so that you can take all your drinks with you, and it is extremely powerful.
Powerful Blender
It is really important that you always have enough power in your blender to mix up your ingredients properly. This is not a problem with the MyBlend. Even with its outrageously low price, it can cut through ice with enough liquid inside the cup, and it won't even leak! It can also slice leafy greens and frozen veggies into a very nice paste.
If you are looking for a great blender to use on a daily basis to make all of your smoothies and other beverages, the MyBlend can definitely handle it.
Live Healthily
This is one of the better blenders for people trying to live a healthy lifestyle. If you are new to the health game and don't want to spend more than a few dollars on a blender for trying out some different ingredients, maybe for a cleanse or for a new healthy drink diet, this blender is ideal.
It's easy to clean, you can use it at any time, and it stores easily out of the way when you don't need it. But the best part is that if you don't want to use the blender anymore, it's not a big deal. You didn't waste any money. And besides, you can always use the blender for grinding coffee beans or making iced coffee drinks!
---
Best Blenders Under 40: A Complete Buying Guide
There is not a lot to consider when purchasing a blender for under $40, in all honestly, you don't have a lot of options. But the options you do have are still pretty great. And there are still some things that you should look for in an affordable blender. Just because the blender is cheap, doesn't mean It shouldn't come with some awesome features.
Solid Design
Your affordable blender should always come with a solid design. By solid design, I am talking about strong blades and a strong motor. Your blender should still come with at least a 250-watt motor and some strong, durable steel blades.
These are critical for blending your ingredients. There is no point in buying a blender if it can't break down ice and mix leafy greens into a drinkable solution. Any blender you buy, whether it is $10 or $1000 should come with some durable blades and a tough motor.
Also, the cups that come with the blender need to be durable. Always make sure the travel cups that come with your small, personal blender are dishwasher safe, are constructed from a solid material, and come with practical drinking lids.
Related Articles:
Easy Cleaning & Convenience
The whole point behind a personal blender is convenience. For $40, you should be able to pick up a blender that offers full convenience. You may not get a digital clock with variable speed settings and a pulse feature, but you can still get the best in convenience.
The same can be said about easy cleaning. Cleaning your blender should be effortless, involving no more than a quick rinse with soap and water to effectively clean the cups and the blades. If you have to disassemble the entire blender just to clean it, it's not even worth the forty dollars you paid for it!
Versatility
Your blender should also be versatile, even if it is affordable. You should be able to make smoothies, shakes, and iced drinks in your blender without any troubles. That means your blender must be able to blend ice with frozen fruits and vegetables, and it should be able to grind harder ingredients like nuts or beans.
The most important thing is quality. So long as your $40 blender can stand up to most everyday blending tasks, you will be happy, and your $40 will have been well-spent. Strong blades, a functional motor that offers lots of torque, and reusable cups that are easy to wash and easy to drink from. These are the main things to look for in a versatile blender.
Best Blenders Under 40: Final Thoughts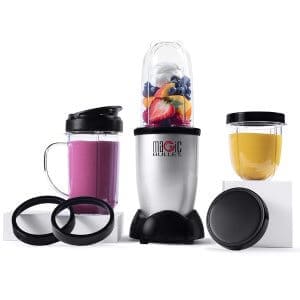 All three of these blenders are pretty great. The PopBabies Personal Blender is an extremely unique system that recharges using a USB to make small servings of smoothies, which is great for travelers. The Oster MyBlend is another great budget option, very stylish with lots of great features. However, the best has to be the Magic Bullet.
The Magic Bullet comes with all the best accessories, it is incredibly easy to use, it is easy to wash, and anyone who likes to make quick smoothies will get a lot of use out of the blender. It can be used for making smoothies, shakes, and even for grinding nuts or coffee beans.
If you really want the best blender under $40, I highly recommend the Magic Bullet from Nutribullet. This is the closest thing to a really powerful blender that you can get for such a low price.