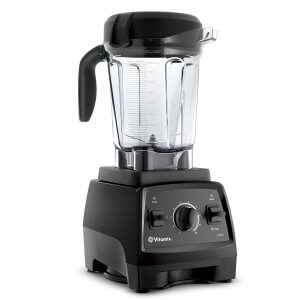 Powerful 2.2HP Motor
Quiet Operation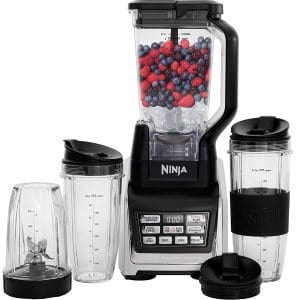 Powerful 1200W Motor
Large Capacity
---
Today we are looking at the best blenders for vegetables and fruits. If you are looking to make awesome health drinks using fruits and vegetables, these blenders are for you. They can help you live a healthy lifestyle with minimal effort on your part. Simply take a visit to your grocery store, throw the ingredients into your blender, and you have delicious fruit and vegetable drinks!
These blenders are tough, they are durable, and they have powerful motors that work to blend frozen ingredients and soft ingredients into the perfect texture for your smoothies. They offer great accessories, advanced features, and all the modern comforts you expect from a quality blender.
If you want a blender that will last for the next 10 years without losing functionality or sacrificing performance, you definitely want one of these quality blenders. They can do basically anything involving vegetables and fruits, from making drinks to making soups, frozen desserts to baby food.
Top Rated Blenders For Vegetables And Fruits
---
Vitamix 7500 Professional Blender: Best Overall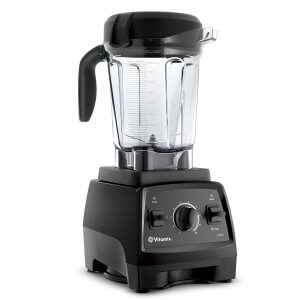 The Vitamix 7500 Professional Blender is one of the very best blenders on the market today. It comes with variable speed control, manipulated by the dial on the front of the machine so that you can always have the perfect texture regardless of what you're making. Plus, it has a very useful pulse feature for better purees, heartier recipes, and thicker vegetable soups.
Make it with Precision
One thing all Vitamix machines excel at is precision. Because of the immense control you have over the speed and the type of blend, you can always reach the pinnacle of your blending capabilities. What I'm trying to say is that your smoothies, shakes, and other creations will all turn out perfectly.
This includes salsas, soups, frozen treats, and so much more. This blender does not only blend, but it also grinds, chops, and emulsifies. It literally does all these different tasks simply by spinning its blades at different speeds depending on your personal needs.
Hardened Parts
All the parts that come with the blender are premium. From the reliable 64-oz low-profile container with its sealable lid that prevents spills, all the way to is hardened steel blades – everything is built to last a very long time.
This equals durability. You can count on your Vitamix blender operating at peak performance for the entire time you own it. The motor is extremely strong and will stand up well over time, and all the inner components will do the same. This is one of those blenders you keep for life.
---
Ninja BL642 Countertop Blender: Budget Pick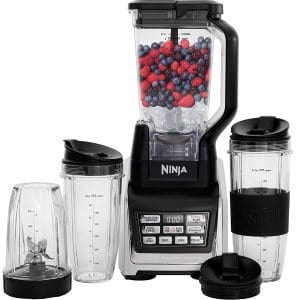 The Ninja BL642 Countertop Blender is an exceptional piece of technology. This blender can crush ice and break down frozen ingredients in mere seconds. It has serious power so that you can make creamy frozen drinks at home with a single push of a button.
This blender also comes with specialized blades that pulverize fruits and vegetables while extracting their nutrients and their vitamins. If you want to blend personalized smoothies and juices straight into a portable travel cup, you can also do that with this blender.
More Options
Rather than being stuck with an extra-large 72oz pitcher, this personalized blender comes with the option to use travel cups! That means that you can take the giant container off and replace it with a small and portable drinking cup, taking your smoothie on the go right away.
Sure, this only saves you a few seconds of pouring the fruit smoothie from the jar into a cup, but those precious few seconds are very important to people who live busy lives. It is absolutely invaluable to be able to throw your ingredients into your drinking cup, blend using your cup, then put on the resealable lid and head off to work.
Nutrient Extraction
For those looking to live a healthy lifestyle, it is always important that you get the most nutrients possible from your beverages. This means all the nutrients and vitamins need to be extracted, and all the nuts and seeds you add to your mixtures need to be broken down perfectly so that you reap their health benefits.
---
Blendtec Total Classic Countertop Blender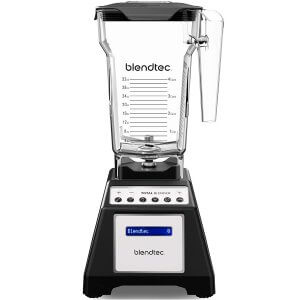 The Blendtec Total Classic Countertop Blender is a fantastic unit at a fair price. This mid-range blender comes in three different colors, either black, red, or white – and it has some of the toughest components out of any blender.
The Strongest Blades
This blender has some of the strongest blades in the business. It has wing-style blades designed especially for smoothing blends of fruits and vegetables into drinkable pastes. The blades are not actually sharp, they are dull so that you don't get any cuts or pokes accidentally. And they are stainless-steel forged and 10x stronger than blades on similarly priced blenders. They are also 80% thicker!
Smart Design
This blender comes with a smart design and some unique technology. It has six preprogrammed cycles and a 10-speed manual control. You can adjust your blending speed during the process without stopping the motor, which is super convenient.
If you want to make large batches, it is very easy with the 75oz included container, which can be used for wet or dry materials. If you are blending fruits and veggies, you can make massive batches for storing in the freezer or for making into large portions of smoothies for you and your friends.
The design is great, as it is made to be the last blender you ever own. The Blendtec has only premium components, including its motor, so that you never have to shop for another blender in your life.
---
Best Blenders for Vegetables and Fruits: A Complete Buying Guide
What exactly makes a good vegetables and fruits blender? Well, there are a few things. First, what are you doing with your fruit and vegetables? Do you want to make them into shakes, smoothies, ice cream, or even into baby food? It all depends on what you're doing.
However, all the blenders we looked at today are the best at everything. It is always handy to have a versatile blender that can do more than one task. No matter what you're doing, I always recommend getting a powerful countertop blender that is strong enough to last a long time and functional enough to suit your needs as they grow and change.
Kitchen Staple
Your blender is going to be a staple of your kitchen. For this reason, you definitely want to choose a blender that looks good on your counter, which doesn't take up too much space, and that has easy settings displayed clearly on the front of the motor base.
Many blenders now come with intelligent blending programs, variable speed controls for full precision over your blends, and even preprogrammed blending options so that you don't need to think before you blend. This can be handy if crafting a frozen drink, a quick puree, or even a blueberry smoothie. Just push the smoothie button on your machine and walk away!
Related Articles:
Just like with any piece of equipment that will stay in your kitchen for the rest of time, your blender needs to blend in and be useful. There's nothing worse than having a kitchen appliance that you don't even use. If your blender is too bulky, too annoying to clean, or makes too much noise, you may find yourself with a useless and unwanted piece of equipment taking up room on your counter.
So, always make sure you are going to be happy with the blender sitting on your counter for the next 10 years or more. Think about how it looks, how it feels, and how excited you are to have it sitting beside the toaster.
Fruits & Vegetables
You want a blender that can mix fruits and vegetables, that is what this whole article is about. For that reason, you need a blender with vitamin and nutrient extracting blades. You need blades that are specially designed to breakdown whole foods, just like full fruits and vegetables, while extracting the nutrients from inside.
Your blades should also be strong enough to blend nuts and seeds, like almonds and chia seeds, into the rest of the mixture without it being chunky. Don't even get me started on spinach. If your blender blades can't mush leafy greens into your blend without leaving chunks, you have a problem!
Read More: How to make homemade V8 juice in a Vitamix
Best Blenders for Vegetables and Fruits: Final Thoughts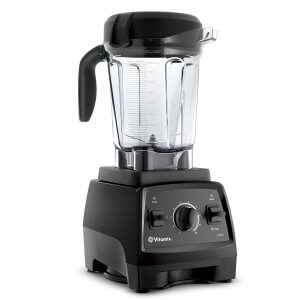 First off, all three blenders on today's list function extremely well and are definitely worth the money. The Ninja BL642 blender is a great budget option for people who don't want to spend too much, while the Blendtec Total is a great classic blender with intense power and lots of user settings.
However, the best blender on the list today is definitely the Vitamix 7500. This blender has all the newest technology you need to stay blending. It may be a little expensive, but that's because it has the best features, such as variable speed control, a radial cooling fan to prevent overheating, and a quality sealing lid for no spills.
If you are looking to stay healthy using a convenient blender for mixing fruits and vegetables, I highly recommend the Vitamix. These machines are notorious for being excellent at blending all types of different foods into drinks with the perfect temperature.