Powerful 3.8HP Motor
Quiet Operation
Powerful 3.5HP Motor
Cheaper Price
---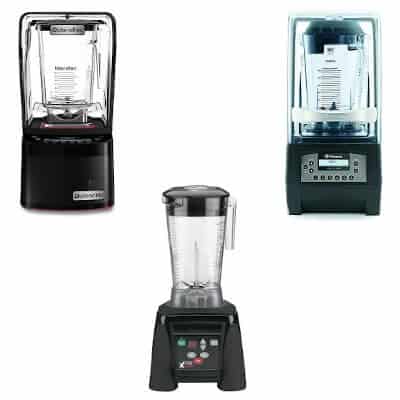 Every restaurant needs a good blender. A quality, industrial-strength blender comes in very handy when you're running a restaurant or a café. This is an important piece of equipment used for making beverages of all kinds. You will undoubtedly be using your powerful blender for making huge batches of smoothies and milkshakes, iced treats, margaritas and cocktails, and so much more.
By purchasing a powerful blender designed for use in a restaurant, you take away the hassle and the annoyance of having to use a small blender designed only for being used at home. These blenders may cost more money, but they will save you pain and stress in the future because they are so powerful and versatile.
Restaurant blenders offer quiet operation, they have massive jars to make large servings, they give you lots of variable speed controls, and they even clean themselves. You absolutely need one of these powerful blenders for your staff to make quality drinks for your customers.
Top Rated Blenders For Restaurants Of 2021
---
Blendtec Professional 800 Blender: Best Overall
The Blendtec Professional 800 Blender is tailored specifically for tough industrial jobs, like working in a kitchen. The blender comes either in black or red, it uses a special sound-dampening enclosure to work silently in any setting, and it has a special WildSide Jar for the best blending.
A Truly Professional Blender
This blender truly is professional. Everything about the blender is designed and crafted with excellence in mind. It has 6 preprogrammed blending cycles so that you can craft any recipe behind the counter. It can make anything from smoothies to cappuccinos, salad dressings to sauces, and so much more.
This unit offers a unique touch slider for precision control over your speed, and it has an LCD countdown timer that gives you consistent results with each blend. It even comes with an incredibly powerful 3.8-horsepower engine that makes it unstoppable. Its blades are 80% thicker and 10x stronger than others, and so you know this blender delivers professional power.
Tough Jar
The main jar that comes with the 800 Blender is BPA-free and totally resistant to impacts. It will not shatter if you drop it. Also, this is a WildSide Jar, and so it has an extra-wide base and a specialized fifth side that optimizes blending to give you a smoother and quicker blend every time. The jar is approximately 90 ounces in volume.
But that's not all. The blender also comes equipped with a sound-resistant enclosure that the blending jar hides inside of, drastically lowering the noise. This is critical for prepping drinks quietly in a restaurant or bar.
---
Waring Commercial MX1100XTX Blender: Budget Pick
The Waring Commercial MX1100XTX Blender is an extremely powerful blender with a 3.5-peak horsepower motor, a stackable container, very aggressive blades for blending, and an overall design for smoother consistencies with your beverages and easier controls. This is definitely not the prettiest machine, but it sure gets the job done.
Standard Blender
This is a pretty standard blender. It has all the normal features you would expect, only with a massive boost from the motor. It still has a standard 64oz main container, which is constructed from the toughest BPA-free materials – and it still has an electronic keypad for your different speed settings, giving you total freedom with your blends.
If you are looking for a basic blender model that offers incredible speed with tough blades, this is a good option. It doesn't come with all the fancy bells and whistles of some extremely expensive machines, but this unit does have everything to keep you blending in a restaurant situation.
Quick Blending
While this blender may be lacking in some main features, it is incredibly quick. The 3.5-horsepower motor works to chop, blend, and grind all your ingredients very quickly. For an entire smoothie or milkshake, you are looking at less than 30 seconds for a full blend. That is less time blending and more time taking care of restaurant customers.
Plus, this is not a very loud blender. It may not come with a sound-dampening enclosure, but it is still very silent. It may not look like much, but this blender does come with all the necessary requirements to make excellent beverages in your restaurant.
---
Vitamix Quiet One Blender
The Vitamix Quiet One Blender is kind of a big deal. This is one impressive blender, and it comes with all the utilities you need for working in a restaurant. It has a sound-dampening enclosure, it has program buttons, it looks great sitting on any bar counter, and it comes included with a smaller 48oz container for making quick smoothies and shakes.
Variable Speeds
This blender comes with the most variable speeds. Along with its six program buttons, it has 34 optimized programs and 93 variable speeds. This allows you to make any kind of beverage quickly and efficiently. You can make frappes, nut butter, smoothies, and even frozen drinks like margaritas. Anything on the menu can easily be blended quickly with this Vitamix.
Read More: Best blender for frozen drinks
Ease of Use
The blender is also extremely easy to use, making it perfect for restaurants and bars. Anyone can start operating the machine day one with no training. The blender container even comes with measurements to make measuring ingredients for recipes easy. The container has a strong seal, and it has a smart design for foolproof pouring.
Read More: What kind of blender does Starbucks use?
But the big bonus comes in the distinct lack of noise. This blender almost doesn't make a sound. It uses vibration-dampening technology with its plastic enclosure to contain the noise of the motor. This means you can operate the machine and talk to customers at the same time without hurting anyone's ears.
---
Best Blenders for Restaurants: A Complete Buying Guide
Restaurant blenders have to be serious quality. When you are working in a restaurant, you are dealing with constant requests for different beverages, and there is absolutely no room for mistakes. If you have an impressive menu full of smoothies, fruit drinks, blended alcoholic beverages, and an entire cafe section, you need blenders that can handle everything.
For this reason, you are definitely going to be spending a fair chunk of change on your new blender. Most professional blenders found in restaurants cost upwards of $1000. However, it is important to keep in mind that these blenders are the most professional, and they are built from the very best components and designed to work for a lifetime.
Easy to Use
When shopping for a restaurant blender, you definitely want one that is easy to use. This is not just for yourself, but also for your employees. Everyone should be able to make all the drinks on the menu without any complications or certifications.
For this, you want a blender that has simplistic touchscreen controls. You also want pre-programmed blending cycles so that you only need to push a button to make a drink. With pre-programmed blending cycles, anyone can push the button on the machine to make a smoothie, a shake, a hot soup, or even just to clean the blender.
Plus, if you get a unit that operates with many different speeds, it is easier for you to crush ice, turn your blender into a juicer, and to use it for making ice cream. The more presets and the more speed control you have, the more versatility you have when it comes to making drinks – and the easier they are to make!
Related Articles:
Size & Sound
There are two big aspects to what makes a professional blender great in a restaurant kitchen. First, you need to consider the sound your blender makes. If your blender is set up behind the counter in a restaurant where customers can hear it, you better hope it doesn't sound like a jackhammer.
Any modern restaurant blender should come with a sound-dampening enclosure that makes the blender quieter. This is critical for creating a calm environment without lots of annoying blending sounds like you find in many cafes.
Then there is the size to consider. A standard restaurant blender is going to come with a jar that has roughly a 90-ounce volume. However, depending on your business, you may want a larger container. There are some powerful blenders with strong motors that offer 1.5-gallon containers for blending beverages. These are ideal for bars or restaurants with high-volume orders.
Best Blenders for Restaurants: Final Thoughts
The three blenders we reviewed today are some of the absolute best you can buy for your restaurant kitchen. The Waring Commercial Blender is a great budget option, while the Vitamix Quiet One Blender is the best in discrete blending with its low noise and efficient functions. However, I would have to say the most useful blender for any restaurant is going to be the Blendtec.
The Blendtec Professional 800 comes equipped with loads of excellent features. The blender is sealed inside of a sound-dampening enclosure, it has one of the strongest motors in the industry, and you get an 11-speed touch slider for quick adjustments to your speed control.
This blender cleans itself, it has incredibly thick blades that are 80% thicker and 10x stronger than other blades in similar blenders, and it has preprogrammed settings for quick blending. I highly recommend this blender to anyone who wants the best!