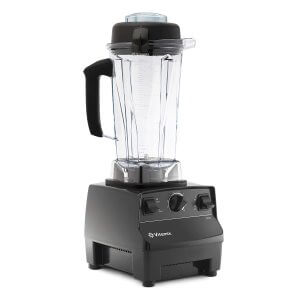 Most Popular Model
Simple Operation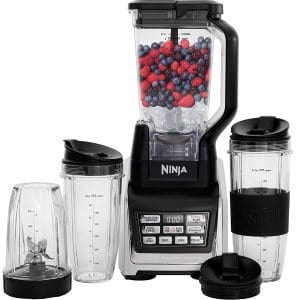 Powerful 1200W Motor
Large Capacity
---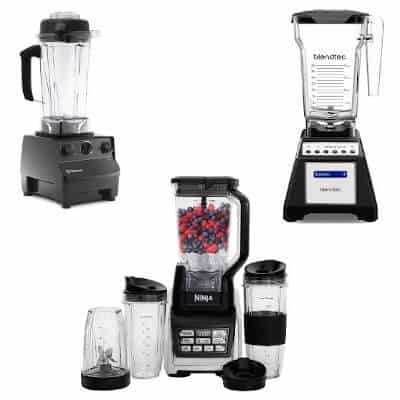 Blenders can be used for so much more than simple shakes and smoothies. You can use blenders for food processing, for making delicious frozen treats, for making applesauce, hot soup, nut butter, and even baby food. But you can also use a blender for grinding, such as for grinding coffee beans into ready-to-use coffee grounds.
For this, you need the best blender for grinding, and today I am showing you the top three. These are all blenders from excellent companies, they are all seriously high quality, and they are all relatively affordable. These blenders will make your time in the kitchen grinding different types of nuts and beans much simpler.
The blenders come with loads of usable features, you can get them in different colors, and they have lots of variable speed control, which allows you to grind perfectly to your specific texture. Also, these blenders are able to clean themselves, which is a huge bonus.
Top Rated Blenders For Grinding Of 2021
---
Vitamix 5200 Professional Blender: Best Overall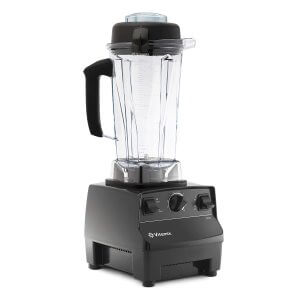 The Vitamix 5200 Professional Blender is the pinnacle of affordable blending. This blender grinds, chops, and breaks down all your ingredients into perfect solutions. It comes with an easily usable dial, which you can rotate to change the speed at any point during your blend. It also is able to make large batches with its massive 64-oz container, ideal for grinding an entire bag of coffee beans in one sitting.
Hardened Blades
One of the prime features of this blender is its blades. It has incredibly hard stainless-steel blades that work to cut apart any ingredient, from nuts to beans and from ice to frozen veggies. These stainless blades are aircraft-grade steel. They are tough, durable, and extremely resistant.
From the first time you use this blender until its last days, you will see perfect performance from the blades. They are cut using lasers and designed to give you the best blends of your life. Not only can they grind, but they can also chop and slice like nobody's business.
Powerful Motor
The blades of the Vitamix are powered by its incredibly strong motor. It uses a radial cooling fan system with thermal protection so that you don't get overheating no matter how long you run the motor. It also uses a metal drive system for maximum torque and power.
Basically, you can use this blender for all your toughest grinding needs because it has a motor that never fails, overheats, or sputters.
---
Ninja BL642 Personal Blender: Budget Pick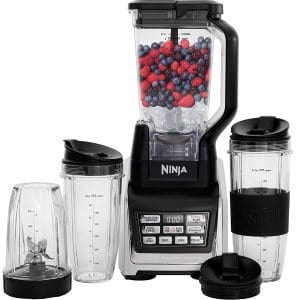 The Ninja BL642 Personal Blender is another great product from this famous company. They are always making excellent blenders, coffee makers, and other kitchen appliances, and this blender is no exception in quality.
The blender comes equipped with specialized technology aimed at intelligent blending, meaning you don't have to do any guesswork when making complicated beverages. It also comes equipped with a massive crushing container that is 72 ounces, allowing you to make huge batches of smoothies and other frozen drinks.
Nutrition Extraction
The extraction blades on the Ninja Personal Blender are ideal for grinding. These blades are specifically designed to break open seeds, nuts, and beans to extract the goodness that is inside of them. This is excellent for getting you the best nutrients and vitamins in all your smoothies, and it is great for grinding hard ingredients.
With the nutrient extraction blades, the manual programs, the full control over your speed, and the presets for ultimate drink creation, you get all the best features with this blender.
Great Accessories
All the accessories that come with the Ninja are top-notch. You get 3 different multi-serve Ninja cups with each purchase, a small, a regular, and a jumbo. Plus, all the cups come with usable seal lids for taking your drinks with you on the go. This is one of the best personal blenders that can still manage big orders.
The main container is 72 ounces, which is extra large and allows you to make huge portions of anything. This is a much larger container than you get on other expensive blenders, and it still has a small and personal feel to it.
---
Blendtec Total Classic Countertop Blender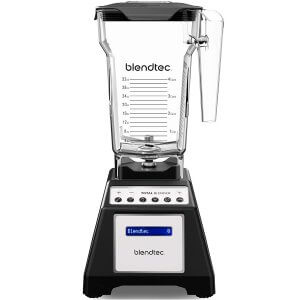 The Blendtec Total Classic Countertop Blender is another great addition to the Blendtec family. This blender is available in three different colors, either black, red, or white, and it comes with a durable container, a user-friendly display and menu system, and extremely durable blades for grinding.
Impressive Parts
All the parts of this blender are extremely impressive. Just talk about the blades, which are 80% thicker than previous models. The blades are stainless steel forged and come with unique wings that make extra smooth blends. The blades are also dull, which makes them 10x stronger than other blades on similar blenders.
But the blades are not the only impressive parts on the machine. The motor is extremely tough, the technology is impressive with 1-touch buttons and preprogrammed cycles, plus a 10-speed manual control system. You have maximum control over all your blends and grinds when you use this blender.
User Confidence
You always want to be confident when using your blender. And when you are spending a few hundred dollars on a kitchen appliance, you definitely want it to work, and you want some assurance.
The good news is that when you purchase this blender it comes with an 8-year warranty. All the parts are engineered and assembled in the United States of America, and the company is family-owned and committed to making the best possible products.
---
Best Blenders for Grinding: A Complete Buying Guide
Let's be honest, even if you are purchasing a blender that is best for grinding, you are probably going to use it for other things, too. You'll probably make the occasional smoothie, you might do some light food processing, and you may even use it for baking. For this reason, your blender needs to be versatile!
The 3 Best Blenders For Grinding
All About Control
When it comes to a quality blender, it is all about control. You need to have maximum control over the speed of your blender. This is necessary for you to get proper textures when making beverages, mixing dough, and grinding.
I always recommend people to pick up a blender that has excellent variable speed control, preferably adjustments that can be made during your blending cycle. This will allow you to change the speed while actually blending without needing to stop and reset.
With control also comes speed. You definitely need to have a fast blender if you'll be grinding things on a regular basis. If you have a fast blender, you can expect a few additional bonuses besides just great grinding.
Fast blenders can heat things up. This is extremely true with the Vitamix models. They spin so quickly that friction is created, which can then bring cold ingredients to a boil in just a few minutes. This is very handy for making hot soup or even for boiling water!
Plus, a quick blender can clean itself. If you simply drop some dish soap into your blender and fill it with a bit of water, you can clean the system just by pushing a button. This won't take any more than 30 or 60 seconds, but it does require a powerful motor and great speed.
Related Articles:
Blades, Blades, Blades!
We are talking about the best blenders for grinding, and that means powerful blades. No matter how great the motor of your blender is, it can't do a thing without durable blades. You always want to double-check what type of blades come included with your blender.
The best types of blades are going to be stainless-steel. These must be strong enough to break apart hard nuts and seeds while still expertly chopping and liquefying fruits and vegetables. When it comes to most blades, you can expect them to come dull. This makes them excellent for smashing apart beans and breaking open seeds to extract their nutrients. Every quality blade system is going to come designed for the best chopping and emulsifying.
Also, your blades should be built to last. In fact, all the components of your blender should be built to last. Any quality blender for grinding is going to cost around $400, and for that kind of money, you had better be getting some serious quality. The best way to check this is by peeping at the online reviews before making a purchase.
Best Blenders for Grinding: Final Thoughts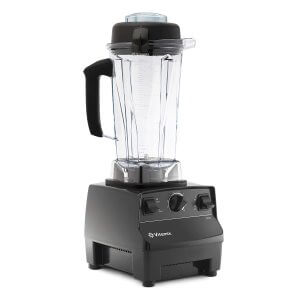 The three blenders we have talked about today are all excellent examples of what a blender can do when built with quality in mind. The Ninja BL642 is an excellent budget blender that can grind and chop beautifully, while the Blendtec Total Classic is equally as impressive in terms of its performance.
However, the best blender currently on sale for grinding is definitely the Vitamix 5200 Professional Blender. This blender comes with great variable speed control, which you can easily adjust to achieve whichever texture you want. It makes large batches with its huge 64-oz container. Also, the blender cleans itself using soap and water so that you never have to fuss.
I highly recommend the Vitamix blender for anyone who has a lot of grinding to do. The stainless blades are extremely resilient, while the motor is powerful enough to take on all the heaviest tasks.