Powerful 900W Motor
Quiet Operation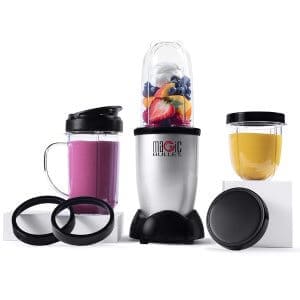 Cheap Price
#1 Selling Blender for Students
---
Today we are looking at the best blenders for college students. What makes a blender great for a student? Well, affordability is a big selling point, as is portability, minimal noise, and efficiency. If you are in college, you definitely need a blender that works quickly when you need it, getting brain food into a cup without wasting precious studying time.
The blenders we are looking at today are all personal blenders that offer lots of power and have great affordability. Choosing any of the blenders on today's list is a guarantee in satisfaction for any college student. These blenders are small, they fit easily into a dorm room or into a small kitchen, and they don't take much to clean.
If you are looking to start a healthy lifestyle while being a college student, or you are looking for a blender that can make awesome iced beverages, any one of the ones on today's list will work great for you.
Top Rated Blenders For College Students
---
NutriBullet Pro 900 Blender: Best Overall
The NutriBullet Pro 900 Blender is one of the best personal blenders ever developed. It comes included with the best accessories, it has an extremely powerful motor despite its small and compact size, and you can purchase it in a wide variety of different colors, including berry and rose gold.
The Best of Everything
The NutriBullet Pro combines the best of everything. It has the strongest steel blades that work to extract nutrients from your ingredients, using a cyclonic action to break apart the toughest foods, such as nuts and frozen cucumber. It also has a 900-watt motor that offers an impressive amount of speed and torque.
Read More: Nutribullet Reviews – Which Model Is The Best?
If you are looking for an excellent blender with tons of versatility, this is it. There is nothing that can escape the blending power once inside the clutches of the NutriBullet Pro. The cups included are BPA-free plastic, durable, and designed to last a long time. This item even comes included with a 1-year limited warranty.
Easy & Fun
The NutriBullet Pro 900 makes blending fun. It is such a convenient tool that you will have lots of fun experimenting with different types of blended beverages. You can clean the entire system in 30 seconds, and you don't need to struggle with any complicated speed or pulse settings.
Simply fill the provided drinking cup with ingredients, twist on the blades, and then insert it into the motor base. The whole process takes maybe 30 or 45 seconds at most. Add 60 seconds for cleaning and you can be right back experimenting with a new concoction.
---
Magic Bullet Blender: Budget pick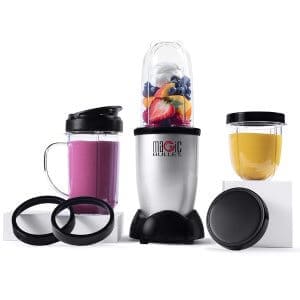 The Magic Bullet Blender is an amazing little unit that comes with tons of pieces to complete your blending system at home or away at college. The Magic Bullet comes as a 13-piece set, including a variety of blender cups, very sharp blades, a recipe book for inspiration, and more. The Magic Bullet is definitely one of the best blenders for college students, and it's the cheapest!.
Effortless
Everything about this blender is effortless. It has a small motor base, it has cups that are built out of high-impact plastic so they work a long time and don't break when you drop them. But best of all, you can make all your favorite snacks, meals, and drinks in just a matter of seconds by using this great system.
It is also effortless to clean since you only need to rinse out the cups before using the blender again. The extremely powerful motor, which boasts 250 watts, makes effortless work of hard ingredients like ice, frozen berries, and even nuts and beans. This is truly an effortless blender that will make your life as a college student much easier.
Fun & Healthy
Everyone wants to be healthy, and going away to college does not mean you must stop living healthy. The Magic Bullet allows you to continue living a healthy and fun lifestyle through personal blending. Because of its simplicity and effectiveness, the Magic Bullet is the best inspiration to continue with a healthy lifestyle even when studying.
---
Oster MyBlend Personal Blender
The Oster MyBlend Personal Blender is a handy little blender that will fit nicely in any kitchen, dormitory, or shared accommodation. For college students, it is ideal. It has a functional base that is thin and light, not taking up much space, and it has a powerful motor that can crush ice and make delicious beverages.
Not Just Smoothies
Who said blenders only need to be used for smoothies? The MyBlend can certainly make lots of different smoothies with its strong blades and powerful motor, but it can also make a wide variety of other drinks, such as iced coffees, margaritas, and even protein shakes.
Read More: Best Blender For Protein Shakes – 7 Top Rated Models
If you have a particular drink you like in the morning, this is the perfect blender to help you make it, getting you to class with your drink already in your hand. And because of the unique reusable travel cup that comes included with the blender, it actually looks like a travel mug – rather than the stubby cups from other blenders that kind of look like sippy cups.
Stylish Blending
Everyone likes a bit of style, and this blender definitely has it. It has no issues leaking, it easily blends ice cubes, and it looks positively great. This is a neat little appliance to keep in the corner on the counter where it can be seen and used. Not to mention, the blender works great. It functions well, doesn't crack or break easily, and will make you the best blended drinks!
---
Best Blenders for College Students: A Complete Buying Guide
College Students live far from their home at dorms and hostels. They are deprived of several comforts that they would have otherwise enjoyed at home. One of these comforts is freshly made juices and smoothies.
There are definitely some key features that make a blender perfect for college students. First off, college students probably don't want to spend a fortune on a blender. Nobody is going to be buying a $500 blender to share with their roommates. Instead, price is certainly a huge factor, and most average students would prefer a blender under $100.
Best Personal Blenders for College Students
How to Choose a Blender for College Students
Asides from that, there are a few other things to consider before purchasing your new blender.
Material
The first thing to look for in a blender as a college student should be its material. Blenders are usually made of plastic, glass, or stainless steel.
The best option for a college student would be plastic since it is cheaper. Besides, you could also carry it from one dorm to another without much hassle. On the other hand, you could drop the glass and break it.
Lastly, stainless steel is a lot more expensive to afford for a college student. However, it is more durable than the rest. Another disadvantage is that you would not be able to check its contents before the blending is done.
So, if you are a bit tight on your budget, plastic is your best choice. However, the decision depends on your requirements, and so you could choose anyone you like.
Read More: What is the best blender under $100?
Minimal Maintenance
Nobody wants to maintain a messy piece of equipment while they are in the middle of studying. For this reason, every college student should have a blender that requires minimal maintenance. This means a cleaning session that lasts no longer than one or two minutes. For this, you definitely need a personalized blender.
Personal blenders are best because you only need to clean the cups. There is nothing going on with the motor base that requires you to clean it. Also, if you get a blender with quality seals, you never need to worry about spillage or leaks.
Read More: Best Personal Blender – 4 Top Rated Models
You also need to consider additional cups. If the blender only comes with a single reusable travel cup to blend your ingredients in, you could lose it and then your blender would be useless. Always make sure you can purchase additional cups, or that the blender itself comes with multiple BPA-free drinking cups.
Motor Size
You might be aware that the higher the motor power, the better is the performance of your blender.
The best blenders for college students will have a motor power in the range of 300 to 600 Watts. This range keeps the price down, while also providing enough power to deal with most blending tasks. Your usage requirements should dictate which size is the most suitable for you.
Suppose I want to prepare thick or frozen foods, then a higher wattage blender would be better for me. On the other hand, if I want to prepare light smoothies or juices, then an average blender will do the job.
Type of Blender
If you want to prepare complicated drinks, then a large blender is required. They have higher motor power and better durability.
However, a personal blender will be better for college dorm students. There won't be much space available in your small dorm room, so you wouldn't want the blender to take up a lot of room.
Personal blenders are easy to transport as well, besides being quite powerful. In the end, you need to analyze your needs and choose a blender accordingly.
Noise & Size
Noise and size are also very important. You do not want a big burly blender that makes too much noise and will disturb your roommates or your neighbors in the morning when you are making your healthy shake. This is a surefire way to turn your neighbors against you! So, always purchase a blender that has minimal noise.
Size is important too. You should be able to store your blender out of the way without causing a big fuss. If you're living in small quarters, there is going to be a lot of clutter. You want to minimize the clutter as much as possible with a small blender that you can store in a cupboard.
I need to judge how much room I have in my dorm before choosing a blender. If it's a cramped place, then a large blender will face storage issues.
For a small room, a small-sized blender is preferred. However, if you have plenty of room available, then you could choose a large enough blender as well.
Blending Versatility
Blending versatility is majorly important when purchasing your blender as a college student. Chances are healthy drinks won't be the only thing on the menu. And so, you must have a quality blender with enough power and sharp enough blades to not only crush ice and blend fruit and veg but also to make the best iced beverages around.
If I wish to make juices and light smoothies with my blender, then a low power blender will do the job. However, if I eat a lot of frozen food, then I would need a blender with more power.
You may also want to share drinks with friends, and for this, you will need a larger container. Always check to see what the situation is with the containers. Can you purchase an extra-large container to share drinks with your friends or roommates? This is always important to think about, otherwise, you could end up needing to make two batches just so everyone has their own cup.
Read More: Best Blender for Smoothies with Frozen Fruit – 3 Top Models
Advantages of Having a Quality Blender for College Students
Students who have a habit of drinking smoothies and juices might not find it readily available. Hence, many are forced to change their diet and daily eating habits.
So, it would be very beneficial if you buy a blender of your own. Given below are some of the reasons why:
Make Your Own Smoothie / Juice
With your own blender, you wouldn't need to go to the store time and again to buy smoothies. You could grab fresh ingredients and treat yourself with a smoothie every morning.
Store-bought smoothies and juices might not be quite fresh. You just need to get some fruit cups, yogurt, peanut butter, or some greens and shove it in the blender. Just like that, you'll get a fresh, healthy drink within seconds.
This could be your delectable breakfast or your post-workout shake. You can always find some ingredients to make a smoothie.
Prepare Thick / Frozen Food
College students wouldn't get the time to go out shopping every other day. They often keep a lot of frozen food stacked up in the fridge. Without a blender, assembling these would be difficult.
So, finding the best blenders for college students is convenient and a time saver. You could also prepare a ton of other things with a blender, in addition to frozen food.
Scrambled Eggs
It might get a bit boring to eat the same thing every day for your breakfast. If you are an egg lover, then your heart must be craving for scrambled eggs.
Just grab some veggies, cheese, and a couple of eggs. Toss them in your blender, pulse the mixture a few times, and microwave the result.
Voila! Your scrambled eggs are ready to eat.
Drinks
For all the college students who love partying, blenders can make things easier for you.
We often enjoy a lot of parties in our college dorms itself. What better than drinks to increase the mood of the party?
A blender will allow you to show off your bartending skills with delicious cocktails.
Read More: Best Blender for Frozen Drinks: 3 Powerful Models
What Features Should a Blender for College Students Have?
When a college student goes to purchase a blender, they check which blender meets all of their requirements. A dorm student's expectations from a blender could be very different from those of a chef.
Here are the features required in the best blenders for college students:
Portability
A college student might need to move from one dorm to another. So, their blender should be easy to transport.
It will be an added advantage if the container of the blender is portable too. A solid lid and a portable cup will allow you to carry your smoothie anywhere. So, look for a blender with a container that can act as a travel bottle.
Budget-Friendly
Students might not have a lot of savings. So, a good quality blender that isn't too expensive is preferred by college-goers.
Petite
It's an added advantage if the blender doesn't occupy a lot of room. Also, it should be easy to store. A small and sturdy blender is the ideal one for college students.
Easy to Use
Students might not have enough time to blend and pulse their food. A blender with easy touch controls is much desirable by college students.
What Type of Blender Is Suitable for College Students?
There are a lot of blenders available in the market. So, it might become hard to choose one. However, most college students have common expectations from a blender.
So, the ideal blender for college students must meet their needs. It should be petite to store easily, easy to transport, and durable.
Moreover, college students consume different kinds of food, so the blender should do a good job with both soft and frozen food.
It's an added benefit if the container of the blender acts like a travel bottle. This improves portability. Also, a quiet blender is better because you wouldn't want to disturb your roommates.
Best Blenders for College Students: Final Thoughts
The blenders we talked about today are great, especially for college students. The Magic Bullet Blender is a phenomenal budget option that costs less than $40 and can make excellent single-serve drinks. The Oster MyBlend is another good option at a reasonable price, with sufficient power to make lots of different beverages.
However, the NutriBullet Pro is definitely the best blender on the list. It offers 900 watts of devastating power, which you can use to crush ice, blend frozen ingredients, and even blend coffee grinds. There is no end to the fun you can have with the NutriBullet Pro.
It comes with everything you need, including cups and lids, and you can purchase it online in over 10 different colors to suit your style. It's still under $100, and it is definitely the best blender for any college student. I highly recommend the NutriBullet Pro Blender!