A good quality blender is one of the staples of the modern kitchen. But is there a best blender under 200 bucks? Can you really buy a premium blender without selling a kidney?
As the outlook on health improves across the globe and people's minds begin to lean in the direction of healthy living – which means more healthy smoothies, more veggies, and more home cooking – the blender has become more important than ever.
But nobody wants to spend $7000 just to grind up some blueberries. I don't, you don't, and neither does my cousin Ed. To ensure you save money while still getting the best product, I have created a list of the best blenders for under $200.
Three trusted names in kitchen appliances, three unbelievable products, and all priced under $200. The only problem now is deciding which of these miracle machines deserves a place in your kitchen.
Top Rated Blenders Under $200 Of 2020
---
Nutri Ninja BL642 Personal Blender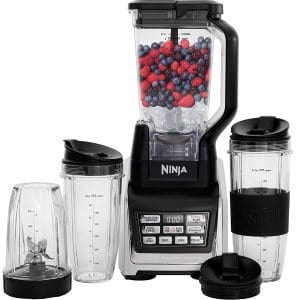 You may have a hard time finding another blender with this much integrated technology for under $200. The Nutri Ninja BL642 Personal Blender comes with an assortment of features, accessories, and futuristic technology to dramatically improve the time you spend blending.
Multi serve specialty Ninja cups, a large 72-ounce power blender, and pro extractor blades all make the Nutri Ninja Personal Blender the top item on my list.
A Straight-Up Blender
This is not a dual blender, it is not a blender and a food processor (though you can certainly use it to blend lots of different foods), this is a straight-up blender. That means its sole purpose is to blend whatever you put in the extra-large container.
Fruits, ice, vegetables, ice cream, even hot dogs for a delicious hotdog milkshake – this personal blender is fine-tuned with two horsepower of ultimate performance to keep you drinking healthy and creating unique, personalized beverages and snacks.
It comes with extra strong extractor blades that are useful for extracting full nutrients and vitamins from your food. This works by cracking open the nuts and seeds to allow all of the good stuff to blend nicely with everything else, whereas many other blenders end up leaving chunks and seeds whole, robbing you of their nutrients.
Come Equipped
This unit comes equipped with everything you need to start living a healthy lifestyle. It has three different sizes of specialty cups, all of which can be hooked directly to the blender to make personal drinks.
You can easily pour a handful of bananas into one of the multi-serve cups, blend for 30 seconds, and walk out of the door carrying your drink. Now that is convenient.
---
NutriBullet Rx N17-1001 Blender
The NutriBullet has been around for a long time, and now comes the NutriBullet Rx N17-1001 Blender. Ever since the beginning of the smoothie craze that has now gripped the nation, Nutribullets we're the number one choice for health food enthusiasts. And they are still relevant today.
For far below the $200 line, you can get the convenient, easy-to-use NutriBullet delivered straight to your door. This machine gives single, personalized servings for all you busy bees who don't need a large and bulky blending system.
Truly Personal
NutriBullets are famed for their simplicity and smart technology. This unit comes with an automatic start and stop system, hands-free intelligent technology, and a 1700-Watt motor. It also comes included with a short 30-ounce cup and a one-liter pitcher.
Whereas the bigger and more expensive machines have giant pitchers for huge batches of smoothies and soups, the NutriBullet makes it personal by allowing you to blend straight into the same cup you will be drinking out of. The cups even come with ergonomic handles so that you can drink in style.
Read More: What is the cheapest NutriBullet?
Big Features, Hands-Free
What you may not expect out of the NutriBullet is its impressive heating function, which allows very quick warming of sauces and soups. To be honest, everything this machine does is for people with busy lifestyles who do not have time to fuss with a giant machine.
The NutriBullet rapidly blends a perfect beverage while extracting nutrients and breaking down even the hardest frozen foods into creamy-smooth beverages that you can take on the go. Everything is hands-free, except for the drinking part.
---
Cleanblend Commercial Blender
The Cleanblend Commercial Blender just barely squeezes in under the $200 mark, and for good reason. This unit is a premium blender and a superb food processor that can grind a solid brick of ice into sparkling snow for your margarita or heat and soften mom's homemade stew that you had frozen in the freezer.
Keyword: Commercial
Most blenders you see in the store or read about online are going to be pretty standard units that you would use around the house for the occasional smoothie day, or even as part of your morning ritual. This blender is something else entirely. It gives an unparalleled performance as an extremely heavy-duty blender that works on an industrial scale.
If you own a small cafe, an ice-cream parlor, or a restaurant that sells smoothies and milkshakes, this is the blender you would use. I'm talking industrial-strength performance. It may not come with a lot of fancy bells and whistles or specialized drink cups, but that is because your money goes to buying a high-caliber blender, not cheap plastic drink cups.
Warranty & Guarantee
It is one thing to offer a 30-day money-back guarantee. It is also something to offer a 5-year warranty on a kitchen appliance. But Cleanblend offers both. If you are not absolutely impressed with this blender, you can send it back and get a full refund.
Cleanblend is also extremely confident in the quality of their blender, and so they offer you a full 5-year warranty. That means if the motor malfunctions or something mechanical goes awry, they will fix it. Now that's customer satisfaction at its finest.
---
Best Blender Under 200: A Complete Buying Guide
What makes a blender the best? Is it a more powerful motor? Is it smart features and intelligent programming? Is it the size of the pitcher? Or is it an accumulation of all these characteristics?
For me, the best blender is the one that suits my needs perfectly and makes my life easier and more enjoyable. Let's break down what to look for when buying the best blender under $200.
Quality
$200 is still a lot of money. However, there is a big difference between a $20 blender and a $199.99 blender. In general, you get what you pay for. This is a lesson that can be taken through all of your life, and also applies to blender shopping.
The bigger the price tag, the more features, and the more reliability you are going to get from your blender. That being said, some blenders cost a lot of money and offer barely any accessories and hardly any features. My biggest suggestion is to check different models to see what adds up and what doesn't.
If there are two models that cost the exact same price, but one comes with extra cups and a digital display and the other comes with nothing but a tamper, you must decide what your idea of quality is. For me, I always try to squeeze the most out of my purchases.
Related Articles:
Durability
Durability falls into the same niche as quality, but here I want to talk about durability and longevity. How long is your blender going to last? We are dealing with blenders under $200, but that does not mean they need to malfunction after six months and force you to buy a new one.
However, some cheap blenders may not be durable. Always check and make sure the motor is strong and built last, that the blades are of the highest quality, and that if need be, you can replace the blades.
Something that always comforts me when making a purchase is either a money-back guarantee or a warranty. Always check the manufacturer's policies. If something goes wrong, you want to be covered.
Speed & Convenience
This is a big one. The whole point of a blender is to make your life easier. Throw in some apples, press a button, you have applesauce. It is practically magic. The last thing you want is a blender that wastes your time and makes your morning harder.
A key thing to keep in mind is that a more expensive blender may come with more overhead. What I mean is that there could be more cleaning involved. You may end up with a machine that has too many functions that you will never use. It will become too annoying just to make that one sweet cup of applesauce.
If you are someone who values your time, consider choosing a simplistic and highly efficient blender that won't trick you into doing too much time-wasting work.
Best Blender Under 200: Final Thoughts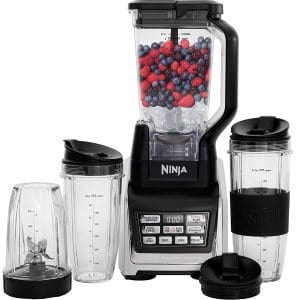 I bet you want to know, after all this information, which machine is the best.
Well, let me tell you. My personal favorite – and in my opinion the best blender under $200, is the Nutri Ninja BL642 Personal Blender. Now let me tell you why.
The Nutri Ninja comes with more technology built into it than either the Cleanblend or the NutriBullet. It features blending programs, it comes with highly advanced extractor blades, its 1200-Watt motor works to grind any food into a fine paste, and it comes included with a variety of very useful drinking cups.
Of course, the Cleanblend is also a great and powerful commercial unit. But at home, I personally prefer the Ninja.
If you are someone who blends quick smoothies for themselves and does not need a massive pitcher, you may want to check out the NutriBullet Rx. It is super affordable and great for single-serving beverages.