Powerful 900W Motor
Convenient & Portable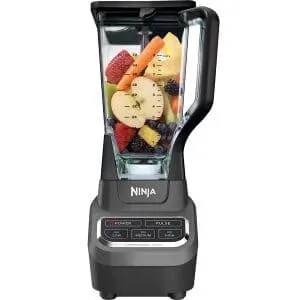 Powerful 1000W Motor
Large Capacity
---
If you want to up your game from making morning smoothies to hearty soups and sauces, do you need a blender that costs more? Not necessarily. You can get the best blender under $100 that will do all this and much more for you.
Today I will look at some options which won't go over the $100 mark and still yield enough power and features to be suitable for your various kitchen needs. Even though these blenders will remain fairly basic models when compared to the competition, they are still robust machines that can get most blending jobs done right.
To make the blender worthy of your investment, I will be looking at important specs like power, capacity, functions, and durability to help you see what's right for you. So, here are the three best blenders under $100 that you can look into without blowing your budget.
Top Rated Blenders Under $100
---
NutriBullet Pro 900: Best Overall
Just because a blender costs less than $100, doesn't mean it can't perform well and the NutriBullet Pro 900 high-speed blender is proof of that.
This classic kitchen blender is small, it stores easily out of the way, it is extremely popular and well-reviewed, and it has a simplistic design with absolutely no buttons. This is definitely the easiest blender you will ever use.
Performance-Based Blender
Available in a sleek design, the NutriBullet Pro 900 takes stylish looking appliances to another level. Not only does this blender offer peak performance, but it also looks good doing so. This blender's design profile will compliment any kitchen décor and its trademark design is anything but budget quality.
Working with a single-speed and the push of the blending container, the Pro 900 will allow you to mix, chop, puree, liquefy, and pulse to get the right blend. The thorough nature of its blending prowess is great for smaller fruits and vegetables where it will blend seeds, nuts, and small fruits that other models may struggle with.
The blender gets its power from a 900-watt motor and its 6-pronged stainless-steel blades which are durable and razor-sharp. Plus, its parts are dishwasher safe for hassle-free cleanup.
Read More: Which NutriBullet model is the least expensive?
User Friendliness
In terms of convenience and portability, it's hard to argue that the NutriBullet Pro 900 is one of the best options out there. Its low-profile design easily fits under standard kitchen cabinets. That's why this model remains a favorite for people with limited kitchen space or others who wish to use it while traveling.
You get a nice assortment of accessories with your purchase including 2 large cups, with a variety of lids including flip-top lids, comfort lip rings, handled lip rings, and an emulsifying blade.
---
Ninja BL610: Budget Pick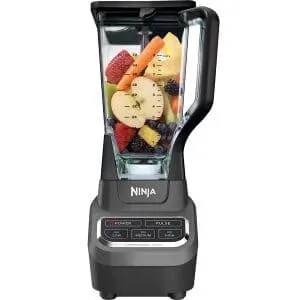 The Ninja BL610 Professional Blender is another great device from Ninja. These guys always make the best kitchen appliances. While this is not their most impressive blender to date, it is one of the more affordable options. It still comes equipped with lots of blending power and a giant 72oz main blending jug.
For a steady yet cost-effective blender, the BL610 does not do any wrong. This is a well-designed, reasonably priced machine that will do some serious heavy-duty blending and still be easy on the wallet.
Performance
The BL610 features a 1000-watt motor with a simple five button interface that is easy to understand and use. You get three speeds of High, Medium, and Low along with a Pulse feature that covers almost every blending scenario out there. Everything from marinades, thin batters, and gravies to liquifying thick mixtures is covered with little to no effort by the BL610.
Because this blender is designed with a fair amount of work in mind, you also get some safety features for improved performance. The motor won't start unless the unit and lid are locked securely in place.
Read More: Full Ninja BL610 review
Exemplary Blade Assembly
The sturdy six-blade assembly is perhaps the Ninja's biggest plus point as it does a great job of blending frozen ingredients and crushing ice. The blades are more than good for a lot of tough blending tasks that other blenders may struggle with.
The Ninja extractor blades have a renowned reputation for breaking down all kinds of tough ingredients and blending whole fruits and vegetables into pure mush. At the same time, they can equally pulverize their way through dry items like coffee, spices, seeds, and the like.
It comes with a massive 72-oz container that can blend for a party or prepare a batch ready to keep on hand in the fridge.
---
Oster Pro 1200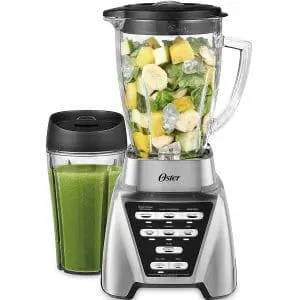 The Oster Pro 1200 Glass Blender is a great kitchen partner. This blender can do so much more than just make smoothies. It comes with amazing smart technology and dual directional blades to effectively blend fruit and vegetables, different kinds of food, and even delicious cold milkshakes.
If you want a great blender with the classic glass jar, this is definitely your best option. It is super affordable, everything is dishwasher safe, you have 1200 watts of amazing power, and the blender is 100% durable.
A Great Combination Blender
With the Oster Pro 1200, you get more than just a basic blender. You also get multiple containers and blades that allow your blender to take on different functions such as dough making, food processing, and more.
This model comes with a 5-cup capacity food processing bowl, a stainless-steel slicing disk plus a chopping blade along with a 24-oz to-go cup. Plus, there is the 6-cup capacity glass jar for larger blending jobs. Keeping all this in mind, it wouldn't be wrong to say that the Oster Pro 1200 is the whole package.
This machine takes care of all your blending, slicing, chopping, and food processing needs making it one of the most versatile machines in this budget range.
Read More: Full Oster Pro 1200 review
Dual Direction Blade Technology
You may have seen the Oster Pro 1200 often feature as one of the best blenders for crushing ice. This itself tells you what this beast of a blender is capable of. Any blender that can take on ice well is a formidable contender and in no way ranks inferior to more premium blenders.
A menace to ice, the Oster Pro 1200 blends using dual direction blade technology which blends in two directions and eliminates the chance of missing any ingredients during blending. This gives you superior, smoother, chunk-free blends, and the satisfaction of knowing how well this machine works.
---
KitchenAid 5-Speed Diamond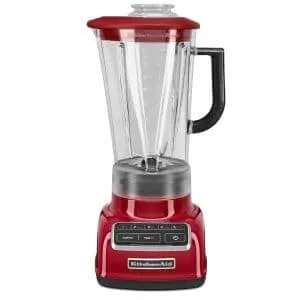 The KitchenAid 5-Speed Diamond Blender is a standard, no-frills machine that is popular for that exact reason. And of course, the fact that it comes in 28 different colors!
Vintage Design
One of the first things that strike you about this blender is its retro look. Featuring a generous 60-oz pitcher, a vintage-looking design, and performance quality at a wallet-friendly price makes this blender a consumer favorite.
The control panel is fairly basic, but one paired with functionality. The simple interface introduces the user to everything they would want in a blender including the ability to stir, chop, mix, puree, and liquify. Plus, the Crush Ice is a nice addition and the Pulse feature gives the option of speed and power ranging from 1-5.
Its easy-to-read buttons make using this blender a cinch and its tailored programs take the guesswork out of daily food prep.
Intelli-Speed Motor Control
Despite its quaint aesthetics, the KitchenAid 5-Speed Diamond is a progressive machine. It uses a technology that senses the contents of the blender and selects an appropriate speed with the right power for an optimal blend.
Additionally, the blender includes a steel-reinforced coupler that transfers the right amount of power from its motor to its blades. Together, the two mechanisms facilitate in achieving a consistent mixture with no unwanted chunks or lumps.
The one downside to this blender is its 670-watt power which pales in comparison to the other two models discussed today. Yet, it does what it's supposed to do with satisfactory efficiency.
---
Oster MyBlend Personal Blender
The Oster MyBlend Personal Blender is definitely one of the most professional blenders you can pick up for under $30. It's great for those people who want to start living a healthy lifestyle. It allows you to make healthy green smoothies, thick personal milkshakes, and much more in only a few seconds.
More Powerful Than Most
One of the best things about this blender is its raw power. The machine uses a 250-watt motor, producing huge speeds and excellent torque so that your ingredients are blended into the perfect mixture. With such a strong motor, your blades spin very quickly to effectively mix all the contents of your container.
And you can even blend ice! Some personal blenders are unable to handle any kind of hard ingredients because the blades just won't bite through it. That means you can only use soft ingredients like blueberries and strawberries. And if you ask me, there is nothing worse than a warm milkshake. But with the MyBlend, you can blend everything! Ice included!
Read More: Full Oster MyBlend review
Maximum Convenience
Even with a cheap personal blender, convenience is important. The MyBlend is easy to clean, it's great for making smoothies early in the morning, and you can use it all throughout the day without having to stress about the motor. This makes the machine super convenient. It's also great that you can blend your drink directly into the shake & go cup.
This leaves minimal cleaning responsibilities. If you're in a rush in the morning, simply rinse the blades and take the blending container with you to drink from. You can rinse and quickly clean it at work!
---
Hamilton Beach Personal Blender
The Hamilton Beach Personal Blender is one of the most popular miniature blenders around. It has a startling amount of quality reviews online. I'm talking over 6,000 reviews from satisfied customers who absolutely love this product. You can purchase it in several different colors, including raspberry and red. It works amazingly. And it costs less than $30!
Perfect for Purees
If you are pureeing a lot of different things, this is an ideal personal blender. It comes included with a 14-oz jar, though you can also purchase the unit with two jars at a slightly increased price. The jar is large enough that you can blend shakes, smoothies, baby food, salad dressing, salsas, and so much more in just seconds.
In fact, anything can be pureed using this blender. It's also great if you want to extract nutrients from fruits and veggies to make yourself a healthy drink. It can definitely blend small chunks of frozen ingredients, especially berries. But I don't recommend adding heaps of ice cubes or lots of large pieces of frozen veggies.
Super Compact
This might be one of the most compact blenders I have ever seen. It really is small, so much so that it can fit neatly inside your cupboard beside your drinking glasses. This will leave you lots of extra space on your counter that would otherwise be cluttered by a big clunky blender.
The motor is only 175 watts, which isn't much in terms of power. But it does mean the blender is quiet and super light.
---
Cincred Personal Countertop Blender
The Cincred Personal Countertop Blender is one of the cheapest blenders in the world – and it works! If you like milkshakes and fruit smoothies on the go, this is the ideal blender. You can make juice from oranges, you can blend strawberry and banana into a delicious smoothie, and you can make green smoothies to take with you while working out.
Too Good to Be True
You might think this blender is too good to be true because of its insanely low price. But I am here to tell you this blender is the real deal. It really does work. If you only want a single serving of anything, you can do it using this blender.
It can rip apart leafy greens, it can break down ice, it can crush nuts and seeds, and it can mix all your favorite ingredients to make you quality shakes and scrumptious smoothies. Plus, this is one of the easiest machines you can use. Simply place your ingredients inside the small travel cup and blend! There's nothing to it.
Read More: Best Blender for Smoothies with Frozen Fruit – 3 Top Models
Quality Components
For such a small blended, this piece of equipment is filled with lots of quality components. It uses four stainless-steel mixing blades that are strong enough to rip apart fruit and crush ice. The motor cools very quickly so that you can continue blending. The entire system cleans in just a few seconds. And the travel cup is made to be extra durable with a lid that really does fit.
This is the ideal blender for those who need something to take with them traveling, who need a blender at the office or in their dorm to make a quick shake at lunch, or for people who like to live a minimalistic lifestyle and don't want to have a giant blender taking up space in their house.
---
Best Blender Under 100: A Complete Buying Guide
These blenders make quick work of soft ingredients, they are easy to clean, and they deliver quality results. You just need to maintain your equipment and be careful not to stress the motor and the blades. Just because a blender comes under the $100 umbrella doesn't mean you have to compromise on its performance. If anything, you can get some pretty impressive machines, but you need to know what to look for.
And while all these blenders are great for being so inexpensive, there are still a few things to keep in mind when shopping. Here's a quick walkthrough of which features are important:
Power and Blades
Although you may be trying to keep the budget within limits, your blender still needs to have adequate blending power to meet your requirements. And this means looking at its power output.
Typically, machines that start off with 900 watts of power and above are good choices. And it's not hard to find a decent variety of these blenders within today's budget range.
As for blades, look for a blender that comes with stainless-steel blades. While plastic may work for other parts of the blender, you should only take blenders with stainless-steel blades seriously. This simply ensures that your machine will be able to handle tougher blending tasks well.
Size
With blenders, size matters. Whether you want to make personal smoothies or for the whole family in one go, think about the container size and your blender-based needs.
You can easily get personal blenders as well as larger countertop versions when looking for the best blender under $100. Plus, size is also important for storage purposes. Smaller kitchens or areas with limited space can only accommodate a blender so big, so take that into consideration before making a purchase.
Related Articles:
Material
Weighing the pros and cons of the construction material can help you choose as well. For instance, plastic jars can absorb smell whereas glass won't. But glass tends to shatter, and plastic doesn't. Other considerations include temperature tolerance, scratch resistance, and aesthetics to some extent.
Likewise, metal vs plastic parts is also open for debate, though the budget may not always get you superior metal parts. Interestingly, the materials that your machine is made of also impacts its versatility since sturdier, more durable parts will let it tackle tougher ingredients better and be compatible with a greater range of functions.
Speed
Multiple speeds are always a bonus since they add a fair bit of convenience and versatility to blending. Having the option to choose from different speeds can help achieve the right texture and consistency and if there are any presets involved, that will also take the guesswork out of blending.
One very important feature is the Pulse function that can let you do so much more with greater accuracy for all types of blends.
Customization & Storage
The first point is actually a 2-for-1. When purchasing a new blender for under $100, you want to think about customization and storage. Because you're obviously going to be buying a small blender – there are not many countertop blenders available at this price – it better be small in a good way.
This means your small blender should be able to store nicely in the cupboard just like how you would store a large glass. You don't want a huge motor base, nor do you want a super tall cup that makes it difficult for storage.
And your little blender should fit your personality. Most of these personal machines come in a wide variety of colors. They are made for taking with you on runs and for brightening up your morning. And so, most small blenders for under $100 have vivid colors and lots of fun customization.
Read More: Best Personal Blender – 4 Top Rated Models
How Many Ounces?
How many ounces do you want for your morning smoothie? 14 ounces? 20 ounces? 30 ounces? Depending on how large of a drink you want, you will need to choose the right blender. Some small personal blenders may look large when you're shopping online, but they are actually very small.
Keep in mind that a typical coffee mug is around 16 ounces. If you want an actual serving of healthy nutrients and minerals in your morning smoothie, you want at least 20 ounces, which is what you get with the Oster. Always check the size of the to-go cup that comes included with the blender.
Simple Operation
Most of these cheap blenders are not going to come with a lot of functions. You're not about to get variable speeds, preset blending cycles, or anything of the sort. But the operation can still be simple. One-touch blending is great, while the twist-to-start feature is also ideal.
So long as your tiny blender doesn't take more than a single touch to operate, you will have a fine time. Also, just for the sake of convenience, all the pieces of your blender should be dishwasher safe.
Frequency of Use
Budget blenders are not typically designed for long-term use and thus the shorter warranties. Choose your blender wisely based on how often you plan on using it. For a busy kitchen with day in and day out blending, I would straight up recommend investing in a more durable model, and not one that dies the day its warranty expires.
Budget blenders work best where there is only lightweight blending involved or where you only use it on a less frequent basis.
Best Blender Under $100: Final Thoughts
A blender is an investment even if you're spending less than $100 on it. With some careful consideration, you can even get machines that work on par with more expensive models such as those reviewed here today.
The Pro 900 by NutriBullet comes out as the best overall blender under $100 as it has various features that you'd expect to find on more expensive models which make it a great value for the money. Built to last, this is a blender you can count on for uniform blending results every time.
The Ninja BL610 is well-priced for combining the perfect mix of high power and high capacity. Its winning features are its power output and dual blade technology that perform on par with more premium models yet keep it all under $100.
The Oster Pro 1200 deserves a spot here because of its multifunctional profile and excellent blending potential. It's ideal for people who love variety but don't want a plethora of appliances in their kitchen.