Powerful 2.2HP Motor
Large Capacity
Powerful 1700W Motor
Convenient & Portable
---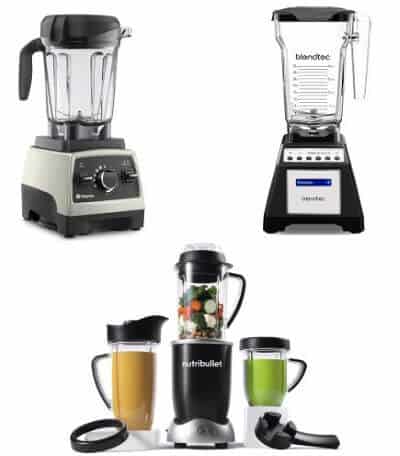 Today we are looking at the best blender for vegetable smoothies. We will look at three of the top blenders for making delicious green smoothies using all your favorite vegetables.
There is nothing more refreshing than a healthy vegetable smoothie in the morning or for lunch, and now you can make them easily using the best blender.
If you want a quality blender with lots of blending cycles, high speeds, a strong motor, and lots of advanced features, any one of the blenders on today's list will work for you.
These are top of the line, premium blenders with thick blades and durable components.
Basically, going with a quality blender is going to enhance your kitchen experience. No more struggling to blend frozen vegetables, no more struggling to break down ice cubes, and no more struggling to get the best texture for your smoothies.
Best Blender For Vegetable Smoothies
---
Vitamix Professional Series 750 Blender – Best Overall
The Vitamix Professional Series 750 Blender is top of the line. This blender is even better than most other Vitamix models. It has more features, plus all the original Vitamix bonuses that you expect with one of these awesome machines.
Automated Blending
Automated blending is not something that typically comes with a Vitamix. Maybe it's because this is a new and improved model, or maybe you are just lucky. This particular model has five pre-programmed settings so that you can clean the blender easily with soap and water, and walk away when you are making a smoothie.
The automated blending allows for consistent results with each blend. It will never be different. You can use these settings to make smoothies, frozen desserts, soups, and purees. You are always in control of the speed. Plus, you get a very usable pulse feature.
Read More: Full Vitamix 750 review
The Power of Vitamix
The power of the Vitamix blender is not to be denied. This blender has extremely hard steel blades that can break down any organic material, from frozen cucumbers to hard almonds. It uses a metal drive system for ultimate torque, and it employs a cool-running motor to prevent any possibility of overheating.
The motor itself is 2.2 horsepower. The container is 64 ounces, which is perfect for making family meals and entertaining guests. The entire system fits neatly under most kitchen cabinets. And at the end of the day, you can use the power of the Vitamix to make anything in your recipe book.
---
NutriBullet RX N17-1001 Blender – Budget Pick
The NutriBullet RX N17-1001 Blender is one of the best NutriBullet machines on the market. Yes, it's slightly more expensive than the Pro model – but it's also nearly twice the power. This intense personal blender comes with a 1700-watt motor, durable cups, and a sizable full pitcher to make your ultimate green smoothie.
Personal Blending Tech
The technology that has gone into building this blender is impressive. It uses hands-free smart technology with an automatic start and stop function to make consistently delicious green smoothies no matter what you're blending.
One of the most surprising additions to this newest generation of NutriBullet is that it can heat soups and sauces and do significantly more food processing than other NutriBullet blenders. It's not only a smoothie machine any longer. But still, it does make the best green smoothies and fruit shakes with its smart technology.
Read More: Full NutriBullet Rx review
Ultimate Portability
This blender is ideal for people who live a busy lifestyle. If you want to be healthy and mix a nutritious green smoothie every day, but you don't feel like you have the time, let the NutriBullet take care of you. This blender can make your green smoothie in just a few seconds with almost no cleaning necessary.
Plus, you can take the container with you. Simply drop your ingredients into the unique NutriBullet container, place it inside the blender, let the hands-free technology take care of the blending, then take the cup straight out the door with you! No wait and no hassle!
---
Blendtec Total Classic Original Blender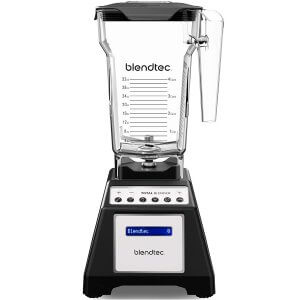 The Blendtec Total Classic Original Blender is a great premium blender for less than $300. It has easy blending cycles, incredibly thick blades for blending, it can clean itself, and it has 10-speed manual control. If you are interested in a robust blender at a discounted price, definitely put this on your wish list.
Everything You Need
The Total Classic Blender has everything you could ever need in a blender. You can pick it up in one of three different colors, you can use it to make consistent smoothies that are always silky and delicious, and it has an extremely large 75-oz container included in the package.
This massive container is great for making huge batches of smoothies, with enough to serve between three and four people with a single blend. It's also great for warming up huge portions of soup in under 6 minutes. It has a great warranty, it's engineered and assembled in the USA, and it will even clean itself for you in under 60 seconds.
Read More: Full Blendtec Total Classic blender review
Blending Cycles
Not only does the Total Classic come with six pre-programmed blending cycles, but it also has a 10-speed manual control and a pulse setting. This means you can achieve any desired texture with your smoothies. It also means you have complete control when blending other substances, whether wet or dry.
With the patented, 80% thicker blender blades, you will never fall short of a perfect blend. The blender blades are stainless-steel forged and 10x stronger than the competition.
---
Best Blender for Vegetable Smoothies: A Complete Buying Guide
Green smoothies are one of the most popular drinks to make in any blender. They are pretty simple to put together, including only a handful of soft and frozen ingredients, and they can be blended in under 60 seconds. The truth is vegetable smoothies are quite easy to make and don't require an extremely expensive blender.
Still, there are some features you want to look for when choosing the best blender for vegetable smoothies. You want a blender that can maintain a consistent texture with your drinks, something with a pre-programmed smoothie cycle is very convenient, and something that has extremely tough blades to break apart frozen chunks of vegetables is even better.
Personal vs Kitchen
There are two types of popular blenders when it comes to making veggie smoothies. You can get a kitchen blender, otherwise known as a countertop blender. Or, you can get a small personal blender.
The difference is huge. A personal blender is great for people who are only interested in making vegetable smoothies. If you have no desire to use your blender for food processing, for making hot soup, or something else like that, you don't need a giant kitchen blender.
Personal blenders are cheaper, they use hands-free technology, you can make a single serving or a family serving, and you save yourself a lot of room on your countertop.
Kitchen blenders are great for people who like to make huge batches of smoothies, milkshakes, iced desserts, soups, sauces, and everything else under the sun. A quality kitchen blender has the ability to make all your kitchen dreams come true. But if you are too lazy to do this kind of cooking, it's really not worth the money.
Related Articles:
Speed Control
Speed is a huge factor when it comes to blending. But not just speed, sure, having 10-speed control is great, being able to gently stir your smoothie or blended inside a hurricane period but it's also nice to have pre-programmed blending cycles. If you know the exact time it takes to make your smoothie, and if that can be programmed into the blender, you have yourself a winning situation.
Always try to find a blender that has a smoothie setting, such as the Blendtec or Vitamix. This allows you to push the button and walk away, and your blender will do the rest of the work for you.
Smoothie Cups
Just about any motor and any set of blades can blend the ingredients that go into a green smoothie. It's really not that difficult. And so, I suggest looking for the best smoothie cups included with your machine. If you don't already have smoothie cups, try to find a quality blender that offers great smoothie cups. This way, you can blend your drink directly into a portable to-go cup!
Best Blender for Vegetable Smoothies: Final Thoughts
Each blender we looked at today offers a little something different. The NutriBullet RX Blender is a great personal blender at a low cost that works well as a primary smoothie maker. The Blendtec Total Classic is another awesome blender at a discounted price, packed full of features. However, the best blender in my opinion is the Vitamix Professional 750 Blender.
This blender comes with five pre-programmed blending settings, it can clean itself automatically, and it gives you consistent results with all your smoothies. It can even do more than smoothies, giving you the ability to process foods, make milkshakes, grind beans, and make nut butter all in the same machine.
If you have the money to spend and want to make an investment in your kitchen equipment, the Vitamix is definitely the way to go. This machine is durable, strong, and it won't disappoint.