Powerful 1725W Motor
LCD Display
Large Capacity
Cheap Price
---
Today we are looking at the best blender for pureeing food. In case you're not sure what pureeing is, it's basically what you do when you turn raw food ingredients into a smooth mixture like a sauce or a smoothie. If you need an example of a type of pureed food, think about applesauce or baby food.
There are numerous reasons why you might want to puree your food. Maybe it's for a person who has trouble chewing and swallowing. Or maybe you're trying to make food for your baby from carrots, peas, and other healthy ingredients.
Pureeing food is actually a pretty simple process, especially if you have the best blender for the job. With a quality blender, you can puree almost any ingredient into an eatable, liquid-like substance. Whether you want to make pudding, salsas, or just a nice pureed veggie mix, having a good blender is key.
Luckily, I have put together the three best blenders for pureeing food in one organized list. Picking any one of these blenders is going to give you immediate access to all kinds of different pureed recipes. Make your life easier rather than harder!
Top Rated Blenders For Pureeing Food
---
Blendtec Classic 575 Blender – Best Overall
The Blendtec Classic 575 Blender is at the top of its class. This is one of the best professional blenders that you can still purchase at an affordable price. It comes with a unique type of jar specific to Blendtec blenders. It has standard speed control features to give you more adjustability with your blends. And it's built to last for a seriously long time. All its components are incredibly durable and more than capable of pureeing any ingredients.
The blender comes with an outstanding 8-year warranty. Blendtec itself is a fantastic family-owned American business. If you're in the market for a versatile blender that can make smoothies, soups, and huge batches of pureed food, this is the ideal piece of equipment for you. It even comes with an LCD display, which most blenders don't offer.
Huge Batches of Food
If you're in the business of making huge batches of food, whether you're prepping baby food for an entire month or making homemade batches of applesauce to sell at the farmer's market, you need a huge blender that can handle the biggest loads. And Luckily, the Classic 575 Blender has a huge jar with a volume of 90 ounces. That's bigger than almost any other blender commercially available.
Plus, the jar is extremely unique. It's BPA-free, but it's also specially designed to blend better than other containers because it has an extra wall that creates a powerful cyclone, forcing all the ingredients down into the blades so that they are properly blended.
With one full jar, you can typically serve at least six people a full glass of your favorite beverage. And when you're done, the blender will clean itself. Even though the jar is so big, it doesn't matter. The self-cleaning mode can be activated with a single push of the button, and the jar will clean itself in under 60 seconds. This is an absolutely huge bonus for people who don't have time to be cleaning constantly.
Read More: Full review of the Blendtec 575
Quality Built
Everything about this blender is quality. Let's start with the blades. The Blendtec uses patented blades that are 80% thicker than previous units. The blades are stainless steel forged and equipped with unique wings that allow them to blend, puree, and liquefy with absolute precision.
Additionally, the blades are about 10x stronger than the blades in other blenders. It's like having the Hulk inside of your blender, pounding all your food into mush. Plus, the blades are not even sharp. They are designed to be dull, that way you don't get poked or cut when handling them with your bare hands.
But don't worry, even though the blades are dull they still rip and tear through all of the hardest ingredients. While you can definitely puree soft food, you can also turn frozen vegetables, nuts and seeds, and huge chunks of ice into liquid within a matter of seconds. You don't even need to chop or slice your ingredients before blending. Simply throw huge chunks inside and the powerful blades will do the rest.
---
Ninja Mega Kitchen System – Budget Pick
The Ninja Mega Kitchen System is by far the most affordable blender on the list. It's about half the price of the Blendtec, but it's also an entirely different blending experience. The Mega Kitchen allows you to complete every recipe in your book thanks to its great accessories and high-quality components.
The Mega Kitchen System is a full system that can do everything. It comes included with a huge pitcher for crushing ice and blasting through fruits and vegetables, it comes with a food processor bowl that can be used for chopping and mixing a variety of different ingredients. and lastly, it comes with a smaller Ninja cup for making single-serve beverages to take with you on the go.
A Mix of Everything
The biggest draw to anyone purchasing the Ninja Mega Kitchen System is the sheer amount of supplies you get. This blender includes everything that makes Ninja blenders so great. You can puree, blend, and liquify in the 72-oz pitcher using the total crushing blades, making creamy frozen treats and scrumptious smoothies in seconds with the powerful 2-hp motor.
Or, you can use the 64-oz food processor bowl to help with all of your baking needs. It's great for chopping and mixing a wide variety of ingredients. If you want to mix dough, knead your pizza dough, or whip together some whipped cream, the food processor bowl is an amazing add-on.
Then you have the two 16-oz Nutri Ninja cups with special to-go lids, which are perfect for making yourself a personal smoothie in the morning on your way to work or before an exercise routine. This blender takes all the best parts of cooking and blends them into one machine. It's a food processor, a blender, and a personal smoothie maker.
Read More: Full review of the Ninja BL770 Mega Kitchen System
Power & Settings
This blender comes with lots of power. It has a 2-hp motor that outputs 1500 watts to easily make quick work of even the toughest ingredients. It also comes equipped with 5 manual programs that allow you to adjust the quality of your blends, making a thick puree or a chunky homemade salsa.
Some of the preset options include "crush," "blend," and "dough," giving you instant access to your most commonly used settings to take the guesswork out of blending.
Plus, the entire machine is very easy to clean. All the pieces are safe to put in the dishwasher, allowing you to skip the tedious process of scrubbing everything by hand. And if you need a little inspiration for what kind of dishes to make, the blender even comes included with a great recipe inspiration guide.
Inside the guide, you will find great recipes for things like pizza, cookies, dips, purees, frozen drinks, and much more. This is definitely one of the better blenders to use if you have a lot of pureeing to do!
---
Vitamix 5200 Blender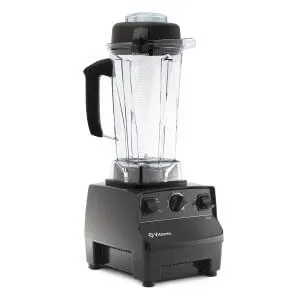 The Vitamix 5200 Blender is a classic piece of Vitamix machinery. As you may have guessed, it's quite a bit more expensive than the other options, but it also gives you all the quality of a Vitamix in a slim and compact blender. It comes included with a large 64-ounce container, it's available for purchase in black, white, or red, and it has all the strengths that make Vitamix machines famous.
You get variable speed controls, you can make huge batches of purees, you can heat cold soup in about 6 minutes, and all the components are made to be extremely high efficiency. The blades are super hard, the self-cleaning mode works well, and the blender features a thermal protection system and a radial cooling fan to keep it from overheating.
The Vitamix Promise
As with any Vitamix machine, the 5200 promises to be useful for years and years to come. Nothing says this better than its 7-year full warranty. This blender is covered for an entire seven years, which guarantees almost a decade of perfect use.
The blender uses a 2-horsepower motor, it has a long electrical cord so that you don't have to worry about where to place it on your kitchen counter, and it uses the best components in its design. For example, the cool-running motor allows you to blend for prolonged periods of time without overheating.
Then there is the metal drive system, which ensures maximum torque and stable blending for the entire life of the blender. Also, hardened steel blades are one of the best features. Every detail of the Vitamix blades is designed to offer premium performance. This is why the blades are cut using lasers, so that you can chop and cut through any ingredients with ease, extracting nutrients, and giving you a consistent blend every time.
Read More: Full review of the Vitamix 5200 blender
Variable Speed Control
When you purchase the Vitamix 5200, you get great variable speed controls. You can easily adjust the speed of your blend to reach a variety of different textures. This is great for people who will be blending a variety of different recipes, especially different purees. All you need is to rotate the speed control dial at any time during the blending cycle. You don't even need to stop the machine to change the speed!
Plus, the massive container is ideal for blending large batches to satisfy the entire family. Because Vitamix machines are so great as food processors, this is one of the better blenders for making a large batch of cookie dough or something similar. It's also great for making nut butter and nut milk.
Basically, there is nothing the Vitamix blender can't do. It cleans itself, it blends cold soup so fast that the friction heats the soup to the perfect, ready-to-eat temperature, and it can make a quick puree in under 60 seconds. If you want the best of the best and don't mind spending the money, you can always pick up a Vitamix blender. It's well-worth the larger price tag.
---
Best Blender for Pureeing Food – A Complete Buying Guide
Having a good blender in the kitchen can make your work much easier. Whether you need to puree food for your baby, or planning to make a soup using certain vegetables, you will need the perfect blender. If you are just like me, then you might need the blender to make a puree to create a nutritious dish.
No matter what the reason is, you need to ensure that the blender you are investing in has the necessary features. There are many different factors that you need to consider before you make the final decision. To make the work easier for you, I have provided an extensive guide to help you in your search for the best blender for pureeing food.
How to Choose a Blender for Pureeing Food?
To make the perfect puree, you need to use a good quality blender. If this is your first time choosing a blender for yourself, then there are certain steps that you need to follow. I have mentioned some important factors that you need to keep in mind while choosing the best blender for pureeing food.
Conduct a Thorough Research
Any item that you choose for yourself should be done only after proper research. Whether it is a kitchen appliance or a home décor, I make sure that I invest enough time in research so that I end up with only the best product. You need to do the same and check out the different options that are available in the market.
Compare different brands and see the products that they offer. You also need to see their customer reviews to understand how satisfied people are with the product. Make sure that you keep the budget in mind while you are conducting your research.
Requirements
There are different kinds of blenders in the market, and you need to see which ones suit your requirements. Do you need an immersion blender or a traditional counter-top blender? Based on what your requirement is, you will find thousands of options in the marketplace.
Ensure that you understand the upsides as well as the downsides to the blender types before you make your decision. Do not be in a hurry to choose even if you need to order the blender very quickly. Research properly so that you do not regret investing in the wrong product.
Warranty
Most blenders have a minimum of a one-year warranty, whereas some manufactures provide an extended warranty as well. When you shortlist your product, check the warranty of the appliances. This is extremely important since you need to be able to send your appliance for repair if needed without having to pay the whole amount from your pocket.
What Are The Advantages Of Having A Quality Blender For Pureeing Food?
Having a quality blender is not only about pureeing food, but also about using high technology that would make your work easier and quicker.
Easy Operation
Pureeing of food is a process that has been in action before quality blenders came into the market. It was a time-consuming process that is not fit for the fast-paced life that you see today. With the emergence of technology, you have seen many new and innovative blenders in the market. These quality blenders do the work much faster and in a better way.
Portable
The best thing about these blenders is that they are very lightweight. Not only can you place them in different areas of the kitchen if needed, but you can also carry them with you if you are changing location.
In case you are a prone traveler, then you can easily carry the blender with you. Due to the compact size, you can pack the blender and easily place it in your travel bag.
Multi-Purpose
Blenders are generally versatile electronic devices that can be used for many different purposes. The main objective for buying the blender may be to puree food, but it does not mean that you cannot use it for other blending purposes as well. This versatility is a huge advantage of any quality blender.
Budget
When it comes to buying any electronic device, the wrong notion is that only the expensive things provide the best results. This cannot be far from the truth as you will find many premium quality blenders at affordable prices available in the market. The affordable blenders produce high-end results as well.
When you conduct your research, you can search within your budget limit. You will find some of the top manufacturers providing budget-friendly blender options which are amazingly efficient and are equipped with the latest technologies.
What Features Does A Blender For Pureeing Food Need?
As I have already discussed, pureeing your food can be done because of many different reasons. One thing that remains common in every reason is the features that should be present in the blender of your choice. Below I have mentioned some important features that you should look for while searching the best blender for pureeing food.
Heating Ability
Electronic goods generally heat up after being used for a certain time. You can see the same when you are charging your phones. Even blenders heat up when used since the motor runs at a fast speed, and the body of the blender will produce heat during the process.
Blenders, which mainly have steel bodies, are more prone to this issue. The blenders which are made from good quality plastic or glass will have a low outside heating capacity.
Design
When you buy an appliance, you check the performance as well as the design. You will surely not invest in a machine that does not look good even if it gives good results. With so many innovative designs being made by the manufacturers, this is not a problem that you will have to face as much.
You will be able to find many appealing designs that also boast of equally exceptional performance. If you follow a certain theme in your home décor, you can choose a blender that matches the theme or color.
Settings
Appliances these days mostly come with multiple speed variations and an adjustable control panel. This is because manufacturers focus on optimizing the experience of the user.
Having an adjustable setting option in the blender will help you choose the control according to the food that you are blending. The setting can also be focused on the kind of result that you wish to get from the blender.
What Type Of Blender Is Suitable For Pureeing Food?
If you are still not sure which blender would be suitable for pureeing food, then you need not be worried. Here are three of the most important categories that you need to access when you are buying a blender for pureeing food. In these categories, I have mentioned the requirements that you could search for in your chosen blender.
Power
The power of the blender is an important factor since it will decide the quality of puree that your machine makes. There may be certain vegetables or fruits which are tough and would require more power to create a smooth, consistent puree. That is why you need to ensure that the motor performance is very high and helps you blend all kinds of food.
Blender whose motor power is more than 200 Watts would be able to give you the best results. One thing that you need to worry about when opting for a blender with high power is the noise level. The higher the wattage, the more the noise level of the blender will be.
Speed
A blender that is used to puree food needs to have variable speed settings. The multiple settings will help you control the speed level of the blender according to your need. If you need to create a smooth puree, then you can aim for a higher speed. On the other hand, if you need a thick inconsistent puree, then the lower scale of the speed will suffice.
Jar Size
No matter what you use the blender for, the thing that you need to determine is the amount of food that the blender can crush at one go. If you are comfortable with using the blender once and storing the puree for later use, then you need to aim for a large jar size. This way, you can blend a large amount of food and keep them stored.
If you like to make fresh puree while you are cooking, then you can choose a small jar size.
How Easy Is It To Clean?
Cleaning the blender is an easy feat if you do it immediately. Even if you have a large jar size and have whipped up a thick puree, you do not have to be worried about the cleaning process. If you follow the right cleaning process, you will have a clean jar within no time.
The first thing that you need to do once you have finished blending is to fill the jar with water and add a few drops of liquid soap. If the residual matter is thick, then you can add warm water since it will be easier to clean the jar. Close the lid of the jar and swirl the mixture in the jar so that the soap and water mix properly.
You can keep the mixture for a few minutes so that the residual matter comes off the body of the blender. Open the lid and clean the jar with the help of a light brush. Make sure that you focus on the areas below the blades so that there is no food stuck there. Do not scrub the jar harshly, or you may leave scratches on the sides.
Read More: How to clean a Vitamix blender
When you are satisfied that you have cleaned every area of the blender, immerse a sponge in a soap water mixture and clean the blender again. Wash the blender properly so that there are is no soap mixture left on it. Dry the blender naturally and do not close the lid before it has dried completely.
The best thing that you can do is opt for a blender that comes with cleaning settings, such as Vitamix. These settings help clean the blender effortlessly by only adding soap and water to it.
Will You Be Using The Blender For Anything Else?
Blenders are not used just for the sole purpose of pureeing food. There are many other things that you can do with a blender, which makes it one of the essential kitchen appliances. Depending on the kind of blender you choose for yourself, the variety of uses will also differ.
The standard high-quality blenders that you will find in the market can help in making sauces, spreads, and dips. Not just liquid material, but you can also powder sugar using the blender. If you wish to make protein shakes or other beverages, you can do the same using this blender.
There are many advanced blenders that let you mix the batter for cakes or muffins. These blenders have stronger blades since the batter is thick, and standard blenders would not be able to carry on this function.
You can choose a blender that has adjustable blade settings so that you can use it for various purposes. This would make your work easier, and you can change the blade based on the kind of material that you would be mixing in the machine.
Bottom Line
In the guide, I have covered all the necessary aspects that you will face when you choose the perfect blender for your home. When you do your research, you need to be aware of the fact that there will be hundreds of choices in front of you. There are going to be multiple machines that would seem like they are suitable according to your need.
In such a scenario, you can make a list of the features present in the blender and the pros and cons. Check the customer ratings as they will help you a lot in accessing the first-hand experience of people like you and me.
Do not take a hurried decision and tick off all the necessary points before you choose a particular product.
Best Blender for Pureeing Food: Final Thoughts
There is a lot that goes into choosing the best blender for pureeing foods. And while hopefully everything was covered in this extensive review article, let me give you my final thoughts if you are not quite convinced. First off, all three blenders are great choices. But I understand a lot depends on your budget, and this is why the Ninja Mega Kitchen System is such a great product.
Yes, the Ninja is the cheapest out of the three blenders, but it's also great for pureeing. If you're on a budget and still want a quality blender, I can't recommend the Ninja Kitchen System enough. On the other hand, if you're looking to spend a fair bit of money on the very best in the business, you should definitely check out the Vitamix 5200 Blender. It has the power, speed, and reliability to serve you for years.
But my personal favorite is the Blendtec Classic 575 Blender. It's not super cheap but not overly expensive. It's right in the sweet spot in terms of price and functionality. For less than $300, you really can't go wrong picking a quality Blendtec machine.
This particular model comes with everything you need to puree on a massive scale. It comes included with an enormous 90-ounce jar, it has a self-cleaning program, it has 5 manual speed controls, a pulse feature, and pre-programmed blending cycles. This is a technologically advanced blender that can be used for so much more than simple pureeing and liquefying.
At the end of the day, this is a great investment blender. The Classic 575 Blender comes with an impressive 8-year warranty, you can make massive servings of food, you can blend smoothies and you can process whole foods. It does a bit of everything, and for that reason, it's a fantastic blender.