The best blender for frozen fruit is either going to be the Vitamix 5200, the Nutri Ninja BL642, or the Blendtec Total Classic. These are three amazing blenders, coming included with such features as programmable blending cycles, variable speeds, thick blades, powerful motors, and large containers.
While these blenders are slightly more expensive than your garden variety no name blenders, they are all worthy contenders to be the best. Their price is higher because they function better.
Each blender is extremely durable with ultra-tough components that are built to last. I don't care if you're blending baby food, making smoothies in the morning, or using the blender in a restaurant to make professional kitchen-quality meals, these are all amazing choices.
What I want to do now is take a brief look at each blender, showcasing their strengths and features before coming to an educated conclusion of which is the best.
Top Rated Blenders For Frozen Fruit
---
Vitamix 5200 Professional Grade Blender – Best Overall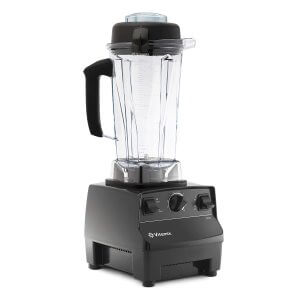 Let's start with the Vitamix 5200 Professional Grade Blender. What an incredible unit, and definitely a strong contender for the best blender for frozen fruit. I don't even know where to start. Complete control over the blending speed, a huge 64-ounce container, powerful enough blades to make hot soup – the list goes on.
For Fruit
For making fruit, you can't go wrong with the Vitamix 5200 Blender. Whether your fruit is frozen or soft, it is going to be blended into the perfect paste in a matter of seconds thanks to the blender's superior motor.
You can make strawberry jams, raspberry or blueberry jams, and fruit smoothies with ease. Because of the variable speed control, you determine what the texture of your fruit will be. If you want your smoothie to be as silky smooth as a glass of water, no problem. If you want to make chunky jam with chunks of strawberry, that's no problem too.
Even the design of the container is made to make smooth blends, as it creates a vortex inside the machine, folding your blended fruit back over the blades again and again to make perfect batches of fruity paste.
Smartly Designed Tamper
The Vitamix 5200 Blender comes with a very special tamper. Rather than stopping the machine to fuss with a particularly stubborn blend of fruit or veggies, you can use the specialized tamper to help things along without stopping the machine. You can easily scrape the sides, getting everything moving, all while the machine does its job.
---
Nutri Ninja BL642 Personal Countertop Blender – Budget Pick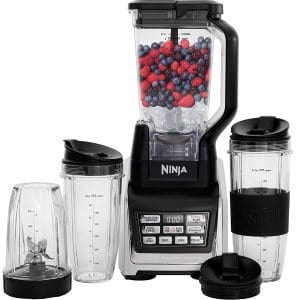 Moving on to the Nutri Ninja BL642 Personal Countertop Blender, we have a machine that comes with a rich assortment of accessories. Ninja is a famous company that makes all kinds of kitchen appliances, from high-quality coffee makers to premium blenders. They have a reputation for making their machines with smart technology. Let's take a look.
Smart Blender Tech
In typical Ninja fashion, their BL642 Blender comes with intelligent blending systems to take the guesswork out of blending fruits and veggies. This means the blender has smart programs built into it, knowing exactly how to properly blend your recipe.
This is handy for fruit smoothies and veggie smoothies, as the Ninja is going to make perfectly blended beverages. The same can be said for soups, fruity iced margaritas, and everything else. This machine is great at pulverizing ice into a crystal for your smoothies and other drinks.
Another thing that makes the ninja so great as a fruit blender is the quality of the blades. The professional blades work to completely breakdown entire vegetables and fruits and the seeds inside of them, giving you the most nutrients and vitamins possible in your smoothies.
Best Budget Blender
To be frank, the Ninja is about half the price of the Vitamix. It is still going to cost you a bit of cash, but it is much more reasonably priced than some of the other professional models. That means more money for you to buy fresh fruit and veggies.
Plus, the Ninja comes with an extra-large 72-ounce pitcher and 3 cups with spout lids. It comes as an entire amazing package with all the accessories you need to become a fruit smoothie freak.
---
Blendtec Total Classic Original Blender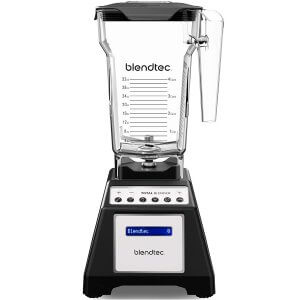 Last but not least is the Blendtec Total Classic Original Blender. This is a tough mid-grade model, priced evenly between the high-tech Vitamix and the budget Ninja. But where does it stack up in terms of quality?
Full of Features
If your main priority is to blend fruit, the Blendtec Total Classic is right up your alley. It has 10-speed manual control, allowing you to get 10 different textures when blending fruit. It also has a super easy user interface with one-touch buttons. As a smoothie maker, you can't go wrong here.
The blender comes with six pre-programmed cycles, incredibly thick blades that are forged from stainless steel, and the main container is an incredible 75 ounces. That's enough fruit smoothies to feed George of the jungle and his whole team of gorillas.
Another thing about the blades is that they are not sharp. The blades are dull, meaning there is no chance of poking or cutting your skin while cleaning. And speaking of cleaning, the machine cleans itself. Add soap and water, turn the machine on, and it cleans itself in seconds.
Strictly Blending
The Blendtec Total Classic is great as a straight-up blender. But this leaves something to be desired. It does not come with a specialized tamper, it does not come with a handy spatula to clean the sides, and it does not come with any useful cups or measuring devices. This unit is strictly for blending.
But boy does it blend! When you buy the total classic, you are getting a blender with a powerful motor, incredibly tough blades, and a lot of options for blending. You just don't get any extras.
---
Best Blender for Frozen Fruit: A Complete Buying Guide
What are you looking for in a blender? You want to blend frozen fruit, right? You came here to see which blender is best. But what does that mean? All three of these blenders can expertly blend frozen fruit. The truth is that any old blender can blend frozen fruit. It comes down to a matter of extra features, sustainability, durability, and simple convenience.
Speed Control
When deciding which blender earns a prominent place on your kitchen counter, you want to consider variable speeds. Any experienced blending fanatic knows that one speed does not fit all. If you want to make jams, puree, smoothies, batter for pancakes, iced beverages, and any variation of the above, you must be able to control the speed of your blender.
It also helps to have preprogrammed speeds and smart, intuitive technology. This will take all the guessing out of blending, especially if you frequently blend the same things. With enough preprogrammed settings, you can simply choose the blend, activate the blender, and not worry about the time or strength. It's all done for you.
Cleaning
Nobody wants to clean their blender. There is nothing less appealing than making a delicious smoothie or blending some healthy cat food and then having to pick the bits out of the blender. The good news is that most high-quality units come specially designed to clean themselves using nothing but soap and hot water.
Sure, you can add hot water and soap to any blender and it will theoretically clean itself. But chances are you will have to clean it again by hand. You want a blender that was designed specifically for self-cleaning. This means it has the power and contours to really scrub itself clean.
Related Articles:
Accessories
If you do not already have a blender, special blender cups, convenient sip lids, or even a tamper, then you are going to be very sorry if you buy a blender that does not come with any accessories.
Having the right equipment, even if it is just BPA-free blender cups with lids, can make the difference between a positive blending experience and a nightmare trying to find the appropriate containers for your fruit drinks.
Some products offer accessories in special "additional packages" for way more money. Be aware of this and always double-check the listing before you buy.
The Container
This may not be a huge issue, but I feel like it is worth talking about. Do you want a blender with an average 64-ounce main container? Or do you want a blender with a giant 74-ounce container?
It depends on necessity and personal preference. For myself, I generally prefer a medium-sized container. I very rarely make a 74-ounce fruit smoothie. However, if the container is too small then sometimes you can feel cheated. Pay close attention to the size of the container before you buy it.
Best Blender for Frozen Fruit: Final Thoughts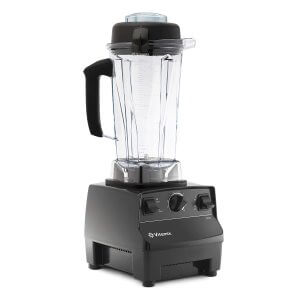 You came here for the best, and now it's time to make the decision. I first want to appreciate the blender that came in last. The Blendtec Total Classic Blender is a great option, but it costs too much money and does not come with enough accessories or smart features. It does not even have an LCD display. A great blender, but it could be much cheaper.
The Nutri Ninja is a fantastic machine with smart features, advanced technology, amazing blending capabilities for fruit, veggies, and everything else under the sun, and it is incredibly affordable. The Ninja is the very best choice for a budget blender.
But the award for the best blender for frozen fruit goes to the Vitamix 5200 Professional Grade Blender. Sure, it costs a lot of money. But this thing is awesome. It has a radial cooling fan, a thermal protection system, it can create hot soup inside its container, it blends fruit at a variety of speeds. This is simply the best blender for frozen fruit ever.
Related Articles: