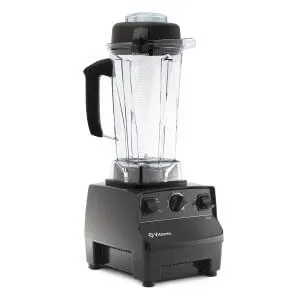 Most Popular Model
Simple Operation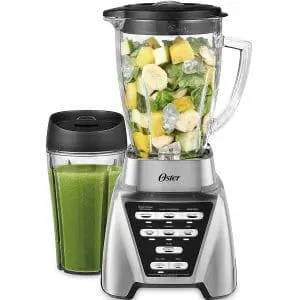 Powerful 1200W Motor
Durable Design
---
The key to making great bulletproof coffee is to get it frothy and creamy which can only be achieved with the help of a powerful blender. In fact, the best blender for bulletproof coffee would be one that is not only powerful but is also engineered to handle piping hot liquids.
Since these features tend to be a little more specific and go beyond the scope of simple blending, your blender will also need to go beyond what most blenders can do.
Of course, you could keep things simple and try whisking up some coffee using your arm strength alone, but it would be hard to beat the peak horsepower of a strong blender. Plus, a common issue with hand blending is that the finished product often ends up with an oily top layer.
So, why not save yourself the time and effort and invest in a suitable blender instead. Here is my take on which blender can yield you the best bulletproof coffee.
Top Rated Blenders For Bulletproof Coffee
---
Vitamix 5200 C-Series: Best Overall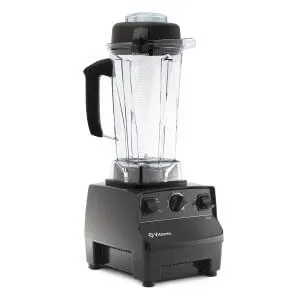 One of the top-selling models in the brand's Legacy series, the Vitamix 5200 is a strong contender for the top spot among the best blenders for bulletproof coffee.
Its coffee-making readiness is based on the same science that lets it make hot soups. The blender effectively lets you "cook" soup with the sheer power of its blades so you can actually blend both hot and cold ingredients into a soup in approximately six minutes.
The same power can also be applied to making bulletproof coffee keeping the following considerations in mind.
Strong Motor Power
Equipped with 10 speeds, the 5200 comes with a 2HP motor and blades that can work at 37,000 RPMs. This is enough power to heat up your ingredients and give you that perfect blend of bulletproof coffee.
You can use the High mode to prepare your coffee with no risk of taxing the blender unnecessarily. With maximal blade rotation, the 5200 will heat up liquid ingredients and bring them up to a steaming hot temperature.
The model features sturdy, stainless-steel wet blades to keep up with the power of its motor.
Read More: Full Vitamix 5200 review
Container and Parts
All parts of the 5200 are made to support its powerful motor. This includes the container which uses a BPA-free, impact-resistant polycarbonate plastic.
The blades are stainless steel coupled with a double set of stainless-steel bearings for durability and longevity while the unit is supported by a rubber pad underneath to reduce vibration when in operation. All of the above features allow me to have no hesitation in crowning this the best blender for bulletproof coffee.
---
Oster Pro 1200 Plus: Budget Pick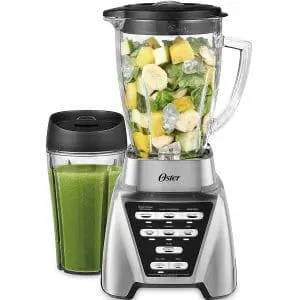 Despite the minimal price tag, the Oster Pro 1200 comes packed with enough power to give you a fantastic cup of bulletproof coffee. Many reviewers have tested and passed it for grinding coffee beans exceptionally well which makes this a budget pick for today's list.
Speed Settings and Programs
The Oster Pro 1200 has four speed modes, Pulse, Low, Medium, and High which is enough to give you a fair bit of versatility in the kitchen. For high-powered tasks like soup and bulletproof coffee making, you can use the High-speed mode.
The one unique thing about this budget blender is that its speeds and modes blend in both directions. The Dual Direction Blade Technology pulls the food to the blade for faster and smoother results.
The motor on this unit uses 1200 watts with a blade rotation of 19,000 RPMs which is an excellent deal in this price range. Although this is the least powerful blender on this list, it does not skimp on durability with its all-metal drive shaft and stainless-steel blades.
Read More: Full Oster Pro 1200 review
Container Quality
If you're looking for a blender with a heavy-duty glass container, then your best bet is this Oster model. There is a 6-cup, dishwasher-safe Boroclass® glass jar able to withstand thermal shock.
This is a type of very heavy, lab-quality, stress and temperature resistant borosilicate glass able to handle higher-temperature blending well. The blending jar has a wide base to facilitate blending and is covered with a screw able plastic lid to prevent any spills during processing.
---
Blendtec Total Blender Classic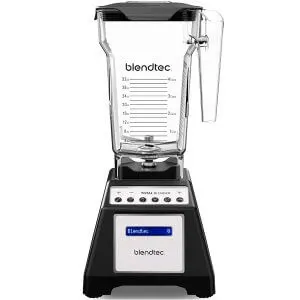 The Blendtec Total Classic blender is the machine that introduced the brand to the world. It remains one of the most popular models by Blendtec.
Blending Power
The Total Classic gives you 10 speeds to work with complemented by six preprogrammed cycles for various functions. The Hot Soup cycle is particularly relevant to making bulletproof coffee as this function will resemble your blending needs for hot coffee most.
Powered by a 1,560-watt. 3HP motor the Total Classic is able to handle hot ingredients well. The heat gets generated via blade friction which transfers to the ingredients and blends a frothy and creamy mix.
The force behind this powerful performance is 29,000 RPM at the High-speed mode. This is enough to bring liquids to temperature through friction.
Read More: Full Blendtec Total Classic blender review
Container and Blade Performance
This Blendtec model comes with the patented square container the brand takes immense pride it. The jar design does two things. First, it draws ingredients down towards the blade for even blending and then it also heats up blended ingredients somewhat quicker than rounded jars which works well for soups and bulletproof coffee.
So, whereas the Oster Pro 120 relies on its Dual-Direction Blade Technology to force ingredients down, the Total Classic does the same with its patented jar design.
All in all, both are worthy contenders for a spot on the best blender for bulletproof coffee list.
---
Best Blender for Bulletproof Coffee: A Complete Buying Guide
If you already have a recipe nailed down to make the perfect cup of bulletproof coffee, you'll know that you need a machine that can handle the demands of being very powerful, is sturdily built, and is very good at grinding beans.
What is Bulletproof Coffee?
Bulletproof coffee is an energizing coffee drink that contains coffee, butter, and MCT oil. Bulletproof coffee was invented by Dave Asprey, who is an American entrepreneur and author. Bulletproof coffee is based on science, and the makers claim that drinking 1 cup a day can help you to lose weight. The makers of Bulletproof also claim that you will feel more energized and will be more productive.
How to Choose a Blender for Bulletproof Coffee?
If this is your first time choosing a bulletproof blender, then it can be quite difficult to make the right choice. There are certain things that you need to consider ensuring that you make the right investment. Below are a few factors that can provide you with the right guidance.
Blending Performance
This is perhaps the first thing to look for. Only consider blender models that come with more wattage and RPMs.
My research shows that a good starting point for blenders designed to handle bulletproof coffee is around the 1,000-watt mark. This is enough power to support a higher RPM that will whip up a perfect blend of coffee.
If the blender has variable speed, all the better since this gives you more control over the blending process. Plus, this feature makes the blender more versatile for general use in the kitchen.
Container
The quality of the container is a very important factor that needs to be considered when investing in a bulletproof blender. While blending hot liquids, you need a container that will not be damaged very easily. If you opt for a low-quality container, then it can get damaged during the process.
Using plastic containers are the best, but you need to ensure that they are BPA-free. Moreover, the containers should be easy to clean as there is going to a huge amount of grease and oil inside the jar. This has to be cleaned properly before the next blending process. The quality of the container is one of the most important aspects of choosing the best blender for bulletproof coffee.
Blades
Inverted blades are very harmful to any bulletproof blender. They take away the safety quotient and can expose you to different harmful situations. Just like it is best to avoid inverted blenders, the same goes for inverted blades as well.
The blades can cause sudden spills, which may result in a short circuit if it reaches the motor of the blender. If the liquid gets spilled on your face or any other body part, then it can result in burns. You need to be very careful while handling hot liquids. Inverted blades reduce the longevity of the blenders.
Read More: Can I Grind Coffee in My Vitamix? The Ultimate Answer
Durability
Durability is important for any machine or equipment. Blenders are not a small investment, and you cannot buy a product that you need to replace often. When buying a bulletproof blender, you have to be sure that it can sustain the heat and high pressure.
Checking the durability of the blender is essential so that your investment does not go to waste. You also need to focus on the fact that the blender can be effectively used for other purposes as well. Investing in a blender that can be used for only one purpose makes no point and is a waste of money.
Vibration
The blender you choose should be very steady and should not have immense vibration in the base. If the base keeps vibrating during the blending process, then the container can get misbalanced. It can also cause spills that can burn your hand or create a mess around the area.
Extreme vibrations can also damage the motor of the blender. You will not be able to blend the liquid properly, which can give you a bad taste. Hence, while choosing a blender, opt for one which has very little vibration in the base.
Warranty
Checking the warranty of the machine is very important before you purchase it. Any appliance without a warranty should never be considered. Even if there is a warranty, you should check if it is a good one. Opt for an appliance that provides a generous warranty. A warranty period of 5 -10 years shows that the manufacturer is confident about the longevity of the product.
You can also freely approach the manufacturer in case there are certain issues with the product. Low warranty periods can mean that the manufacturer does not want to take responsibility in case of any damage to the blender. Making bulletproof coffee every morning can put your blender under huge strain so the warranty is a very important thing to consider when shopping for the best blender for bulletproof coffee.
High-Quality Construction Material
This is a given as you need something capable of handling extreme temperatures and high rotating blades. Bulletproof coffee will only blend well when ingredients reach a high enough temperature at a pretty fast speed. And then there are the somewhat tricky ingredients to deal with, namely butter and MCT oil.
As such, you need to pick a blender that will not only stand up to the high heat but also the fats day after day.
Ideally, look for something that uses commercial-grade construction material for its container. I would incline more towards plastic than glass since the latter is more prone to breakage, no matter what manufacturers claim.
Commercial-grade plastic, on the other hand, is very durable which works well since the blender will take a fair bit of pounding. Most quality blenders only use BPA-free plastic containers, but it doesn't hurt to confirm and ensure that nothing will leach into your food.
Another area to investigate is the blade construction. Blenders that have more motor power, but subpar blades won't do you any favors.
Never compromise on blade quality and only consider models that have stainless-steel blades coated with Teflon. It's only fair that the blade should be able to handle the power it accompanies.
Advantages of Having Quality Blender for Making Bulletproof Coffee
To make bulletproof coffee, you will have to mix water, a type of oil, and butter or ghee. As you have already learned in elementary school, mixing oil and water is not a good idea. More than that, oil and water cannot mix well.
If you stir the butter, oil, and water, then it will result in the separation of the elements. The result of this will not be very appealing, and you cannot drink coffee. That is why it is always suggested to blend the ingredients.
Using a blender will restructure the elements and the fat constituents in the drink and mix them properly. You will the oil base turned into tiny bubbles that will stay in the water without separating.
To accentuate the taste of the bulletproof coffee, you will need to use a good quality blender. You can stir vigorously, but the result and taste will not be safe. Using a blender is essential for making a tasty bulletproof coffee.
You cannot just use any blender for making the coffee. For an authentic bulletproof coffee, you will require a quality blender with some special features. The important features required in the best blender for bulletproof coffee are mentioned below.
Related Articles:
What Features Does a Blender for Bulletproof Coffee Need?
There are important features without which a bulletproof blender is impossible. Since you will be blending hot liquids, you need to be very careful about what you choose. Below are the features that you should look for in a quality blender. This will help you in making the correct choice.
Can Handle Hot Liquid
For making bulletproof coffee at home, you will need a blender that can handle hot liquids. They are not similar to the standard blender that you find in the market. Most blenders are capable of crushing ice and handling cold items but may not be suitable for handling hot liquids.
Look for a blender that is specifically designed to handle hot liquids of any kind. Not only can you make bulletproof coffee in it, but you can also use it for other hot liquids such as soup. Hence, you can use this blender to make coffee, smoothies, and any other kinds of drink irrespective of their temperature.
Plastic Containers
Most of the blenders with plastic containers are made from BPA-free material. However, you should always double-check regarding this fact. Bulletproof blenders will be used to mix fat and hot liquid. Hence the container must be capable of handling the heat and the grease properly.
You will also find glass containers in the market, but they are often less durable than plastic containers. For bulletproof blenders, it is always better to choose plastic containers which are highly durable. Make sure that the container will not expose you to harmful chemicals.
Durable Blades
The blades of the blender are one of the most important things that you should look out for when choosing the best blender for bulletproof coffee. You need to remember that the blades will be exposed to a very hot temperature of the liquid. If you are a regular coffee drinker, then you will use the blender every day.
The most bulletproof blender comes with high-quality, durable blades that are not affected by the heat. Do not end up choosing an inferior model whose blades would become affected when exposed to constant high heat. Look for the material of the blades to see if they are suitable for making your bulletproof coffee.
Settings
In this busy lifestyle, people are opting for machines that can give them the quickness they need. No one has the time to manually operate equipment, and that is why your blender needs to be the same. Many bulletproof blenders are equipped with pre-programmed settings.
The settings let you make your coffee the way you want with just the press of a button. You will not have to manually set the blender to make the perfect coffee. When you are in a hurry, this could be essential. Just press the button, and you have your hot steaming cup of coffee ready.
Lid and Base
The lid and the base are two very important elements in every blender. Whether you are using it to make paste or liquid, you need the base to be strong and the lid to be tight. When it comes to bulletproof blenders, you need to be extra sure of the fact. You may face serious injuries if you are not cautious.
A blender that has an unsteady base and a loose lid can be very dangerous for blending hot liquids. The liquid may spill all over you and leave burn marks all over your body. You have to look into this fact very extensively.
RPM and Wattage
The wattage of most blenders is between 500 and 1500 watts. However, experts recommend that bulletproof blenders be at least 1000 watts. This will result in a creamy, tasty coffee and also other drinks. While buying a bulletproof blender, you need to ensure that it is not less than 1000 watts.
RPM is used to denote the blade speed. Blenders that have a high RPM speed will help in crushing ice cubes and any other frozen ingredients. On the other hand, blenders with low RPM speed are used to perform delicate tasks such as whipping or chopping.
Avoiding Inversion Blenders
Just as it's important to know what to look for in the best blender for bulletproof coffee, it's equally important to know what to avoid.
Here, I'm referring to inversion or 'upside-down' blenders. (Sorry NutriBullet lovers). It's nothing personal but blenders like the NutriBullet work by placing contents in the jar, screwing on a blade attachment, inverting the jar, and locking it in place on the base.
This is a definite no-go for bulletproof coffee for an obvious reason. Remember that you'll be dealing with hot ingredients. This should tell you that once the heat builds up, there's a higher chance of hot liquid seeping through the seal and onto the base.
This presents the danger of short-circuiting, damaging, and eventually destroying your blender.
You can use inversion blenders for smoothies and other such liquids. The motor of such blenders is damaged very easily, and hence you will have to replace the blender after a short while.
Best Blender for Bulletproof Coffee: Final Thoughts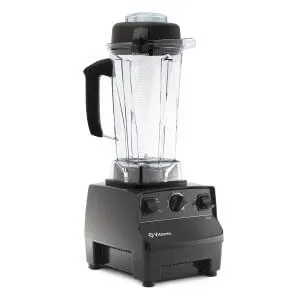 Bulletproof blending is not your typical blending and only a few machines can tackle this task well. Today's list highlights the best of the best and gives you great choices to choose from.
The Vitamix 5200 is an all-rounder made to endure hard work and has the ability to quickly transform ingredients into creamy, frothy perfection. What makes it an easy winner on this list is its effortless potential to handle hot liquids without hassle.
But if you have budget reservations, then nothing beats the Oster Pro 1200. Its most distinct feature, the Dual Direction Blade Technology, is unique and very useful for bulletproof coffee blending. Only, this blender won't tax your wallet doing so.
That said, the Blendtec Total Classic is a long-time favorite and remains hard-to-beat. This high-flier brings commercial-grade power into the kitchen to give you a frothing cup of bulletproof coffee in an instant and blends its way onto this list of best blender for bulletproof coffee.
Related Articles: