The key to making great bulletproof coffee is to get it frothy and creamy which can only be achieved with the help of a powerful blender. In fact, the best blender for bulletproof coffee would be one that is not only powerful but is also engineered to handle piping hot liquids.
Since these features tend to be a little more specific and go beyond the scope of simple blending, your blender will also need to go beyond what most blenders can do.
Of course, you could keep things simple and try whisking up some coffee using your arm strength alone, but it would be hard to beat the peak horsepower of a strong blender. Plus, a common issue with hand blending is that the finished product often ends up with an oily top layer.
So, why not save yourself the time and effort and invest in a suitable blender instead. Here is my take on which blender can yield you the best bulletproof coffee.
Top Rated Blenders For Bulletproof Coffee
---
Vitamix 5200 C-Series: Best Overall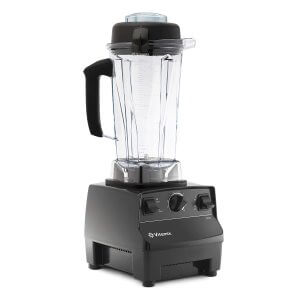 One of the top-selling models in the brand's Legacy series, the Vitamix 5200 is a strong contender for the top spot among the best blenders for bulletproof coffee.
Its coffee-making readiness is based on the same science that lets it make hot soups. The blender effectively lets you "cook" soup with the sheer power of its blades so you can actually blend both hot and cold ingredients into a soup in approximately six minutes.
The same power can also be applied to making bulletproof coffee keeping the following considerations in mind.
Strong Motor Power
Equipped with 10 speeds, the 5200 comes with a 2HP motor and blades that can work at 37,000 RPMs. This is enough power to heat up your ingredients and give you that perfect blend of bulletproof coffee.
You can use the High mode to prepare your coffee with no risk of taxing the blender unnecessarily. With maximal blade rotation, the 5200 will heat up liquid ingredients and bring them up to a steaming hot temperature.
The model features sturdy, stainless-steel wet blades to keep up with the power of its motor.
Container and Parts
All parts of the 5200 are made to support its powerful motor. This includes the container which uses a BPA-free, impact-resistant polycarbonate plastic.
The blades are stainless steel coupled with a double set of stainless-steel bearings for durability and longevity while the unit is supported by a rubber pad underneath to reduce vibration when in operation.
---
Oster Pro 1200 Plus: Budget Pick
Despite the minimal price tag, the Oster Pro 1200 comes packed with enough power to give you a fantastic cup of bulletproof coffee. Many reviewers have tested and passed it for grinding coffee beans exceptionally well which makes this a budget pick for today's list.
Speed Settings and Programs
The Oster Pro 1200 has four speed modes, Pulse, Low, Medium and High which is enough to give you a fair bit of versatility in the kitchen. For high-powered tasks like soup and bulletproof coffee making, you can use the High-speed mode.
The one unique thing about this budget blender is that its speeds and modes blend in both directions. The Dual Direction Blade Technology pulls the food to the blade for faster and smoother results.
The motor on this unit uses 1200 watts with a blade rotation of 19,000 RPMs which is an excellent deal in this price range. Although this is the least powerful blender on this list, it does not skimp on durability with its all-metal drive shaft and stainless-steel blades.
Container Quality
If you're looking for a blender with a heavy-duty glass container, then your best bet is this Oster model. There is a 6-cup, dishwasher-safe Boroclass® glass jar able to withstand thermal shock.
This is a type of very heavy, lab-quality, stress and temperature resistant borosilicate glass able to handle higher-temperature blending well. The blending jar has a wide base to facilitate blending and is covered with a screw able plastic lid to prevent any spills during processing.
---
Blendtec Total Blender Classic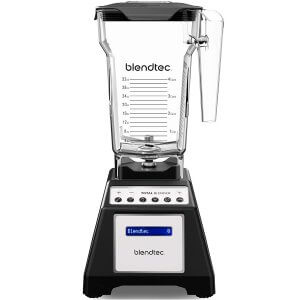 The Blendtec Total Classic blender is the machine that introduced the brand to the world. It remains one of the most popular models by Blendtec.
Blending Power
The Total Classic gives you 10 speeds to work with complemented by six preprogrammed cycles for various functions. The Hot Soup cycle is particularly relevant to making bulletproof coffee as this function will resemble your blending needs for hot coffee most.
Powered by a 1,560-watt. 3HP motor the Total Classic is able to handle hot ingredients well. The heat gets generated via blade friction which transfers to the ingredients and blends a frothy and creamy mix.
The force behind this powerful performance is a 29,000 RPM at the High-speed mode. This is enough to bring liquids to temperature through friction.
Container and Blade Performance
This Blendtec model comes with the patented square container the brand takes immense pride it. The jar design does two things. First, it draws ingredients down towards the blade for even blending and then it also heats up blended ingredients somewhat quicker than rounded jars which works well for soups and bulletproof coffee.
So, whereas the Oster Pro 120 relies on its Dual-Direction Blade Technology to force ingredients down, the Total Classic does the same with its patented jar design.
All in all, both are worthy contenders for a spot on the best blender for bulletproof coffee list.
---
Best Blender for Bulletproof Coffee: A Complete Buying Guide
If you already have a recipe nailed down to make the perfect cup of bulletproof coffee, you'll know that you need a machine that can handle the demands of being very powerful, is sturdily built, and is very good at grinding beans.
Blending Performance
This is perhaps the first thing to look for. Only consider blender models that come with more wattage and RPMs.
My research shows that a good starting point for blenders designed to handle bulletproof coffee is around the 1,000-watt mark. This is enough power to support a higher RPM that will whip up a perfect blend of coffee.
If the blender has variable speed, all the better since this gives you more control over the blending process. Plus, this feature makes the blender more versatile for general use in the kitchen.
High-Quality Construction Material
This is a given as you need something capable of handling extreme temperatures and high rotating blades. Bulletproof coffee will only blend well when ingredients reach a high enough temperature at a pretty fast speed. And then there are the somewhat tricky ingredients to deal with, namely butter and MCT oil.
As such, you need to pick a blender that will not only stand up to the high heat but also the fats day after day.
Related Articles:
Ideally, look for something that uses commercial-grade construction material for its container. I would incline more towards plastic than glass since the latter is more prone to breakage, no matter what manufacturers claim.
Commercial-grade plastic, on the other hand, is very durable which works well since the blender will take a fair bit of pounding. Most quality blenders only use BPA-free plastic containers, but it doesn't hurt to confirm and ensure that nothing will leach into your food.
Another area to investigate is the blade construction. Blenders that have more motor power, but subpar blades won't do you any favors.
Never compromise on blade quality and only consider models that have stainless-steel blades coated with Teflon. It's only fair that the blade should be able to handle the power it accompanies.
Avoid Inversion Blenders
Just as it's important to know what to look for in the best blender for bulletproof coffee, it's equally important to know what to avoid.
Here, I'm referring to inversion or 'upside-down' blenders. (Sorry NutriBullet lovers). It's nothing personal but blenders like the NutriBullet work by placing contents in the jar, screwing on a blade attachment, inverting the jar and locking it in place on the base.
This is a definite no-go for bulletproof coffee for an obvious reason. Remember that you'll be dealing with hot ingredients. This should tell you that once the heat builds up, there's a higher chance of hot liquid seeping through the seal and onto the base.
This presents the danger of short-circuiting, damaging, and eventually destroying your blender.
Best Blender for Bulletproof Coffee: Final Thoughts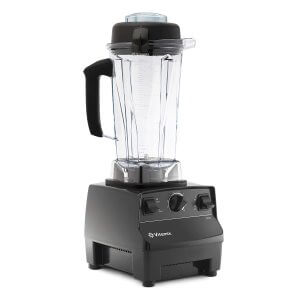 Bulletproof blending is not your typical blending and only a few machines can tackle this task well. Today's list highlights the best of the best and gives you great choices to choose from.
The Vitamix 5200 is an all-rounder made to endure hard work and has the ability to quickly transform ingredients into creamy, frothy perfection. What makes it an easy winner on this list is its effortless potential to handle hot liquids without hassle.
But if you have budget reservations, then nothing beats the Oster Pro 1200. Its most distinct feature, the Dual Direction Blade Technology, is unique and very useful for bulletproof coffee blending. Only, this blender won't tax your wallet doing so.
That said, the Blendtec Total Classic is a long-time favorite and remains hard-to-beat. This high-flier brings commercial-grade power into the kitchen to give you a frothing cup of bulletproof coffee in an instant.
Related Articles: