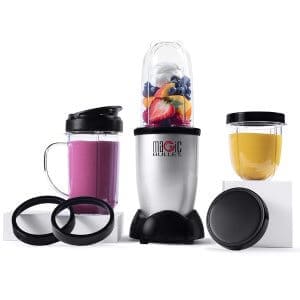 #1 Selling Blender
Cheap Price
Powerful 700W Motor
Cheap Price
Personal blenders are extremely useful to have at home. To see which personal blender is the best, today we will pit the Bella Rocket Blender vs Magic Bullet. Both blenders are great household units that produce single-serving smoothies and shakes for you to drink immediately.
These machines are fabulous for people who live busy lifestyles and strictly want to make delicious beverages without wasting valuable time. The containers you use to blend are the same containers you use to drink. Simply add the ingredients, activate the blender, then walk away with your drink already prepared.
Also, these two models are probably the most affordable blenders in the universe. Each one comes in at under $50, which is pretty incredible for the value you get from them. You can expect either the BELLA Rocket blender or the Magic Bullet to last a very long time, keeping you fit and healthy without exaggerated costs.
---
BELLA 13330 Personal Size Rocket Blender Review
The company behind the BELLA 13330 Personal Size Rocket Blender does not have the same reputation as the company that makes the Magic Bullet. That said, BELLA has made a solid blender. They have incorporated everything that works with the Magic Bullet, then added more.
A Simple Design
Everything about the BELLA is simple. Even the machine itself looks very minimalistic with its silver color, toneless accessories, and clear plastic containers. What is not simplistic is the blender's huge 700-Watt base. That is an enormous amount of power in such a tiny blender.
And even though the Rocket Blender is so simple, it still does complicated kitchen tasks, like grinding spices and coffee beans and preparing any imaginable drink. You can even use it to completely liquefy leafy greens like spinach and kale.
Smart Accessories
The Rocket Blender shines with its smart accessories. It comes with two solid lids, a shaker lid with small holes, a shaker lid with large holes, and two cup rings. This allows you to blend and distribute anything, whether it be liquid or spice.
Also, the blender comes with 5 tumblers if you purchase the pro version, giving you plenty of tumblers for shakes and smoothies.
---
Magic Bullet Blender Review
The Magic Bullet Blender is the original personal blender. Everyone recognizes the Magic Bullet, as it is such a quality product. It mixes, it grinds, and it does so much more. This is the blender for quick smoothies. Easy to clean, easy to use, and surprisingly reliable for such an affordable kitchen appliance.
When Speed Matters
People love the Magic Bullet because it is effortless. There is nothing you can't do with this blender in under 5 minutes. Obviously, you aren't going to be grinding solid chunks of ice or mixing pancake batter, but for fruits and veggies anything is possible. And it is possible fast.
With the Magic Bullet's 250-Watt motor and streamlined design, you can have a professional smoothie in one of the included to-go cups, lid screwed on, blender shoved out of the way, in less time than it takes to tie your shoes. In a world of now-now-now, the Magic Bullet matters.
Too Affordable Not to Try
The big draw of the Magic Bullet is its insanely low price. Compared to some of the other models, like the more expensive NutriBullet Rx, the Magic Bullet is a drop in the bucket. You really have nothing to lose at such a great price. You may as well try the Bullet.
---
Bella Rocket Blender vs Magic Bullet: Main Product Differences
Despite the Bella Rocket Blender and the Magic Bullet both being personal blending units that offer lightning-fast smoothies, shakes, and iced drinks, there are some differences to consider before making your purchase.
The Motor
Here's the deal. The famous Magic Bullet only has a 250-Watt motor. The Rocket Blender boasts a 700-Watt motor. But does it make a difference? The truth is… well, not really. In fact, because of such a heavy motor on such a small unit, I would say the BELLA has a better chance of burning out because of all that power. It definitely grinds seeds and ice into dust in a few seconds, but there is surely a higher chance of a shortage.
When it comes to blending fruits and veggies into a perfect paste, the Magic Bullet is a time-tested product that works. 200 Watts, 500 Watts, 700 Watts – it all comes down to the quality of the design, the quality of the blades, and the precision of the instrument. And we know the Magic Bullet is quality.
Purpose-Built
The Magic Bullet Blender comes from a huge catalog of quality blenders. If you are happy with the Magic Bullet but want something a little more serious, you can upgrade to a better model. On the other hand, BELLA is a multi-purpose kitchen appliance company with no good premium options. They make dozens of budget kitchen appliances and are not dedicated solely to blenders. Every Magic Bullet is designed and manufactured by a blender company.
Bella Rocket Blender vs Magic Bullet: Final Thoughts
These blenders are so similar in price and performance that I feel it comes down to comfort. How comfortable are you trying an unknown name? Magic Bullet is known the world over, BELLA is not. Both blenders come with extra to-go cups, each has a recipe booklet included, each one makes excellent shakes and smoothies, and each blender is dirt cheap. And they are both great!
But for me, I would go with the performance-proven Magic Bullet. I know it works, I am happy with the 250 Watts of power, and I like the way it looks on my counter. The Magic Bullet is a great addition to my kitchen.
Still, the BELLA Rocket is a well-designed blender. It has 700 Watts of power, it grinds and blends very well, and it comes with everything you need to start living a healthy lifestyle. I personally just like the Magic Bullet more. Also, the Magic Bullet comes higher rated by verified customers.