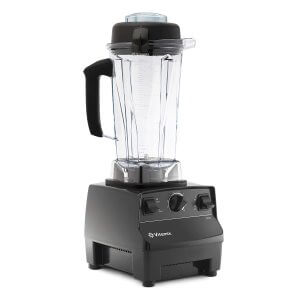 Most Popular Model
Simple Operation
Powerful 1100W Motor
Large Capacity
---
It's time to see which blender is best, the Aimores Blender vs Vitamix 5200 Blender. Both blenders are worthy additions to your kitchen. For blending great smoothies, soups, add health shakes, you could not get a better blending system than the Vitamix 5200 Blender or the Aimores Commercial Blender.
To understand which blender is best, we need to look at their functions and power. Let me tell you now, this is a close one. Both blenders are able to do so much more than simply blend fruit and ice. Both blenders are extremely trustworthy and reliable, with hardened blades that will not only blend ice and fruit, but even grind coffee beans, soybeans, and other grains.
While the Aimores blender is significantly cheaper than the Vitamix, it still performs extremely well. Let's take a look at some pros and cons for each, then do a deep dive to see which is best.
Aimores Blender Vs Vitamix: Comparison
Aimores Blender
PROS
Huge 75-Ounce Container
7-in-1 Blending System
Variable Speed + Safety Function
CONS
Very Basic Model
The Blender is Huge
---
Aimores Commercial Blender Review
Even though Aimores is not a popular brand, this blender is still good. The Aimores Commercial Blender does a lot, from making huge batches of smoothies in its 75-ounce container to grinding a full bag of coffee beans into coffee grounds in mere seconds.
Seven Functions, One Machine
This blender claims to do everything, such as make soy milk, blend smoothies, process foods, grind seeds and grains, make fresh juice, and even heat soup or fondue.
It comes with variable speed controls to ensure you always blend to just the right texture, whether your blending fruit or processing meat. Plus, the blender comes with a pulse feature, which allows for thicker recipes like chunky soups and thick homemade salsa.
Read More: Full review of the Vitamix 500 blender
A Big Machine
The Aimores Commercial Blender is large and in charge. Its BPA-free container is 75 ounces and extremely durable. The six blades are designed to work with the blender's massive motor to crush anything.
There is one thing to be said about its huge size, as the blender weighs roughly 15 pounds – it is going to blend whatever you put in it. Because of its bulk and huge motor, there is very little chance of ice getting stuck or of fruits coming out chunky. Size is power.
---
Vitamix 5200 Blender Review
The Vitamix 5200 Blender is a quality machine. In fact, Vitamix makes nothing but quality machines. The blades are aircraft-grade stainless steel, the 64-ounce container is shaped to allow for optimal blending, and the radial cooling fan keeps the blender's powerful motor from overheating. Plus, this blender comes in black, red, or white.
A True Blender
This is a true to form, heavy-duty blender. There is no other way to look at it. The 5200 can blend frozen fruit, grind super hard beans, nicely chop tomatoes, and spices into a delicious chili, and it can even heat cold coffee or cold soup. The Vitamix 5200 Blender can mix your soup and heat it at the same time!
High Power, High Speed
The Vitamix 5200 Blender outputs a lot of power from its high-performance motor, and this works with the variable speed controls to give you maximum control over the finished result of whatever you're blending.
The power is so good that this unit cleans itself automatically. Add soap and water, then let the blades and the special design of the container clean the whole unit for you. You will never be let down by the 5200 Blender. It is simply too powerful to fail.
---
Aimores Blender vs Vitamix: Main Product Differences
For such similar appliances, these two blenders appear to be worlds apart. Each has variable speeds, each one can blend beautifully to make delicious smoothies, and each could arguably be used as a food processor.
Size Matters
It's true, size does matter. When your kitchen is already cluttered with toasters, dirty dishes, coffee makers, and who knows what else, space is important.
If you are anything like me, you would probably rather have a compact blender that easily pushes out of the way than a 15-pound beast of a blender with a huge container that you could blend a raccoon inside of.
The Aimores machine is a giant compared to the Vitamix 5200. It weighs 5 pounds more and its main container holds 10 more ounces. This could be great for an industrial kitchen or for someone blending daily for the whole family. But for average people, the size difference is huge.
Quality & Choices
There is a pretty obvious quality difference between these two blenders. It's not huge, and it is not monumental to your buying decision, but it is there. The Vitamix 5200 Blender is indeed a professional-grade unit, while the Aimores Blender is more of a budget-grade unit.
When it comes to choices, the Aimores Blender only comes in black. For a lot of people, this is not an issue. But if you are like me and enjoy picking your color and having a unique scheme in your kitchen, then it is nice to see that the Vitamix 5200 is offered in black, white, or even red.
Read More: Vitamix 300 Vs 5200, which is better?
Aimores Blender vs Vitamix: Final Thoughts
The verdict here is pretty clear. While the Aimores Blender is a great unit that can tackle the majority of blending jobs, it simply can't compete with the precision and power that comes with Vitamix and their trusted lines of kitchen appliances.
Yes, the Vitamix 5200 is double the price of the Aimores, but for good reason. The stainless-steel blades are built to last, the friction heating works flawlessly for reheating soups and chilis, it is incredibly easy to clean – even the design of the 5200's container is meticulous, ensuring that all ingredients are folded downwards at a precise angle into the blades to blend faster.
The Aimores Commercial Blender has good features too like the oversized container and a great big motor. And it does have variable speed controls and a pulse function. But it is also way too big for most people's crowded kitchen counters. The Vitamix is smaller and packs the same blending punch.