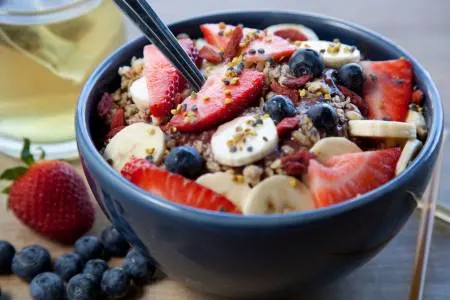 Have you heard of acai berries? And acai bowls? If you have Instagram, you have certainly seen perfect images of bowls full of color, fruit, and grain. Without a doubt, these superfoods are the latest trend in healthy eating. The best thing is, acai berries are full of nutrients and vitamins and full of color, as you will see in the acai bowl recipe below.
My kids call it the ice cream breakfast. They get out of bed for this when I say I'm going to make an ice cream breakfast. In reality, it is an Acai Bowl. They are delicious for adults as well as for kids and full of fruit.
I am not a big fan of superfoods, but I make an exception for Acai bowls. Goji berries and wheatgrass don't do much for me, but the Acai berry is very tasty. They are packed with antioxidants which are good for you, but for me, it's about the taste which is delicious.
Read More: Discover the best blender for acai bowls
What is Acai?
Acai is a dark purple or purple berry with a size similar to blueberries. It grows in the Amazon rainforest and is very popular in Brazil. Its consumption is spreading to the rest of the world for its innumerable health benefits. And this superfood is considered one of the most complete from a nutritional point of view.
Acai is pronounced as Assa-ie and not like I used to say akaaai. The name "Acai bowl" comes from the Brazilian "Acai na tigela" which literally means "Acai from a bowl".
It has a taste that is reminiscent of blueberries, nuts, and chocolate. So things that children also like! Acai berries are actually not easily found outside of South America and they are not available everywhere, so the next best thing is acai berry puree or smoothie packs.
The berries have large seeds and a puree is made from the little flesh. This acai puree has been used by indigenous people for years for its healthy properties. A little 'health' mixed with breakfast never hurts, right?
Read More: What is an acai berry?
Health Benefits of Acai
Acai is full of natural antioxidants. They help keep your health and beauty in the best condition. This fruit can also aid slimming because it is a very effective natural detoxifier.
You have vegetable proteins, vitamins (A, B, C, D, and E), and many minerals (iron, zinc, magnesium, and potassium) that contribute to activating the body and filling it with energy. In addition, it also helps improve digestion, normalizes cholesterol levels, and ensures you have a healthier heart.
Acai Bowl, the Trendy Breakfast
If you are like me, you love healthy smoothies. A smoothie is fruit blended with green leafy vegetables and a milk substitute, such as coconut water or soy milk. The process of preparing an acai bowl is quite similar and is the perfect way to include this super fruit in our breakfast. So this berry satisfies our nutritional needs, as well as giving us energy.
I first tasted an Acai berry smoothie in Australia. There you will find juice and smoothie bars on every corner of the street where you can buy these Açai bowls and smoothies. Since I am always curious about new flavors, I gave it a try and I liked it. The taste is freshly sour. It was also filling.
I like fresh flavors and that is why this bowl is often on the table these days. I eat it for breakfast or for lunch. My favorite combination is blueberries, banana, and coconut water. Topped with muesli, fresh fruit, and coconut.
Read More: 13 healthy berries to add to your diet
Where to Buy Acai?
Acai can be purchased in powder or juice from herbalists or online stores. Ideally, mix that juice with the smoothie you like (soy, almonds, oatmeal …) and then add frozen fruits and seeds or grains to the bowl. An acai bowl is a full, healthy, and delicious breakfast that will give you the energy to start the day with strength.
How do you Prepare an Acai Bowl?
Preparing an acai bowl is very similar to preparing a smoothie. The main difference is that the acai bowl is thicker and poured into a bowl, and you drink a smoothie from a glass.
Acai Bowl Ingredients
3 tbsp of acai berry puree/pulp OR 1 tbsp of Organic Acai powder
1 banana cut and frozen
50 gr blueberries
4 frozen strawberries
1 cup of milk alternative (oatmeal, soy, almond, coconut)
Toppings: fresh or frozen fruit to taste, chia seeds, flax, nuts or grain.
For the topping:
3 tbsp granola, chia seeds, flax, or nuts
Some strawberries
Handful of blueberries
Acai Bowl Preparation
In the container of the blender, we add pureed/powdered acai, milk alternative, banana, blueberries, and frozen strawberries to give the mixture a delicious icy texture. Preferably use the same fruits as toppings. To decorate above, you can reserve a few pieces or add new ones.
We beat everything until we get a dense and smooth texture, similar to that of ice cream.
Place the mixture in a bowl and decorate with pieces of fruit, seeds, and nuts. Now you have a very nice breakfast which is not only very healthy but also very tasty!
Acai Bowl Recipe: Final Thoughts
The açaí bowl is really just a nice smoothie made with frozen fruit and presented in a bowl! But whatever name you want to give it, the fact remains that it is really delicious and I am sure that you and your kids will also love it!